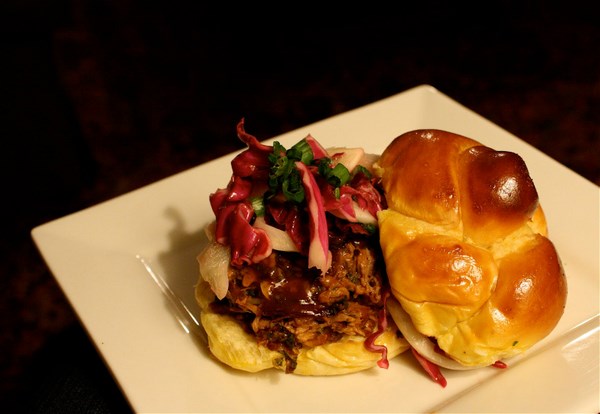 Photo Credit: Small Kitchen College
Pulled pork is undoubtedly a big pile of yum, but it can be difficult to determine how it got from a big hunk of pork butt to a delicious shredded sandwich filling. From whence came this brown, mangled mass of meat? And yes, it's more a feast for the stomach than the eyes, that much is clear. Vegetarians, look away, I'm about to lay some science on these carnivores. Particularly the term "connective tissue."
Pulled pork is made from pork shoulder, which is also called "pork butt" although it is not the "butt" portion of a pig, in case that would weird you out. This cut has lots of connective tissue that gets chewy when cooked at high temperatures, so the low heat of the slow cooker is perfect to break it down into tender bites. It also has a lot of fat, which keeps it from drying out through the long duration. This combination makes pulled pork moist, melt-in-your-mouth and (it's fatty, so...) delicious. The slow cooker transfers pulled pork from a backyard BBQ favorite to a crowd-pleasing, crowd-feeding indoor winter belly-warmer.
Slow Cooker Pulled Pork
Serves 8-10

This recipe is for homemade everything, which is a satisfying but potentially overwhelming feat. Feel free to use store-bought barbecue sauce or a ready-made barbecue-style spice rub. You may have leftover basting sauce, which you can use along with barbecue sauce to moisten any leftovers before microwaving. You can also freeze it in a non-metal container for the next time you make pulled pork!
Ingredients
Dry Rub (Recipe Follows)
6-8 pounds boneless pork shoulder (Can't find it at first glance? Don't be scared to ask the butcher! Also, 8 pounds will fill a large slow cooker right to the top, so if you have a relatively small one, go for 5-6 pounds)
Basting Sauce (Recipe Follows)
Barbecue Sauce (Recipe Follows)
Generously rub all of the spice mix on the pork making sure to get all the crevices. Put in a large plastic bag or tupperware and refrigerate overnight.
First thing when you wake up, place pork in slow cooker and pour about half of the basting sauce over the top. Cook on high for four hours, checking every couple hours to make sure the juices are not overflowing. If they are, carefully dump a little out. At the four hour mark, turn the slow cooker down to low and cook for an additional three to four hours still checking periodically on the juices. If the pork seems dry, add more of the basting sauce.
The pork is done when you are able to take a fork in each hand and shred the meat without much resistance. If your pork is butter knife-sliceable but not fork-shreddable, you actually need to cook it longer, which may seem counterintuitive since additional cooking time often dries out meat and makes it chewy. This is not the case here. If it is still not shreddable after the full eight hours, check again in half hour increments. "Overcooked" pulled pork is just a bit mushy, which isn't the end of the world.
Mix your desired amount of barbecue sauce into individual servings of pork as you eat them instead of all at once, which can mess with the texture of leftovers. Serve the already sauced pork on sandwiches with toasted buns or with comfort food sides like cole slaw, mac and cheese, mashed potatoes and corn bread.
Ingredients
1 tablespoon ground cumin
1 tablespoon garlic powder
1 tablespoon onion powder
1 tablespoon chili powder
1 tablespoon cayenne pepper
1 tablespoon salt
1 tablespoon ground pepper
1 tablespoon paprika
1/2 cup brown sugar
Combine all ingredients in a small bowl.
Ingredients
1/2 cup white vinegar
1/2 cup apple cider vinegar
1 tablespoon dark brown sugar
1 tablespoon red pepper flakes
1 tablespoon cracked black pepper
1/2 tablespoon salt
Combine all ingredients in a small non-metal bowl or container. Cover and refrigerate overnight.
Sweet Kansas City-Style Barbecue Sauce
Recipe from The Neelys
Ingredients
2 cups ketchup
1 cup water
1/2 cup apple cider vinegar
5 tablespoons light brown sugar
5 tablespoons sugar
1/2 tablespoon fresh ground black pepper
1/2 tablespoon onion powder
1/2 tablespoon ground mustard
1 tablespoon lemon juice
1 tablespoon Worcestershire sauce
Combine all ingredients in a medium saucepan over medium heat, bring to a boil, then simmer over low heat for at least an hour, stirring occasionally. The sauce will have reduced and thickened. If you desire an even thicker sauce, continue to simmer until you are satisfied. Pour into an airtight container and refrigerate. Sauce will keep for a couple months.
Jen Cantin graduated from Clark University in Worcester, Mass. with a degree in English and Journalism. She shares other (a)musings at Deep Fried Epiphany.