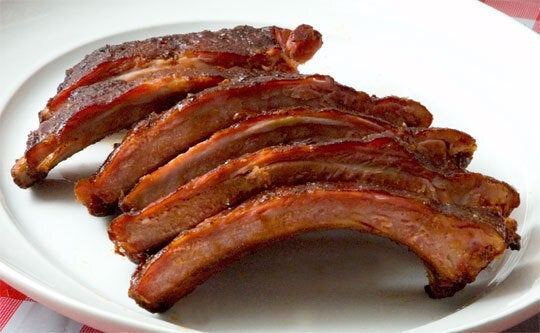 Now imagine your tribe, your family and friends, moaning in ecstasy and praising your name in your own backyard. You can make it happen if you follow my step-by-step guide below. I share this with you after years of studying at the feet of the masters, judging at barbecue competitions including the Jack Daniel's World Championship International Barbecue, and sucking on a lot of bones.
(2) They are intended to provoke.We're talking Southern ribs here, a style probably created by African slaves and as uniquely American as their other great contributions to our culture: Jazz and the blues. The ribs that win championships are a melange of flavors: Spice rub, hardwood smoke, tangy sweet sauce, all underpinned by the distinct flavor of pork. They are juicy and tender and they tug cleanly off the bone. They do not fall off the bone. They have the texture of other properly cooked meats, like steaks. Click here to see what I look for when I judge rib cookoff, what I consider to be
.
. Overnight dry rub marinating is optional.
.
for dessert
Tell me what your favorite barbecue sauce it. Or do you serve your ribs nekkid?
Popular in the Community