It was some really bad ribs that inspired John Markus to become a decorated pitmaster and one of the most influential people in barbecue.
In 1999, Markus, a TV producer and writer, who had won Emmy and Peabody awards as the head writer on The Cosby Show, was writing and creating the NBC TV series LateLine with comedy legend and SNL alum, Al Franken. Franken suggested that they reward themselves for their hard work and make the delectable ribs that Franken had made for years and said were the "best ribs in New England." But even after meticulously following Franken's recipe, Markus found Franken's ribs to be absolutely inedible. "They were the worst ribs I've ever tasted," recalls Markus. "They were awful."
The Franken rib debacle ignited Markus's passion and led him on a quest to understand how to make the beloved cuisine well. After some research he flew to Kansas City to meet barbecue legend and author Paul Kirk (aka "the Baron of Barbecue"). Kirk invited Markus to join his cooking team and be mentored by the master. He also bonded with the founding members of the famed Kansas City Barbecue Society. "The artisanal aspects of cooking this food appealed to me on a visceral level," says Markus. "I loved that you can take food that is tough and sinewy, and over time, with skill, turn it into something really delicious."
A few years later, Markus became a correspondent on Franken's Air America radio show, scouring the nation to look for, A, the best barbecue in America, and B, people who hated Al Franken. "Al embraced that idea because he welcomes debate," explains Markus about Franken, who is now a United States Senator from Minnesota. "Al is not someone who shies away from people who disagree with him. He loves to hear opposing points of view. He's truly one of these senators who likes to work across the aisle whenever he can."
While working on the show, Markus met Chris Lilly of Big Bob Gibson BBQ, a cathedral of barbecue in Decatur, Alabama. Lilly is the only four-time grand champion of the Memphis In May cookoff. He proposed an Iron Chef-esque TV show for barbecue, which inspired Markus and Lilly to create The All-Star BBQ Showdown. Markus referred to the show as "Cast Iron Chef." The series morphed through several incarnations and now exists as the hugely successful BBQ Pitmasters, which airs on Destination America.
Over the years, Markus developed deep connections with some of the show's judges, who also became his teachers, including Johnny Trigg, who is known as the Godfather of Barbecue and the only two-time Grand Champion of the Jack Daniels World Championship Invitational. There's Tuffy Stone, a French-trained chef and currently the winningest pitmaster in barbecue who recently established the Cool Smoke BBQ School (considered the nation's greatest) where he reveals all secrets. And Nicole Davenport, world champion of wagyu steak and brisket.
So how did Markus end up in Kuwait? For eight Christmases, Franken had been to the Middle East to entertain the troops with the USO. "Al was very inspired by these devoted young men and women who were making the ultimate sacrifice," explains Markus. "He said, 'A lot of these men and women are from the South. We have to get you over there to make real barbecue for them."
It took a year of convincing, but just a few days after Franken was sworn in as senator, the USO called. In 2012, Markus took five of the world's greatest pit masters, including Trigg, Davenport, Stone, Jamie Geer, and Myron Mixon, to two bases in Kuwait, to give 5,000 soldiers a taste of home. They served 3000 pounds of chicken and 3000 pounds of brisket. The trip was also groundbreaking because nothing of this magnitude had ever been done before. It was the first time that the military allowed an organization outside the military to cook for so many soldiers and marines.
Markus and the pitmasters found the experience feeding all the soldiers to be profoundly moving. "At one point, the sun began to set. The meat was ready and I saw soldiers in uniform ambling toward our area," remembers Markus. "They began to appear in the desert almost like a mirage, wearing automatic weapons, because we were so close to Iraq, and walking toward this aroma of barbecue. There were smiles on their faces. Many of them had not had a home-cooked meal in over a year."
The pitmasters' visit to Kuwait and the delight of cooking for the soldiers was documented in Markus' film, Kings of BBQ Barbecue Kuwait, which has won awards at film festivals. And Markus continues to make unforgettable barbecue with his fellow pitmasters around the country for charity.
In fact, Markus recently cooked with gifted pitmaster and bestselling author of Serious Barbecue, Adam Perry Lang at the The 10th Annual Great Chefs Event in Philadelphia which raised money for Alex's Lemonade Stand Foundation and the Vetri Foundation for Children whose goal is to support childhood cancer research and eradicate childhood cancer. And this fall his play, The Fabulous Lipitones (co-written with Mark St. Germain) will open at Virginia Rep's Hanover Tavern, where Markus will also don his apron and pitmaster a pig-pickin' benefit gala at America's very first dinner theater.
"Learning this kind of cooking has taken my life into amazing places that I have never known about," says Markus who is currently directing The Fabulous Lipitones at the Colony Theatre in Burbank, California. "I'm very grateful for what it's given me. So I try to give back through this cooking whenever I can. It's such a joy to do."
The pitmasters in Kuwait. From left to right: Tuffy Stone, Jamie Geer, Johnny Trigg, Myron Mixon and Nicole Davenport.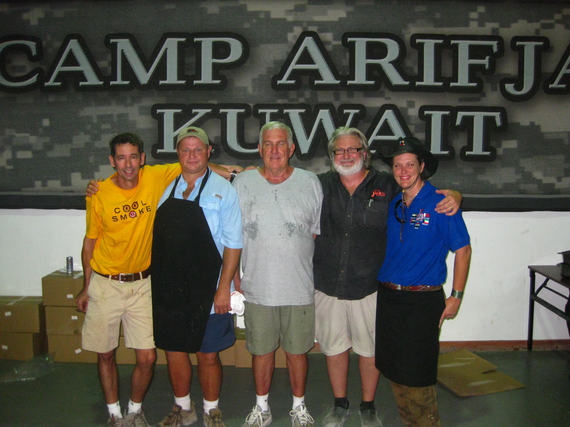 Photo credit: Ron Hill
All photos used with permission.