ATLANTA (AP) — Long before the FBI began investigating Donald Trump 's hoarding of classified documents or Attorney General Merrick Garland appointed a special prosecutor to probe the former president, Fani Willis was at work.
Just one month after Trump's infamous January 2021 phone call to suggest Georgia's secretary of state could overturn his election loss, the Fulton County district attorney announced she was looking into possible illegal "attempts to influence" the results in what has become one of America's premier political battlegrounds. As she built her case, Willis called a parade of high-profile witnesses before a special grand jury, presiding over an investigation that was so public it seemed she would become the first prosecutor in U.S. history to indict a former president.
She instead looks poised to become the third person to levy criminal charges against Trump, leapfrogged by Manhattan District Attorney Alvin Bragg and Justice Department special counsel Jack Smith. But the indictment that Willis may bring as soon as this week could be the most sprawling case against Trump in response to his desperate efforts to remain in power after he lost to Democrat Joe Biden. And some legal experts say it could be one of the more potent cases against Trump.
"I think people are going to be surprised at the level of preparedness and the level of sophistication of the prosecution," said Clint Rucker, who was a prosecutor in Fulton County for more than 25 years before leaving in 2021. "That office is not some small backwoods country hick organization that fumbles the ball and doesn't know how to do its job."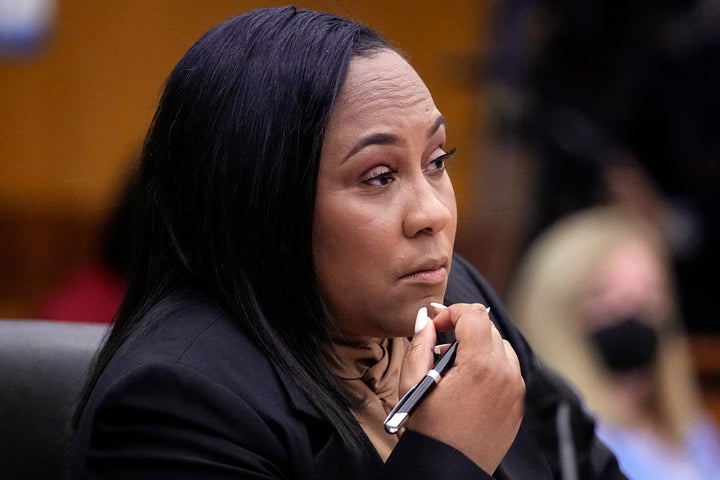 Willis has not confirmed that an indictment will come this week, though her previous comments and security preparations around the Fulton County courthouse suggest that action could be imminent. Trump has stepped up his criticism of Willis in advance of the expected charges, calling the 52-year-old Black woman "a young woman, a young racist in Atlanta."
Willis has long declined to comment on Trump's insults. But with his campaign running a vicious attack ad last week, she emailed her staff to warn that it included "derogatory and false information" about her and instructed them not to react publicly.
"You may not comment in any way on the ad or any of the negativity that may be expressed against me, your colleagues, this office in coming days, weeks or months," she wrote. "We have no personal feelings against those we investigate or prosecute and we should not express any. This is business, it will never be personal."
Willis has led plenty of prominent prosecutions, but nothing that compares to indicting a former president, particularly one who fights his perceived enemies with the intensity of Trump. She is widely expected to use Georgia's Racketeer Influenced and Corrupt Organizations, or RICO, law to charge not only the former president but also a collection of his allies for alleged participation in a wide-ranging conspiracy.
Some people who end up facing charges may challenge the indictment based on the fact that they were compelled to testify before the special grand jury in an investigation in which they ended up being a target. In Georgia and in the federal system, a grand jury that indicts people cannot force the testimony of a target. But the special grand jury was an investigative tool and lacked the power to indict.
Willis spent most of her career as an assistant district attorney in Fulton County and is known by both her colleagues and defense attorneys to be a tremendously talented litigator with a gift for connecting with juries. A few years after leaving that office, she returned as its leader in January 2021 after winning a bitter Democratic primary fight to oust her predecessor and former mentor.
Now a divorced mother of two grown daughters, Willis was raised mostly in Washington by her father, a defense attorney who she has said was a Black Panther. She graduated from Howard University and from Emory University School of Law four years later, choosing to stay on in Atlanta to practice law.
"She's really a tough-on-crime liberal, which is kind of a rare bird these days, but I think that's her brand," said Georgia State University law professor Anthony Michael Kreis.
Some critics say she overuses gang and RICO laws, unnecessarily complicating cases that could otherwise be tried in less time with fewer resources, just to get the enhanced penalties those statutes carry. Devin Franklin, an attorney for the Southern Center for Human Rights who spent 12 years in the Fulton County public defender's office before leaving last year, said using those laws drives a "narrative of violence in Atlanta that's not true, that's not necessarily reflected in the data" and has a tendency to "sensationalize the cases."
It is also taking too long for people to be indicted after they've been arrested, he said, leaving them languishing in terrible conditions at the county jail, which is currently under federal investigation. People are left "in a position where they can't force a trial, they can't plead out and if they have a bond they can't pay, they're effectively stuck in the Fulton County system with no legitimate recourse," Franklin said. To illustrate the problem, he pointed to the death earlier this month of a 40-year-old man who was arrested on a second-degree burglary charge in October and was being held on $3,000 bond.
Of the 3,571 people in custody in Fulton County on Friday, 1,683, or 47%, had not yet been indicted. Franklin suggested that Willis' office should move more quickly to indict people facing serious charges. For lower-level felony charges, he said, her office could proceed by "accusation," which doesn't require a formal indictment.
Trump has recently called Atlanta a "crime-ridden" city where "people are afraid to walk outside." While it's true that Atlanta, like most other major cities, saw a spike in violent crime in recent years, those levels have improved significantly. As of Aug. 5, homicides were down 25%, rapes had dropped by 56% and aggravated assaults had decreased by 22% compared with the same time last year, according to Atlanta police data.
Willis has said she likes the RICO statute because it allows prosecutors to paint a more complete picture of the alleged illegal activity.
Her most prominent case as an assistant district attorney was a RICO prosecution against a group of Atlanta public school educators accused in a scheme to inflate students' standardized test scores. After a seven-month trial, a jury in April 2015 convicted 11 of them on the racketeering charge.
Gerald Griggs, president of the Georgia NAACP and an Atlanta defense attorney who represented an educator in the test cheating case, said he doesn't always agree with Willis' use of the RICO law but does think it's appropriate "if there was a scheme to interfere in the election and numerous actors were involved." But he thinks the investigation has dragged on far too long and that an unwieldy RICO indictment that scoops up too many people risks causing an undue strain on the overburdened court system.
"Charge the top individuals that did it," he said. "Maybe pass out immunity deals to everyone else to testify. Let's get the top 10, then let's move forward."
Willis has urged patience from the beginning of her investigation and is fond of saying she doesn't try "skinny cases," meaning she likes to have lots of evidence. And Rucker, her former colleague, said he's not surprised the investigation has stretched on so long, saying the two of them worked every day for almost two years to prepare for the school cheating case.
While she's likely to let her hand-picked group of prosecutors handle the trial, there's no question she's calling the shots, Rucker said. With a case of this magnitude, she would have required those on her team to gather and digest an enormous amount of information and would have grilled them to make sure there were no holes, he said.
"When she says stuff like, 'We're ready to go,' that's not being braggadocious," Rucker said. "It's her saying pretty much to anybody who's interested, 'Look, we're ready.'"
Support HuffPost
The Stakes Have Never Been Higher
Popular in the Community