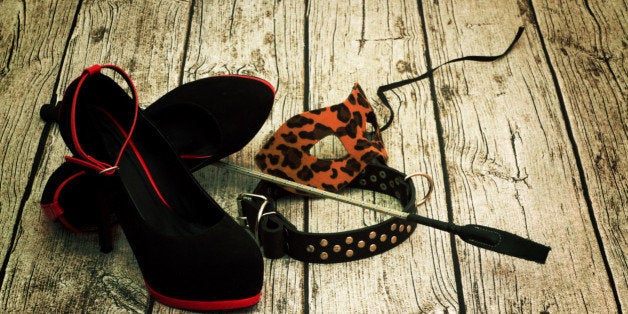 In college, I read an article about Russian "whipping therapy." At first I thought it was a joke--Siberian scientists were promoting flogging and caning as a "cure" for depression, addiction, and suicidal thoughts. Yet it still appears in occasional articles as a real, if controversial, treatment: 30 to 60 cane strokes or whip lashes administered to patients' buttocks to promote serotonin flow. The treatment is not intended to be sexually stimulating for either the patient or the doctor.
When I first became active in the kink scene, I was in the middle of a major depressive episode. I'd known I was kinky long before I started showing symptoms of depression, so it wasn't that I worried my depression was the result--or the cause--of my BDSM interest. But it made navigating my early years in the scene somewhat difficult.
Like many people with depression, I sometimes have trouble acknowledging that I've reached the point where I need help. It becomes hard to remember how my "normal" mind works, so I become convinced that I've always felt this way, thought this way, and that it's a problem with my character, not my chemical makeup. But some part of me usually knows when things are getting bad, even if I don't want to admit it.
I'm also what's known in the BDSM world as a "pain slut"--a more affectionate, less DSM-5-y term for a masochist. My body has a very high pain threshold, and processes some types of pain as pleasure. A fair amount of mainstream media has portrayed BDSM as a perversion stemming from mental illness or trauma--one that offers the top an outlet for aggression and shame, or the bottom a means to perpetuate a cycle of abuse or self-destruction. The desire to receive or give intense pain seems to be a common target. How can you want to hurt someone if you're mentally stable? How can you want to be hurt if you value yourself?
I write erotic romance, a genre that has seen a huge increase in BDSM-themed books over the past few years. And with that increase has come the rise of a counter-trope to the idea of BDSM as a mental illness: BDSM as a treatment for mental illness. It's an equally dangerous idea, in a way--if you try to apply it to real life. Mental illness needs to be treated by professionals. Not by a play partner. Not through sex or bondage or whipping. But some of the symptoms of mental illness can be temporarily alleviated by certain BDSM activities. Pain play--spanking, flogging, hot wax, etc.--provides an endorphin rush. Bondage or confinement can make the bottom feel incredibly euphoric, secure. The structure of a D/s dynamic can offer someone with depression an anchor: basic goals, tasks to perform, rules to follow. Kink, when practiced with love and trust, is deeply intimate and centering.
But if you or your partner has depression, how do you navigate a lifestyle where safety is dependent on participants being articulate, confident, mentally sound, and quick to react? I came out as kinky a few years ago to my close friends and family. And the most nerve-wracking part of that was explaining that yes, I was kinky, and yes, I had depression, but those things had no causal relationship. Because I couldn't guarantee that they didn't. I wanted to be the kind of ambassador the kink world needed: someone who was happy and healthy and just happened to like being tied up and beaten. Instead I had to wonder if the genuinely self-destructive habits that manifested during my depressive episodes were really so different from asking a partner to leave marks that would last for weeks.
I think a lot of kinky people go through this to some extent: Is there something wrong with me? Is what I want too out-there, too extreme? In a lifestyle that encompasses everything from fuzzy handcuffs to scarification, how do we define what's healthy, safe, or normal?
What I've concluded is that my kinkiness and my depression are related--in that they're of a piece with who I am. I don't get to pick and choose these facets of my identity, so they have to learn to coexist. I try not to play if I'm so depressed that I feel disoriented, or unfocused, or angry with myself. My partner knows about my depression, and I try to keep her aware of how I'm feeling during scenes. I think it's possible for many people with mental illness to play safely, and I think it's possible to find some relief and happiness (though certainly not a cure) through kink. For me, kink is comprised of lots of nonBDSM-specific elements that make me feel good--wearing costumes, getting creative, being close with people, moving out of my head and into my body... I can see where the BDSM-as-cure trope comes from, and why it's appealing.
BDSM can't cure illness. But neither is it an illness itself--a semi-sanctioned way for people to harm themselves or others. True BDSM is based on mutual care and respect, on self-knowledge and a willingness to explore the psyche. In some ways, kink is the antithesis of depression: Depression preys on positive thoughts and drains energy, while kink has an incredible capacity to empower and comfort. In a world where nobody is one hundred percent happy or healthy, we all have to work with our individual strengths and limitations to create positive, meaningful relationships. And to embrace the aspects of our identity that may seem unusual or challenging, but are, in the end, perfectly human.
Popular in the Community