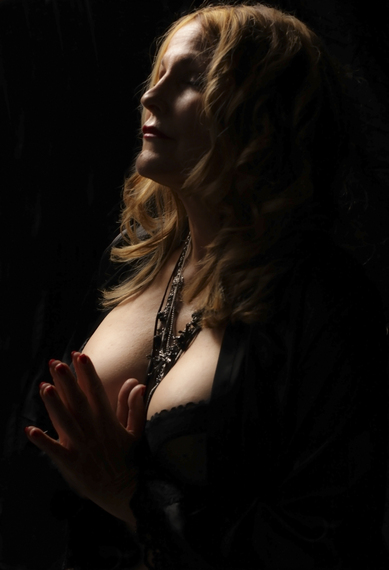 Photographer: Blair Hopkins
Meditation makes most Americans think of a Middle Eastern Indian or Tibetan Monk sitting in a lotus position at a monastery in the middle of nowhere, remaining still for many long, agonizing hours in their silent search for enlightenment. Most of us, however, have neither the patience nor the hip flexibility for such activities, and because we weren't raised practicing meditation, we have only this skewed image of the practice that has been given to us by the media.
Guess what though? Driving a race car, coloring, watching a movie, or practicing BDSM can all be forms of meditation too. It's not about the yoga poses -- it's about letting go of the relentless mind chatter and focusing solely on the present moment.
"The most popular, widely adapted, and widely researched meditation technique in the West is known as mindfulness meditation, which is a combination of concentration and open awareness. Mindfulness is found in many contemplative traditions, but is most often identified with the Theravadan Buddhist practice of vipassana, or "insight meditation." The practitioner focuses on an object, such as the breath, bodily sensations, thoughts, feelings, or sounds. The focus is not as narrow as in concentrative meditation, for there is a simultaneous awareness of other phenomena. This mindfulness practice is often extended to daily actions, such as eating, walking, driving, or housework."

In my free time, I like to go rock scrambling and ride a motorcycle, both of which can be dangerous and potentially fatal if I let my attention wander. When I participate, I have to be completely focused on what I'm doing and fully mindful of my surroundings. I can't be thinking about work, the electric bill, a boyfriend, or getting my car to the garage for a tune-up. The activity is intense and demanding, and therefore my mind is -- must be -- clear. When this happens, I lower my blood pressure, strengthen my immune system, and decrease my emotional anxiety just as much as if I were sitting quietly, meditating on a yoga mat.
The meditative form of BDSM is called "subspace." My submissive clients describe it as an altered state of consciousness in which they feel completely liberated from stress. It's a practice that allows you to completely let go of internal and external stress so that you can fully immerse yourself in the present moment. As the Dominatrix, I also experience a corresponding mental state of relaxation from my deep focus and concentration.
"Meditation is considered a type of mind-body complementary medicine. Meditation produces a deep state of relaxation and a tranquil mind. During meditation, you focus your attention and eliminate the stream of jumbled thoughts that may be crowding your mind and causing stress. This process may result in enhanced physical and emotional well-being."
According to this definition, anything that focuses your mind and relaxes your heart can be meditation and lead you to better health and a happier, more relaxed mind. You will be less stressed, able to handle challenges with greater calm, and more aware of the positive parts of your life -- and if that's not, enlightenment, I don't know what is!
Sandra LaMorgese Ph.D. is an expert in bridging the gap between sexuality and a lifestyle that focuses on holistic health of the mind, body and spirit. She is the author of Switch: Time for a Change, a memoir of her journey from holistic practitioner to professional dominatrix at 55 years old, and her passion and purpose is to empower others towards healthy authentic living. To learn more about Sandra and receive your FREE eBook "5 Steps for Better Communication, Sex, and Happiness (Did I mention better sex?) visit www.sandralamorgese.com.

Related
Popular in the Community