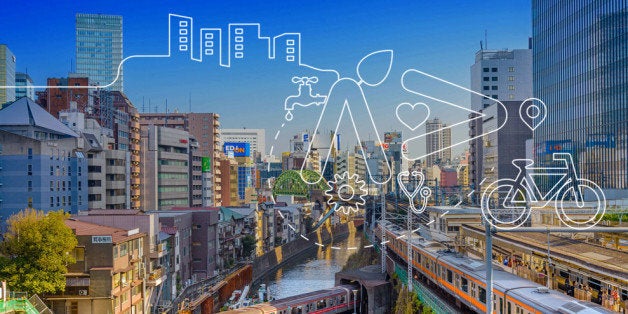 In cities around the world, from teeming mega-cities of the Global South to the tidy metropolises of Scandinavia, something is stirring: a wave of young city-minded entrepreneurs are inventing entirely new ways of connecting people and our environment in order to address our urban needs. In the process, traditional ways of governing, working, commuting, shopping, and enjoying the city, are all being rethought. This is urban tech -- a new class of technology, leveraging the rich landscape of ubiquitous computing and connectedness to make our cities better, more livable places.
With the rise of urban tech, entrepreneurs are focusing themselves on very human problems, providing digital solutions for challenges facing our communities in this urban era. The intersection of the continuously growing power of computing with our increasingly urban way of life have set the stage for a revolution in the uses of technology in everyday life. The amount of digital information created and shared in the world increased nine-fold from 2006 - 2011, and will again quadruple by the end of 2015. By 2020, it is predicted that 70% of the world's population will have a smartphone, and that over 50 billion 'objects' will be connected by the internet-of-things. Individuals, startups, and social enterprises are increasingly leveraging this quantum leap in technology to transform our relationship with cities, making them more resilient, easier to navigate, and engaging.
The increasingly powerful mobile devices, forever at our sides as we travel through the city, can not only help us find and reserve a table at a great new Mexican restaurant, they can also -- literally -- save our lives. A startup in Jakarta, PetaJakarta, for example, collects social media data to analyze and display critical flooding information to both city residents and government in real time. Alert services and multi-directional exchange of information through such platforms offer the obvious benefit of directly addressing local issues, but also demonstrate the value and scalability these innovations possess. Innovative mobile platforms like PetaJakarta are easily transferable to cities worldwide facing similar issues.
Innovations often emerge out of need, and this human side of technology shows us just that. Most inspiring in today's use of scalable platforms and technologies is that need-based solutions to all types of local issues are ultimately able to adapt beyond the 'local' to the universally 'urban.' Seeing the humanity in technology has never been easier or more understandable.
The New Cities Foundation, one of the leading global organizations working at the intersection of urbanization and innovation, is a champion of urban tech. As a non-profit and multi-stakeholder institution bringing together companies and policy-makers, start-ups, architects, technologists and researchers, we recognize urban tech as a banner under which entrepreneurs in cities like Nairobi, New York or Hangzhou are using a rich new technological tool-box to fix many urban issues. These 'home-grown' solutions are generating a complex and vibrant system of actors, each adapting to its 'place' and respective challenges. Emerging from the ingenuity of our neighbors and fellow city dwellers, urban tech offers a decentralized, democratizing force in the development of our cities.
As a response to these trends and as a part of our mission to shape a better urban future for all, the New Cities Foundation has launched the Global Urban Innovators initiative, a competition to select 15 path-breaking startups and social enterprises worldwide that use technology to tackle the biggest urban challenges of our time. Our hope is that these Global Urban Innovators will help usher in more benevolent, more human cities in which technology facilitates the kinds of collaborations and exchanges that make our cities vibrant, dynamic places. For us, supporting this new class of technology and innovations is essential to developing the better qualities of cities, and improving our urban future.
Over the last decade we've come to the exciting realization that perhaps we have been viewing technology as an answer to the wrong question. Whereas technology was previously the solution to improving what we were already doing, we now see technology as an answer to transforming what we do, and how we go about doing it - and urban tech is where we can see this exciting transformation most clearly. Urban tech is in its infancy, and we could not be more excited about what's ahead.
Join us in celebrating the city as a laboratory in which entrepreneurs are developing the next wave of products and services that will make our cities more livable, inclusive, and sustainable.
Related
Popular in the Community