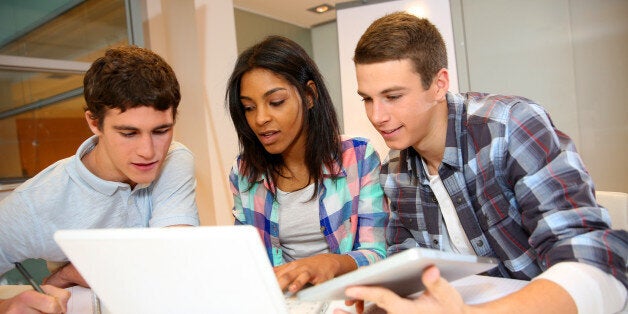 American families have understandably questioned the value of a college education because of the significant cost it represents. While I am sympathetic to these valid concerns, I would still argue that a college degree is a wise investment in anyone's future.
That said, I would suggest that in what remains a competitive job market, a college graduate can enhance prospects for employment or advanced study by complementing her or his studies with a number of meaningful activities that, in fact, provide important opportunities to learn by doing.
In short, I would suggest that college students, no matter where they attend--be it a smaller liberal arts institution like Centre College or a large public university or anything in between--consider pursuing an internship, an undergraduate research opportunity, a community based learning class, volunteer service or study abroad. Better yet, pursue more than one, or combine, say, an internship with an international study experience.
Any of these, in any combination, are sure to enhance career readiness and provide an edge in graduate or professional school applications.
I would even add that for those currently engaged in the college search process, make sure these are opportunities you ask about when visiting schools and talking to admission counselors. You will also want to know if resources are available to support things like internships, which are not always paid, and undergraduate research, which is often not supported by the institution.
Ask, too, about the institution's career services program, which often acts as a conduit to such opportunities, as well as the alumni association. We joke at my college about the "Centre mafia" that looks out for its own students and graduates to open doors and create opportunities, and we are not alone in offering this strong network of connections.
I offer this advice from the perspective of a college president at an institution that has enjoyed high outcome rates for its graduates, with an average 96 percent employed or pursuing advanced study a year after graduation. These figures have not occurred by accident.
We have gone so far as to guarantee an internship or research opportunity, study abroad and graduation in four years because of the paramount importance we see in them, something we call the Centre Commitment. Generous outside grants from the Andrew W. Mellon Foundation of New York and the Brown Foundation of Louisville have made possible the additional dollars needed to assure that these activities are not a financial burden to our students and their families.
Internships allow students to gain real-world experience and try out a potential career path. Positive experiences also result in making important networking connections and gaining letters of support and recommendation. We have also seen many examples were an internship leads to an eventual job. The same can be said of undergraduate research projects, since they allow greater interaction with a faculty member.
Our vice president for academic affairs, Stephanie Fabritius, refers to these kinds of activities as "doing the discipline," which means moving beyond what is studied in the classroom and applying academic study in practical settings where students see how knowledge is a tool for success.
Which brings me to my last point. The mission of Centre College is to prepare students for lives of learning, leadership and service. Indeed, I often tell our students that our real goal is to prepare citizen-leaders in all walks of life. Most of our sister institutions all across the country have similar goals, though perhaps not as intentional as this.
At Centre, we've added the element of service because we believe that a meaningful life involves giving back and in a way that has an impact for good. In this regard, too, volunteer service work can lead to unforeseen possibilities beyond the rewarding contribution of making one's community stronger and better.
So to parents I say, making the investment in a college education remains a ticket to a better, more productive life, but be mindful of choosing a college or university that stands ready to assist your student in taking full advantage of all the ways to prepare for an extraordinary life of work and service. And to the students I say, ready yourself for adventure and take heart in believing that the world has and will continue to welcome and reward those who combine thinking and doing.
Calling all HuffPost superfans!
Sign up for membership to become a founding member and help shape HuffPost's next chapter