Fortaleza, Brazil-- where Hélio Oiticica: Estructura Corpo Cor (Structure Body Color) is on view through May 1 at the University of Fortaleza's Espaço Cultural Airton Queiroz
FOR A MEETING last week, I flew three-and-a-half hours from São Paulo to Fortaleza, a beautiful city located in Brazil's northeast, and once more I was struck by how vast, rich and diverse this nation is. Geographically, the country is approximately the same size as continental United States, and though I've visited Brazil more than a hundred times, I'd never, until this trip, visited Fortaleza, the country's fifth-largest city. Brazilians in the nation's huge metropolitan areas of São Paulo and Rio de Janeiro sometimes make disparaging remarks about nordestinos, the people from the northeast, thinking of them as poor and under-educated. But even a brief visit puts those slurs to rest. I'm so glad that I no longer think about Fortaleza as a fly-over city!
Facing the ocean, Fortaleza has a hyper-modern skyline of sparkling high-rise buildings-- think Toronto-meets-Miami Beach. Its multiracial population of more than three million drives a robust and diverse economy. And Fortaleza is a big tourist destination for the domestic Brazilian market. People are drawn by its tropical climate whose high humidity is made manageable due to its steady, pleasant ocean breezes. From a tourist's standpoint, the city serves up beautiful beaches, a fine cuisine, a world-class soccer stadium that put it in the FIFA World Cup series, a range of diverse music attractions and museums, and some of Brazil's most important universities and research centers.
On my visit, I had the pleasure of touring the 25,000-student campus of the University of Fortaleza. This included a visit to the Espaço Cultural Airton Queiroz to view Hélio Oiticica: Estructura Corpo Cor (Structure Body Color), a superb retrospective-like exhibition of sixty works. Unquestionably one of Brazil's most important artists--whose influence is felt in the U.S. and in Europe-- Hélio Oiticica had a diverse and active practice through to his death in 1980. The exhibition's curators Celso Favaretto and Paula Braga take you on his journey from formal, geometric abstract painting of the 1950s to three-dimensional abstractions in the early '60s and progressively more ephemeral, dynamic and performance-oriented works of the '70s.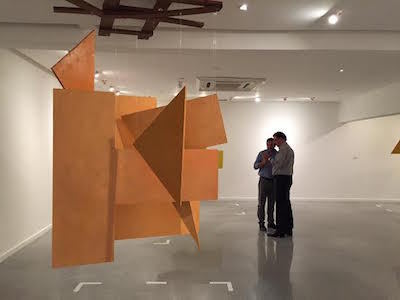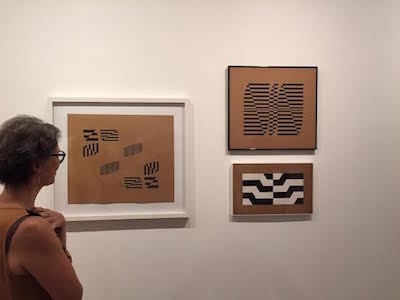 Above, installation views, Hélio Oiticica: Estructura Corpo Cor (Structure Body Color), at the University of Fortaleza's Espaço Cultural Airton Queiroz
Physically, the exhibition space acts like a three-pointed star that nicely complements a reading of the artist's development-- as one wing presents the collaged sense of the relationship between his beautiful abstract paintings from the Metaesquema series, Oiticica's floating Spatial Relief sculptures, and performative boxes called Bólide; another wing draws out the relationship between the floating sculptures and his costumed performance works known as Parangolés, which are essentially wearable abstract paintings. Less familiar for me were the Bólide, and I came to really enjoy these performance boxes that might be described as the kind of Cornell box that would be made by a lunatic clown. One of my favorite bólide in this exhibition included a photo of a fallen figure and a small version of the artist's famous red banner with the words "Seja marginal, seja herói" ("Be an outsider, be a hero"), which is quite possibly one of my Top Ten favorite contemporary art works.
Below, Hélio Oiticica: Seja marginal seja herói (Be an outlaw be a hero), 1968; ink on cloth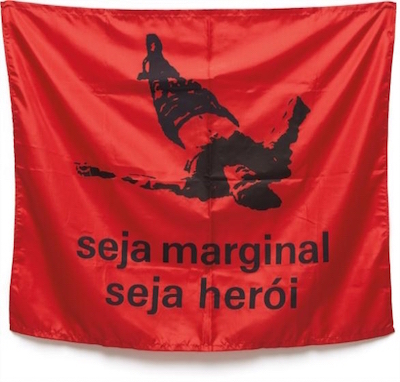 The exhibition's third wing is devoted to one of Oiticica's Cosmococas--a series of immersive, multimedia installations in which viewers, said the artist, may "discover their inner creative center, their dormant expressive spontaneity, subject to daily life." There is something simply joyous in witnessing Oiticica's work, as he constantly engages us-- by inviting us to dress up and perform, or simply hang out in a mattress-filled "chill-out" lounge featuring photo projections and Jimi Hendrix songs. This entire show is a crowd-pleaser for audiences of all ages. Even a curmudgeon will leave with a smile. The show continues through May 1st.
I don't know how many of you will be able to consider Fortaleza on your next trip to Brazil, but you should...!
Hélio Oiticica: Estructura Corpo Cor
Now through May 1
Espaço Cultural Airton Queiroz
UNIFOR -- Universidade de Fortaleza
Fortaleza, Brazil
Below: Simon Watson and Sylvia Carolinne de Andueza, artist and correspondent for DASartes magazine, engage in the immersive, interactive spirit of Hélio Oiticica's Parangolés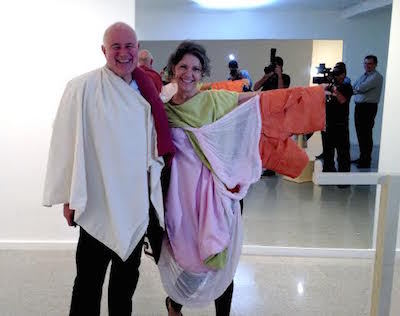 Calling all HuffPost superfans!
Sign up for membership to become a founding member and help shape HuffPost's next chapter