This Saturday night over 1200 people will gather in Denver to celebrate an event called "Be Beautiful Be Yourself Jet Set Fashion Show" billed as the place where Fashion meets Inspiration. Music Icon Quincy Jones will be named the 2009 Honoree, singer-songwriter Josh Kelley will perform and beautiful people from all over the world will come together to clink glasses of champagne.
But the focus won't be on the celebrities, the professional athletes, the famous politicians, the rock stars or even the fashionistas, the focus will be on the guest models who will walk up and down the catwalk in fabulous clothes from Sax Fifth Avenue, because these models have Downs Syndrome.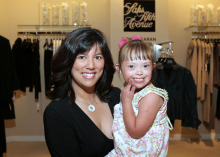 I had the pleasure of interviewing the Executive Director of the Global Down Syndrome Foundation, Michelle Sie Whitten on my radio show this week. You can listen to her share the story of her very personal journey with her 6 year old daughter, Sophia who was born with an extra copy of the 21st chromosome.
There are over 400,000 people in the US and millions worldwide with the condition. Yet, despite the frequency it is the least funded genetic condition by the National Institutes of Health.
The Global Down Syndrome Foundation wants to change that. Michelle set the ambitious goal of raising $1 million dollars for Downs Syndrome this weekend here in Denver and she shared with me that it looks like they are going to exceed that goal. How exciting is that?!
If you're still trying to figure out what to do this weekend, there may be a ticket with your name on it. Click here to watch the very inspiring video of the work they are doing for Downs Syndrome and join Michelle and lots of other truly amazing people this weekend to raise money and awareness for this wonderful cause.
One thing is for sure, you will be inspired.
You can also donate by visiting the website and participating in an online auction here.
The funds raised will go directly to the new Linda Crnic Institute for Down Syndrome on the Anschutz Medical campus in Aurora, Colorado. This is the first national organization to house basic research, clinical research and clinical care for people with Down Syndrome under one umbrella. The Institute is a collaboration between the University of Colorado Boulder, the University of Colorado Denver and The Children's Hospital and aims to eradicate the medical and cognitive ill effects associated with the condition and significantly improve the lives of people with Down syndrome throughout the world.
Popular in the Community