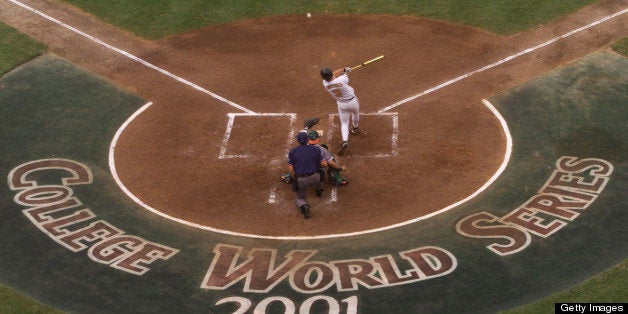 With the College World Series (CWS) brackets announced this week, much of the media attention will center on which teams made the field of 64 and projecting who will win the championship in Omaha, Nebraska. However, the real discussion should focus on recent indications that college baseball is on the rise.
College football and basketball are commonly referred to as the "revenue sports" for their potential to generate profits for their universities, while baseball and all other NCAA sports typically lose money. But that hasn't stopped major media companies from increasing their bets on college baseball.
Clearly, the "worldwide leader in sports" (ESPN) sees upside in college baseball and is actively expanding its distribution.
With wide-scale demand growing, college baseball is also bolstered by a strong talent pool.
High School Athletes Want to Play College Baseball
According to NCAA research, the total number college baseball players has risen every year but one over the past decade, even with a struggling economy and some college teams having been terminated.
Some attribute this strong interest to the alluring metrics of Major League Baseball (MLB), where most college baseball players aspire to advance.
Highest Percentage of College Players Turn Professional
MLB has the largest draft, resulting in college baseball players being 10 times more likely to become professionals; the NCAA's 2011 report showed that 11.6 percent of college baseball players go pro compared to 1.7 percent of college football players to the NFL and 1.2 percent of college basketball players to the NBA.
Second Highest Average Salary
Colleges are Taking Action
Recognizing college baseball's upside, universities are investing in the future.
Perhaps the gold standard in college baseball is Louisiana State University (LSU), which has yielded an estimated $2 million profit in some seasons. LSU's success has encouraged other college teams around the country to invest in their programs, often improving their facilities and providing a better fan experience.
While it's unlikely that college baseball will be able to contend with the dominance of football and basketball anytime soon, the market is growing steadily.
For viewers, wider distribution is helping them enjoy more games. Meanwhile, college baseball remains popular, and even more college teams may be able to generate income.
However, the biggest growth factor may stem from FOX Sports Media Group's (FSMG) recent announcement of FOX Sports 1 which launches in August to compete with ESPN. Being that there is a finite supply of college sports programming, there may one day be a bidding war for the rights to broadcast college baseball games, dramatically expanding the college baseball industry.
Related
Popular in the Community