A few years after I began covering the theater, I was introduced to Joe Iconis through a mutual friend. Though he had only recently graduated from NYU's Tisch Graduate Musical Theater Writing Program, he was in the midst of a bidding war involving his show The Black Suits, the rights to which eventually went to producer Margo Lion. Soon, he was amassing quite a following at his concerts and he was starting to pick up some awards. I personally played his demo many a time, and gave it to some people I knew. The Black Suits, which has a book co-written with Robert Maddock, was announced for a May 2008 world premiere at MCC Theater, in preparation for what most thought would be a fall 2008 Broadway opening.
We're both considerably older now. The Black Suits never happened on Broadway; Iconis split with MCC and Lion after what press agents generically call "creative differences," the details of which were buzzed about at the time, but seem too old to discuss now. Iconis has since written a bunch of shows, including Bloodsong of Love: The Rock 'n' Roll Spaghetti Western (which was mounted at Ars Nova) and the Theaterworks USA children's musicals The Plant That Ate Dirty Socks and We The People. He appeared as the onstage pianist and occasional scene partner in Suzanne Vega's Carson McCullers Talks About Love off-Broadway. He penned a couple of songs that were featured on the NBC show Smash. The Black Suits was also kept alive for a long while, with a few different commercial producers attached, and a mounting at Barrington Stage summer 2012 and Center Theater Group's Kirk Douglas Theatre fall 2013.
"Years ago I had this dream that it would be my first show on Broadway and it would introduce me to the masses in a very sort of sparkly way," Iconis said of The Black Suits. "And I just kind of feel like the time for that has sort of passed. Not in a gross way, but that is not a priority of mine. I feel like I've said what I need to say about the show and these characters. If there is a British revival in 10 years and if everyone loves it and it comes to Broadway, that would be great, but I've written so many other shows, and it sort of feels like I just want to do my thing and see what arrives."
Right now a priority of his is the musical adaptation of Ned Vizzinni's popular YA novel Be More Chill, which is having its world premiere at the Two River Theater in Red Bank, New Jersey (a theater I am still hoping will be the home of the world premiere of Pamela's First Musical). Iconis wrote the show with playwright and librettist Joe Tracz, after they were hooked up through their mutual agent in what Iconis describes as a sort of "blind date" that turned into an "amazing collaboration." Vizzinni died in 2013, so Iconis and his co-writer were on their own in creating the piece.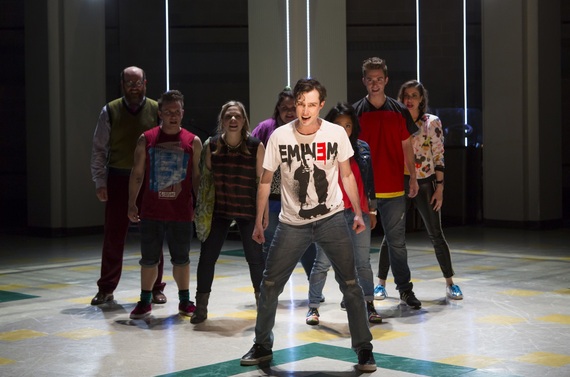 Like The Black Suits, the world of Be More Chill is populated with high-schoolers. The show centers on a teenager whose personality is transformed when he swallows a strange Japanese pill. Of course there are popular girls, and the queen bee just happens to be played by Iconis' new wife, actress Lauren Marcus.
"With all the shows that I've written, the song and the vibe is tailored to the personality of the show itself," he explained. "Be More Chill is about these kids. Musically the whole show is inspired by 80s and 90s films, and the music is inspired by late 80s horror films, which I think is a sound that hasn't crept into musical theater yet."
Without doing a national survey, I'm pretty sure that is right. And, although I haven't yet gotten out to see the show, I'm also pretty sure the music is good. Iconis is a talented songwriter. There is a reason people come to his concerts. He just hasn't hit it big yet. He still has to do graphic design work to make some cash.
"It's hard," he said. "I'm in a really weird position, or it feels weird to me. I have so many projects, or so many things, that I'm sort of overextended from a writing standpoint. I'm sort of needing to generate huge amounts of material for these various shows that I'm working on, but nothing is really paying me any money right now. So it's all great stuff -- and really exciting opportunities and prospects and all this -- but it's really hard to figure out how to devote all my time to that stuff, which is fulfilling and great but also has its own issues and pressures, and figure out how to actually make money. The songs that I had on Smash were really good, so that helped out a lot. But it's very day to day."
This is despite the fact that, in addition to Be More Chill, he is currently working on at least a couple of shows with theaters and producers attached: "The Hunter S. Thompson Project" (for La Jolla Playhouse and Broadway Across America) and Diary of a Wimpy Kid the Musical, largely thought to be pre-Broadway. (Another show he has in-development, Annie Golden: Bounty Hunter, Yo!, is looking for a home.) Diary of a Wimpy Kid, also with Tracz, is premiering at Children's Theatre Company in Minneapolis in April, produced by special arrangement with Broadway heavyweights Fox Stage Productions and Kevin McCollum. It represented a situation in which a producer options rights to material and then auditions writers. Despite the Be More Chill collaboration, Tracz and Iconis auditioned separately unbeknownst to the other, for a short while at least. They found out pretty quickly.
With both Be More Chill and Diary of a Wimpy Kid, Iconis and Tracz are struggling to stay true to the source material and also attract a wider audience than the source material may have had. Be More Chill is a YA novel, and while Iconis thinks the "sweet spot" of the musical's audience is those in their teens or twenties, he believes it "has the ability to speak to a large number of people," as it deals with universal themes of depression of loneliness. Diary of a Wimpy Kid is a kids book series premiering at a children's theater company, but they are trying to make it a "fun for the whole family"-type of show.
"Everyone is wanting it to have a life outside of the children's theater world," Iconis said. "It is tricky because the books are super snarky. In the world of musical theater family shows, that sort of sense of humor is perceived as too much, so it's been a very funny process of trying to maintain the vibe of this large property, while trying to fit into this image of what a family musical can be."
So Iconis, who for so many years worked with friends, is now navigating the tricky waters of new collaborations and high stakes. He's feeling the pressure of working with "sparkly people" and "writing something that pleases so many people while still keeping your own voice."
Indeed, his goal is still the same as when I met him, unchanged despite the passage of time. "I want so badly to have a show that I care about on Broadway," he stated during our recent interview. "It's hard."
Photo by T. Charles Erickson of cast members of Be More Chill.
Note: This interview was conducted prior to the official opening of Be More Chill.
Popular in the Community