Businesses, especially those that are publicly held, are known to be self-serving entities and that is exactly why we see more and more companies investing in giving campaigns. Businesses have realized what philosophers have known for years: to give is to get.
Yvon Chouinard, Founder of Patagonia, shared that "Every time we've done the right thing for the planet, we've made more money." Today, there is an evolution in giving which is a shift from charitable donations to the giving of a company's greatest asset: Its time and talent.
Individuals have long recognized the benefits of volunteering. In fact, research shows that in addition to health benefits that come from volunteering, it helps you develop confidence and skills. So while companies initially started to harness volunteering to help keep their employees happy and engaged, they are now recognizing new benefits including higher-performing leaders, enhanced innovation and even new market expansion.
As this momentum towards service continues to grow, we see a lot of people going about it the wrong way. So I teamed up with fellow HuffingtonPost contributor Brad Jamison to share some insights and tips. We firmly believe that not all volunteering projects are created equal, and if you want to serve, the best way is to be more selfish.
Find the Right Volunteering Project
Start with the end in mind and think about how service can benefit you by helping develop skills, build experience in a new industry and/or gain exposure to different sizes of organizations. Before you start looking for projects, first map out the following:
Technical Skills. How can you apply your current skills in an area you already know, while simultaneously developing new skills so that you can excel at your job? As an example, if you want to improve your business consulting expertise, find a project that allows you to use new analytical models in a consulting style volunteer project.
Soft Skills. What skills do you want to develop, and what type of environment will help you the most? As an example, if you want to grow as a leader, explore joining the Board of Directors of a local nonprofit or serving as a mentor to youth leadership programs.
Time. Be honest about the time you can give, and when you can give it. You can make an impact giving an hour a week, a day per month or by volunteering on your vacation in a concentrated sprint, but projects vary a lot based on your availability. Decide when you can volunteer, and for how long, and use that information to help find the right project.
Use organizations like LinkedInForGood, Catchafire and MovingWorlds to find skilled opportunities at home or overseas. Want inspiration first? Sites like VolunteerMatchand Good-Citizen have free quizzes to help you find the type of service projects best for you.
Make the Most of Your Volunteering Experience
Training to be a better volunteer might seem odd at first, but just as you would attend an orientation before starting school, you can do the same for volunteering. We recommend these free courses on Udemy for international volunteering projects and ServeSmart for all types of engagements.
Beyond training, take ample time to build a partnership with your organization and think of it as a professional consulting project, not simply a traditional "do-gooder" project. Both parties will only realize the benefits of volunteering if great care is taken in planning. While you plan, make sure to align on key things like:
Success Factors. How will both you and the organization measure success of your work together?
Learning Goals. What do you hope to learn in the volunteer experience, and how can your partner help?
Capacity Building. What skills can you apply and possibly teach to the organization?
Milestones & Responsibilities. Who is responsible for what, by when?
You can use the open-sourced Experteering planning guide for international projects and Taproot's ProBono Management process for local work.
Reflect and Communicate the Value of Your Experience
Reflection is proven to make you happier, and also help cement the things you learn. Find a mentor for the length of the project who can help you be a higher performing volunteer, and also help you translate your experience into life-lessons.
Include volunteering in your at-work performance reviews, LinkedIn profile and social media profiles. Keep a blog or running hashtag of your experience so you have a portfolio of your work.
Our Vision for the Future of Service
We believe there is a fundamental shift in the way that organizations and volunteers should engage with each other. Currently, many organizations feel a pressure to create volunteer experiences which will solicit more donations. Meanwhile, people feel an obligation to "give back" based on societal pressure. This model creates dependencies and positions organizations as "needy" and the volunteer as "privileged". But volunteers want to give more than money, and organizations need more than time.
Considering the resounding benefits of volunteering for all parties involved, companies will continue to harness volunteerism as it recruits, screen, develops and engages its people. In fact, skills-based international corporate volunteering is already a rapidly growing trend for these very reasons. And it's a good thing they are: The United Nations and other leading global development organizations have published that a lack of access to skills is one of the leading barriers to progress.
However, as volunteering grows, people and organizations should proceed with the intention to both give and get all they can. Counterintuitive as it might be, if you truly want to make a positive impact, don't ask what an organization needs, ask what you are best at giving, and then go give that. In short, be more selfish when designing your service project. We're confident that if you do that, organizations most in need of your time and talent will benefit even more as you'll give higher value skills and stay engaged for a longer period of time.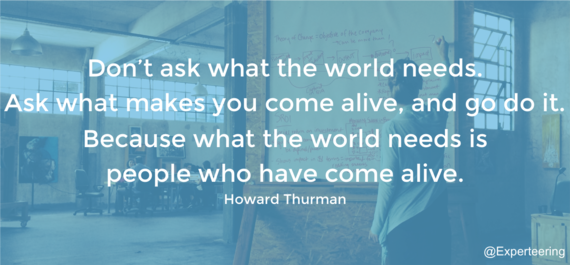 Related
Popular in the Community