You'd think that in a nine-day bike race, you'd get used to having a camera on you during all waking hours. I never did. I always felt the presence of the camera lens capturing every movement and the microphone recording every sound.
When I was first diagnosed with Friedreich's ataxia (FA), I experienced a very similar feeling. One of the main outward symptoms of FA is compromised balance and coordination, along with slurred speech. If you don't know what FA is, you could mistake them for someone who has had way too much to drink. One time, before I started using a wheelchair full-time, my credit card was not working in the swiper at the gas pump. I walked in to pre-pay for my gas in cash, and the woman behind the register would not sell me gas because she thought I was drunk. Encounters like these made me uneasy around other people all the time, I felt them analyzing every movement I made and every word I spoke, wondering if I was ok. I could feel their eyes and their thoughts. He looks unsteady. Should I offer him help? Is he drunk?
When three friends and I decided to take on The World's Toughest Bike Race - Race Across America (RAAM), we wanted to use the journey to raise awareness for FA. Suddenly, we wanted people to stare; we wanted them to wonder if we were ok and perhaps think about how they could contribute. On my blog at the time, I voiced the need for a documentarian to chronicle our trip, and a friend hooked me up with Kevin Schlanser and Zack Bennett (Redwood Creek Entertainment) -- filmmakers who were interested in telling our story. The goal was to capture every movement and sound, and this meant confronting the very thing that gave me big anxiety. We turned the situation around to draw attention to ourselves, rather than deflect it, and to breathe strength into our efforts rather than be defeated by our circumstances.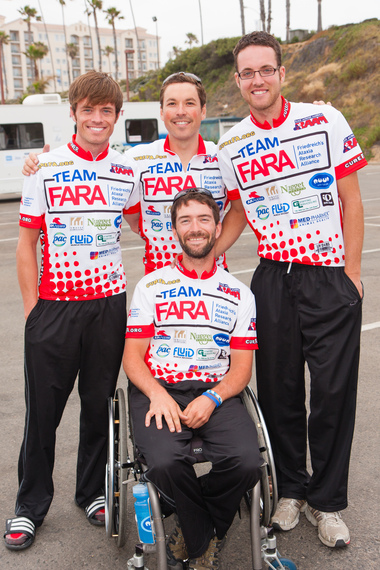 Team FARA in Race Across America (RAAM) - Sean Baumstark, John Lockwood, Mike Mellott, Kyle Bryant - Photo credit: Blake Andrews, SLOtography.com
The journey was intense. We encountered extreme heat, freezing temperatures, steep mountains, driving rain, and the winds of Kansas. We had a four-man team (three bikes and one trike), and we split into sub-teams of two. Each sub-team was on the road for four hours and during that time the two riders would switch off about every half hour. In a half hour, you can give it everything you have and not worry about running out of energy, so it was a constant all-out sprint across the entire United States.
Redwood Creek Entertainment was with our four-man team for every inch of our 3,005 mile race--from ocean to ocean and captured virtually every moment. They put it in a film called The Ataxian that will premiere on Saturday, June 6, 2015, at the Dances with Films festival in Hollywood.
When I was first diagnosed with FA, I was ashamed of my disability and I tried to deflect attention because of it. However I have learned to focus on being proud of my ability rather than ashamed of my disability. Now I am looking forward to reliving every detail of our RAAM journey on the big screen with hundreds of other people.
Sometimes going outside our comfort zone can result in things that we never would have imagined possible for ourselves. So next time you are feeling self-conscious about something, take a breath and be open to possibility.
Related