Never stop learning and being surprised by the magic that only you can create. Simonetta Lein
We all need role models, inspiration, mentors. If you are blessed enough to find that spark out there, you will certainly light it in your own heart. Once your mind is mastered and your soul is pure, you can achieve anything. I can say this with certainty as I have experienced it in my own personal life. My mentor, Daisaku Ikeda, inspires me every day to look for those lights out there that can awaken the world. Those ordinary humans who bless us through their victories, the examples of how earthly desires can become enlightenment if wished for with a wise mind. Sharing stories of victory can motivate us to be better people and to never settle in life.
"If someone like her can make it, I can make it too". "I want to be just like him or her, and maybe better". We need thoughts like these; we need the great leaders of the future. We need women to arise without jealousy or animosity. Your victory is my victory as I can be inspired to strive for more. Your successes are also mine, as we should know in our hearts how good it is to feel joy for the accomplishments of others.
I want to see success stories and to be motivated as I feel when I read the story of actress Karimah Westbrook.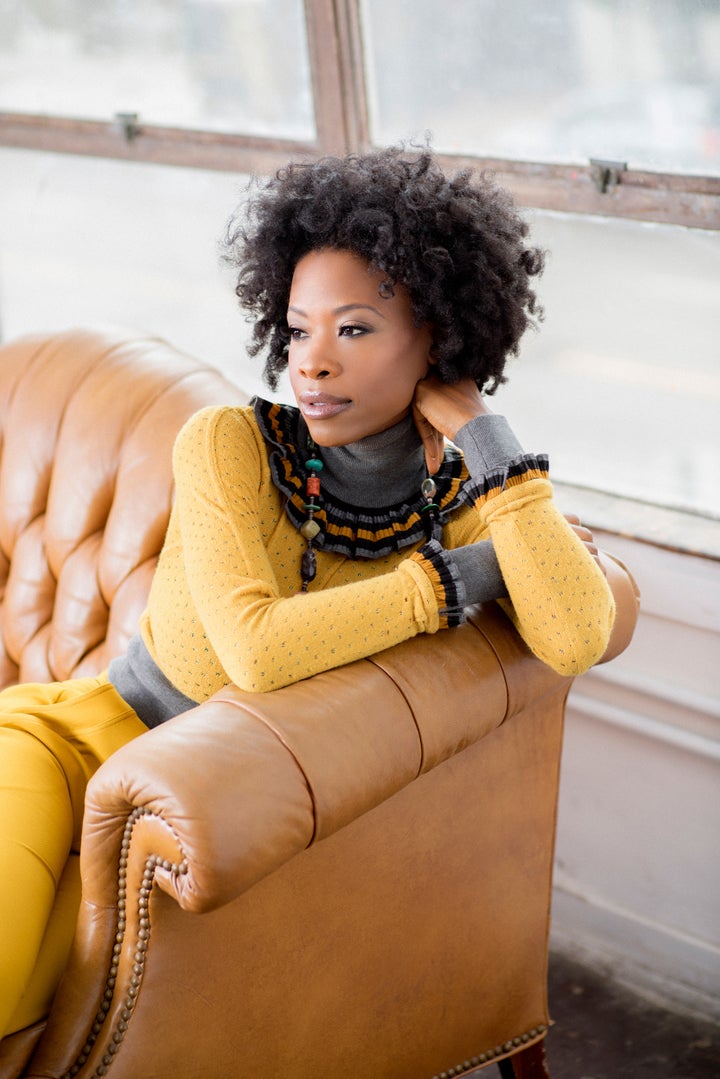 Credits: Photo by Nate Taylor - Sweater and Pants - Verdad, Necklace - Sequoia Sky, Stylist - Tracie May-Wagner
When you were a child, did you wish for the career and for the life that you have manifested today?
When I was a child, I idolized Whoopi Goldberg. I loved all of her movies- The Color Purple, Fatal Beauty, Jumpin' Jack Flash, Burgular, Sister Act, Ghost, etc. I was amazed and entertained by how funny and talented she was. I also loved the fact that she looked like me. She was a dark-skinned woman with natural hair. It was after high school that I realized that I should pursue acting as a career. I was incredibly driven and I truly believed that I would make it so, I went for it. After crashing an audition and booking a role in the Paramount box office hit Save the Last Dance, I secured enough money to move to Los Angeles, and I have to say, that things have manifested quite nicely for me. I knew that I wanted to act in both television and film and I have. I've even had the opportunity to work with some of my favorite actors like Johnny Depp, Alfre Woodard, Kerry Washington, Brandy, Giovanni Ribisi and Julianne Moore. I'm very thankful, but I also know that I'm only half-way there… there's so much more to realize. My dream of becoming a series regular on a hit drama series has yet to manifest, but I have utter faith in God and the universe that it will.
**Karimah is the leading actress in George Clooney's movie Suburbicon. She plays Mrs. Meyers, the civil rights pioneer who along with her husband faced deep racism when they moved to Levittown, Pennsylvania in 1957. At that time, they were the only African American family in the entire town and were being forcibly threatened to leave. However, they stayed and fought the righteous fight, one that is for all of us, despite race or culture. First of all, I find Karimah's accomplishment incredible. Even more inspiring is being blessed to play a role that brings light to someone who truly changed the course of African American history. The real difference between manifesting your dreams or not lies in your beliefs. Karimah always believed, and Mrs. Meyers did too. Now it is your turn. It always seems impossible until it is done. I want to hear more missions accomplished.
Name a wish that you had for your life or for humanity that finally came true.
Growing up in a troubled area outside of Chicago, where dreams are often deferred, and spirituality becomes a saving grace, I became heavily into religion in my late teens. When I learned more about the story of Jesus Christ, I wanted to be like him. I had developed this idea that there was a certain way that we, as a people, should live in life and how things should work. When I moved to Los Angeles, my personal religious beliefs were greatly challenged as I was introduced to many other religious practices that I never knew of. That soon propelled my quest to know if there was indeed an ultimate and absolute truth. Being that there are so many different religious beliefs and ideologies that I had been exposed to, was my way truly the right way? I needed to know… I longed to get it "right" in life. One day, I found myself sitting on the floor, crying and praying for the truth to reveal itself. I was so incredibly frustrated. I desperately needed the answer, and my life took on a series of twist and turns after that day. Many years later, my wish did come true and I discovered my truth.
**Discovering one's truth is like asking yourself: why am I here? What is my purpose? These deep and difficult questions can definitely be answered. Please do not waste any time listening to limiting thoughts about how you won't make it. It is hard, challenging, and sometimes brutal. However, as with every experience in life the reward to any sincere commitment is high. Commit to yourself. If you are sad or discouraged by an external situation, please fight to find absolute happiness. It is a status that comes from within, and can only be found through a seeking spirit. Find your own way, but find it. This life is way too precious to waste any minute of.
If you were granted one wish for humanity or for our planet, what would it be?
It would be that we all live from a place of love; that we lead with love in everything that we do. I believe most issues that we face today would be eradicated if we operated from a place of love. When we come from a place of love, something happens inside of us… We become open and available. Inspired thoughts, actions and hunches lead us to help one another, to perform random acts of kindness, to answer one another's prayers without even knowing it. I think love is the portal to oneness. I believe it will be hard for states of being like racism, hatred, discrimination and violence to exist in the hearts and minds of people when they're leading with love.
**Only from chaos can stars be born. Even if we live in very difficult times, now more than ever we all need to arise towards love. It is possible, learning how to master our minds. Always think: will my mentor do that, or say that? If you still don't have a mentor, please find one. We have only one life, decide to be inspired.
If you could go back in time and ask one question from anyone from history, who would you want to meet and what question would you ask?
If I had the chance to speak with anyone from history, it would be the Roman Emperor Constantine. Christianity began to transition to the dominant religion of the Roman Empire during Constantine's reign. Historians remain uncertain about Constantine's reasons for favoring Christianity, and theologians and historians have often argued about which form of early Christianity he subscribed to. I would want to ask Constantine what really happened at the Council of Nicea, which was a historical gathering of Christian bishops.
Please tell me what influences your unique sense of style?
Honestly, my style based on what I think looks good on me. Although, in my day to day life, I go with how I'm feeling in that moment, or how I wish to feel throughout the day. Overall, I'm big on patterns and bold colors.
Who is your favorite fashion designer or brand right now and why?
As an actor who's worked off and on over the years, I never really had the money to invest in designer labels. I normally choose what I think looks cute on me. It could be a brand of clothing sold in Target or something fabulous I find in a vintage shop. Recently, I was introduced to an LA designer named Louis Verdad and I absolutely love his work! His choice of color, the way he cuts his garments and his design aesthetic is incredible; It's really chic, feminine and his clothes fit me perfectly. I also really like Ted Baker, Ankara fashion dresses, Carolina Herrera, and any designer that actress Kerry Washington wears.
What is your fashion mantra?
My fashion mantra is: Style is what you make it.
**Bring your style out there knowing that it communicates you, your heart and soul. No matter what, you have the right to put on some makeup, some perfume, get the nicest thing you have in your closet and go out and conquer the world. If you lack some inspiration, write me, I am Italian :)
What is your final message for our readers?
My final message to you readers is to remember that anything is possible to those who truly believe in the possibility of fulfilling their dreams. They may not happen when, or how you expect them to, but they will if you continue to have faith and be in action towards the dream you're reaching for. Faith without works is dead. The spirit that lives inside of you is capable of miraculous things, so please, hold on to your dreams.
**I am beyond grateful to have met such a great soul and light, a talented artist and role model. I thank Tracie May-Wagner for putting us together. I know that women together can accomplish anything. Onward to much success and love.
As always, make your wishes come true.
From Philadelphia, The Celebrity Wishmaker Simonetta Lein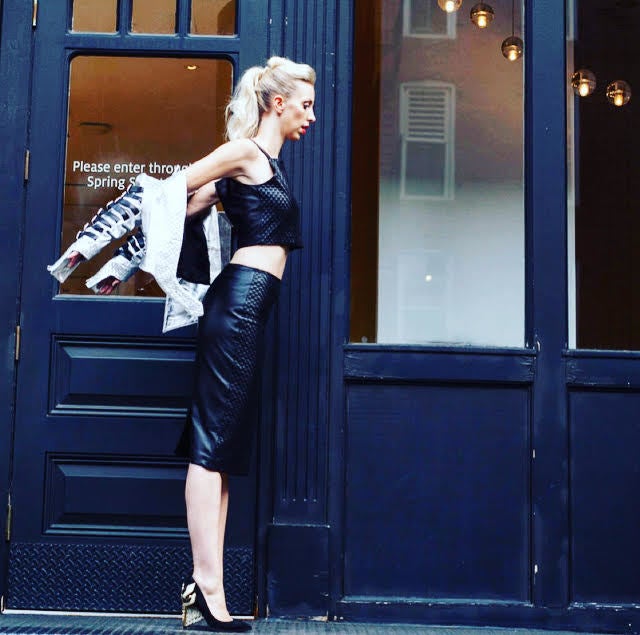 Credits: Photo by B'Captured Productions - Model Simonetta Lein - Hair Style Ale Lucchetta - Makeup Cat In Wonderland - Stylist Ninorta Malke. Outfit provided by Dreams On Air - Leather jacket, skirt and top by Malika Rajani - shoes Femme Sans Peur. New York, NY.
Related
Popular in the Community