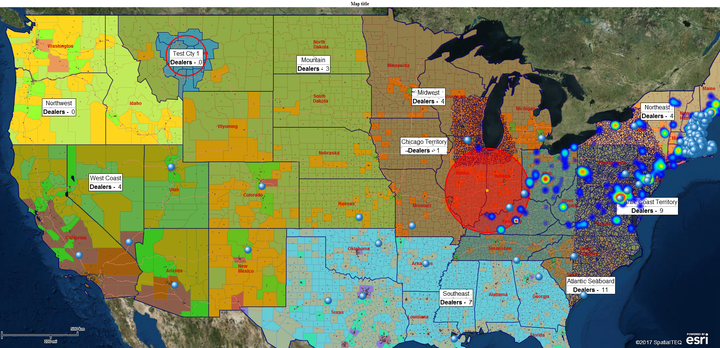 Technology. Some of us love it and some of us struggle. Technology in so many ways defines our working world. Internet access allows some of us to work from home. Entire business models exist only because technology made them possible – Cloud services, on-demand usage models, after market advertising, online bidding.
Technology helps improve our productivity. Then again, sometimes it can drag your whole morning down. Like when it takes an hour to get a damn password issue corrected just to review your AT&T mobile phone bill. (Did I say that out loud?)
Most of us fall somewhere in the middle of the technically capable continuum. I'm no genius, but I can edit a YouTube video. I'm over the age of fifty, but I use an array of cloud services in my work each day. And yes, my millennial daughter runs circles around me technically. Admittedly I bang the table now and then, but in general I do OK.
While it is my job to sell business mapping software, I'm not writing this blog to sell my specific product or push my company. I am writing this because I am an evangelist for the concept of business mapping and I am encouraging you to consider using this visual software tool for three reasons:
1. Business mapping and location-based visualizations are a primary source for business intelligence supporting better decision-making within any organization. These tools, now made super-affordable through cloud services, are simply good for your business
2. Your ability to apply a technical tool like business mapping looks outstanding on a resume. Use this valuable analysis experience to your personal long-term advantage
3. Business mapping tools are just plain fun. Who doesn't want to have a little legitimate fun at work from time-to-time?
To find these mapping tools, simply Google: "Business Mapping Software"
Businesses make good and bad decisions every day. We mostly hear about the really bad decisions, like when United Airlines hauls a passenger off an airplane, or when Wells Fargo is nice enough to create customer accounts for billing purposes only. Nice job fellas.
Businesses need as much information as they can get when they are about to make a decision. And that information needs to be pertinent and correct. Often, location-based information is naturally relevant and with a little forethought, appropriate for the decision at hand.
Decisions about expansion plans, laying off employees, investing in new product lines, practically any decision a business makes, can benefit from a map view that includes a few pertinent layers of business data.
Hospitals expand only after considering their local market's patient demographics along with a full visual inventory of all medical businesses in the market area
Public safety decisions are made quickly and in conjunction with as much situational awareness as possible. Information like where the bad hombres live, where violent incidents take place, and arson related crime locations for the past two years can lead to arrests and successful prosecutions
Businesses create strategic plans based in part on where their competition is focused in relation to where their best customers are located. Understanding where opportunities and challenges exist informs strategy
Visualizations of where your work takes place should incorporate a myriad of data layers overlaid against an accurate map to support any major decision. Location-based data, critical to decision-making includes your own business address-based records, demographic data from the Census bureau, other government data sets, residential and business listings, distribution network data; the list is almost never ending.
It's About Your Future Too
Last time I checked most of us must work for a living. Our work is not a hobby. Consequently, it is important that we remain relevant in our work. Applying technical solutions in the workplace is a critical component to remaining relevant. It just is. Do not be that person who won't use the new technology. That's a ticket to the unemployment line or early retirement.
Business mapping software is relevant because it provides new perspectives on existing business. These perspectives naturally enhance internal processes, inform strategies, and improve productivity. Embrace business mapping so that when related improvements occur at your workplace your personal brand is positively impacted. Associate yourself with the benefits of new technology. Be that Map Geek.
Business mapping really is fun. This isn't the crazy workaholic accounting lady, in love with Oracle talking. Believe me, working with mapping is truly enjoyable.
Everybody loves maps. It combines the comfort of seeing areas you know well with the excitement of travelling to new worlds. Using business maps, you become an arm-chair tourist looking for golden nuggets of information in unexpected areas.
The corner office has little interest in building a map – doing the "work." But you do. Because who doesn't like being part of the strategic team in charge of determining the future of the business? Take the time to massage your data, get it map ready, import the data and tweak that map view. Sharing your maps with caring constituents is a blast. It's a craft.
Use business mapping for home stuff too. Taking a vacation? Map it out. Climbing a mountain next weekend? Map it. You'll be amazed how much fun planning and visualizing your play time on a map can be.
So now that I've brought out the Map Geek in you, go forth and embrace new technology. Build some maps. Update your resume. And, most of all have fun. You'll be the one they think of when a decision is pending. And that's cool for everyone.