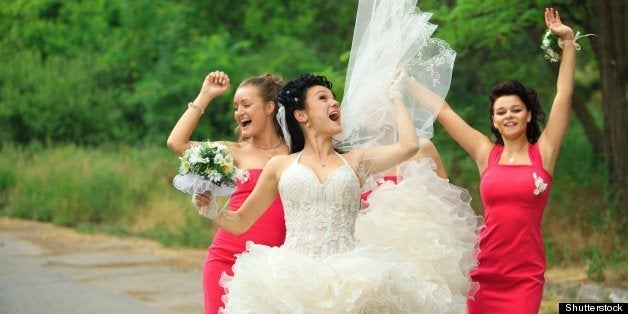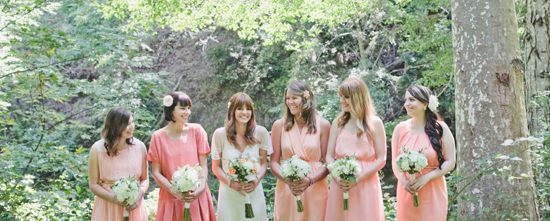 Choosing your bridesmaids is one of the most exciting parts of the wedding planning process. You're asking your best friends, siblings, or relatives to play an important part in your wedding celebration. However, the road to the altar is always a little bumpy, and whether they like it or not, your bridesmaids are going to be in it for the long haul. And that unfortunately means bridal drama is more than likely a possibility. The solution? Be a cool bride, and consider these suggestions for how to make your bridesmaids love you, no matter what.
1. Let your bridesmaids have some say in the bridesmaid dress choice. Give your bridal party color swatches of the color you'd like them to wear, and then let them choose their own bridesmaid dresses. That way they'll have a dress they're actually excited about wearing, and you'll have them looking just the way you pictured! And if you don't like their choices? Chances are they kept the receipt for you, just in case.
2. If you want your bridesmaids to wear heels, take care of their feet. They'll put up with it for you, but will definitely be sad if they end the night with blisters or twisted ankles! And don't put them through an outdoor wedding ceremony where they're wobble-walking on grass; think about investing in heel-stoppers! Providing comfier shoes like flip flops for the reception would be a good idea too.
3. Loosen up your bridesmaids on the morning of the big day. They want to celebrate with you, and the getting-ready process, while fun, is also time consuming and mildly stressful. Providing drinks or snacks before walking down the aisle is a great way to show your appreciation and make sure they're ready to stand next to you for your ceremony.
4. It's nice (and custom!) to gift your bridesmaids with presents at the rehearsal dinner. Make sure you say thank you with a present they'll all appreciate. You could even go above and beyond the call of duty by providing small gifts even after the wedding day (hangover kits, anyone?).
5. Choose do-able hairstyles. Or, if you want your bridesmaids to have crazy or complicated hairstyles for the wedding, offer to find someone to do their hair for them. There's probably no way that they'll figure out those 'dos by themselves, or at least in the way you pictured it. Take some stress off of them (and you) by having a designated stylist.
6. If your bridesmaids aren't friends already, introduce them to each other. That way, they have time to feel comfortable around the other girls and be friends. Fun outings, brunch, or even wedding DIY parties are a great way to get your bridesmaids together before they need to start planning events like your bridal shower or bachelorette party.
7. Warn your bridesmaids about any creepy groomsmen that will be present on the day of the wedding. Alternatively, set your single bridesmaids up with a hot groomsman or cousin.
8. Don't make your bridesmaids compete for attention. You of course love them all, but try to diffuse potential any tension between them (the high school best friend vs. the college best friend -- it happens all the time!) before it blows up into bridal drama.
9. Plan ahead for when you'll need their help.Your bridesmaids are probably all willing to help you out with planning, DIY projects, or tagging along to help you run wedding-related errands. But don't expect them to be available for your wedding needs 24/7. They have their own lives too. Ask them well ahead of time for their help, instead of saving chores for the last minute.
10. Make a conscious effort to try to talk to them about topics other than your wedding. Make sure you've kept up with what's happening in their lives, and keep supporting them -- even if you're secretly freaking out about your wedding on the inside. They'll appreciate the fact that you still see them as more than just your bridesmaid!