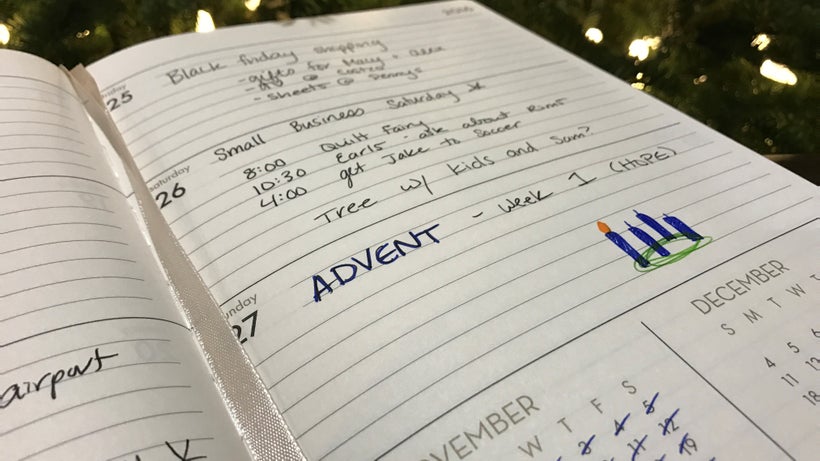 The busiest travel day of the year (Wednesday)
Thanksgiving
Black Friday
Small Business Saturday
Advent Sunday
Cyber Monday
Giving Tuesday
Wait, what? Wow did Advent get in there? My Advent calendar doesn't even have any doors to open (or chocolate to eat!) until December 1.
Sorry to break it to you: this year, Christmas falls on a Sunday, which means Advent got pushed back a week (the fourth week of advent can't fall on a Sunday).
With the beginning of Advent today, the Western church also marks the beginning of the Liturgical year. So along with all the other big events of the week, Happy New [Liturgical] Year!
The first day of Advent also marks the end of the Thanksgiving weekend. Never has there been such an "anticipation of dread" on a day intended to give thanks. Early reports indicate that despite gloomy predictions, families got along and felt some sense of gratitude that they had a place to go and people to eat with – even if they disagreed about politics. Like others, I was nervous about the uncomfortable conversation that might be shared over turkey and cranberry sauce. But my thinking about the day was transformed when I learned that my friend Amy's mother had died at the beginning of the week. While everyone was posting facebook memes about dreading dinner with their family, I knew she would have given anything to have her mother sitting at the Thanksgiving table. Her loss reminded me what a joy it is to be able to see family and visit with friends - with or without the political conversations.
For me, the best part of Thanksgiving dinner isn't the potatoes or the stuffing, but the new guest that arrives unexpectedly: a college student that lived down the hall from my son's dorm room; a colleague who recently moved to town and was too far to go home; or the person you met in the checkout line at the grocery store who ends up joining you for dinner. When this happens, I am especially thankful for Thanksgiving.
The hospitality of Thanksgiving prepares the way for the beginning of Advent, which lightens our path to Christmas. Advent may seem like it came early, but I'm glad its here.
In many churches, we light a candle each week during Advent, reflecting on a different theme as each is lit. At home, we open doors on the Advent calendar and celebrate a new chocolate each day as we count down to Christmas.
Each day at 1:00 am EST, a new door will open, a new candle will be lit, and a new reflection shared. We hope that the Advent Calendar will make your life, your spirit, and your world that much brighter.
The Center for Faith and Service's Advent Calendar will highlight students and recent graduates of seminaries and divinity schools who are delivering hope, justice and joy through their work and walk in the world. The calendar will also highlight the diverse group of schools that make up the Seminaries that Change the World.
We hope that you find inspiration from the faces, stories, and prophetic witness of these individuals who are bringing about justice in our communities and throughout the world. Through these faces, stories, and the prophetic witnesses of these institutions, we hope you will find inspiration to be the light so that others might see.
Calling all HuffPost superfans!
Sign up for membership to become a founding member and help shape HuffPost's next chapter
This post was published on the now-closed HuffPost Contributor platform. Contributors control their own work and posted freely to our site. If you need to flag this entry as abusive,
send us an email
.