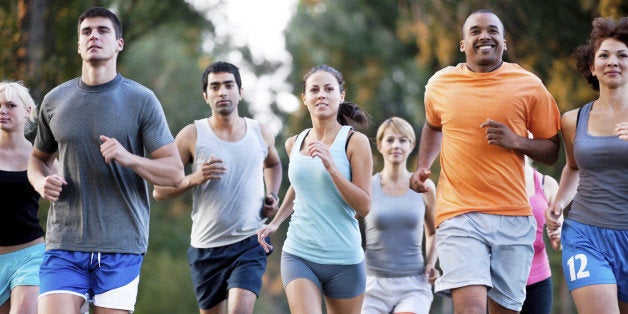 Many of us have lost our way. Runners have always been a very strong and independent group of people. However, social media and savvy marketing strategies have put tremendous emphasis on expensive, over-the-top races and pushed the idea that distance defines running accomplishment.
Dr. George Sheehan, a legend of running literature once wrote that each of us is "an experiment of one." Some runners find satisfaction and enjoyment in running hundreds of miles across jagged mountain peaks in the dead of night. Some runners just want to make it through another local Thanksgiving road race. And, others are happiest when jogging around the park with their dog. All of them are runners.
In her recent article, "How Social Media Killed My Run," Christine Yu warns us of the "comparison trap." Reading about everyone else's accomplishments, real or exaggerated, can lead to unrealistic expectations and self-doubt. This can be especially tough for beginning runners. Seeing a barrage of happy runner selfies posted with mileage totals and split times could be encouraging, but it's just as likely to be defeating.
I remember subscribing to Runner's World magazine after finishing my first few 5K races. It was a personal declaration of sorts that I was officially a runner, and therefore, needed to stay abreast of all things running. As I thumbed through the magazine, especially the race advertisements in the last few pages, it seemed like every one of them had the word marathon in the title. Does a person have to run a marathon to be recognized as a real runner?
Over the last few years, race fees have skyrocketed and races have become more like running themed festivals and less like road races. RunDisney sits at the top of my list of "OMG! How do they get away with that?" entry fees. Obviously, the popularity of these events drives the prices. But, social media marketing is the lever:
Can you run a half marathon? He did. A marathon? She did. Can you do both on consecutive days? We did. How about an ultra? Sweet. Maybe a marathon tour that hits 15 states in 15 weeks and culminates in a hubcap-sized medallion made up of all 15 race medals? Watch out Insta!
My point is not that these races are bad. I admire the runners who compete in these events. My point is that these overly expensive, aggressively marketed and highly socialized races can push runners to jump in too early, or for the wrong reasons. Peer pressure, intentional or not, is a difficult thing to resist.
On the plus side, seeing others have fun and succeed can encourage someone to dream big and accomplish wonderful things for themselves. On Twitter, I engage with all kinds of runners. The running community is made up of half fanatics, marathon maniacs, trail runners, ultra runners, C25K runners, club runners, elite runners, track runners, cross country runners, running moms, running dads, relay runners, obstacle racers... the list goes on and on. Every person has a story to share and most of them are amazing. But, we cannot live a hundred different lives, we can only live our own.
All these external signals can obfuscate the reasons why we fell in love with running in the first place. If you set your own goals and go at your own pace, you'll be a happier runner and you'll be more likely to keep running. As Dr. Sheehan once said, "I have met my hero and he is me."
Support HuffPost
A No-B.S. Guide To Life
Related
Popular in the Community