Writing about entrepreneurship and working with entrepreneurs from around the world, I often have the pleasure of connecting with people I may never have met in a more traditional career.
Claudia and I both share the same home state--proud Michiganders--and a passion for entrepreneurship. Living and working in Switzerland, Claudia started her own business, Text Weapon, based on a relatively new predicament: how to flirt over text message. Text Weapon is both an e-book, French Seduction Made Easy, and a web based texting club; and Claudia is working hard to help people around the world create relationships that bring them happiness. After all, communications is key to courtship and being able to stay in touch romantically in this dating age is crucial to finding the right partner.
In a world where we have less time, we often rely more on advice from people like Claudia in navigating the dating world. In fact, she was recently named a finalist for Blogger of the Year in the UK Dating Awards, has been called a blogger to follow on Twitter, and is regularly asked to share her expertise.
Claudia says, "romantic text messages are intimate, precious tokens, little electronic souvenirs, neatly date--and time--stamped to chronicle almost any relationship." She founded the company after she realized the incredible potential of texting. I asked Claudia to share how she started such a unique business, how she managed to navigate social media and online entrepreneurship, and the lessons she has learned along the way.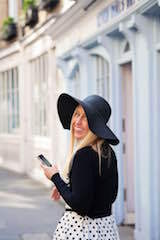 Steve Mariotti: When did you first think of yourself as an entrepreneur?
Claudia Cox: There was never a time that I thought, "I'm an entrepreneur." It's just what I am.
During his summers off, my dad--a school teacher--would bring my brother and I along to help paint houses, clean beauty salons, deliver newspapers, and one time we even tried building picnic tables on an industrial scale. My mom had been part of Kennedy's first Peace Corps in 1961, and she taught me to go out and see the world. I've been living in Europe for more than 15 years--in part, because of my mom who always encouraged me to go out and see the world and experience as much as possible--including other cultures.
One night while studying abroad, I met a French guy who seemed to be living a parallel life to mine. What a small world! The entrepreneur inside me lit up: to create a brand new exchange program between the two schools, and then finish my degree in France. It not only enabled me to graduate without returning home, but it also opened a unique opportunity for students from both schools to study abroad.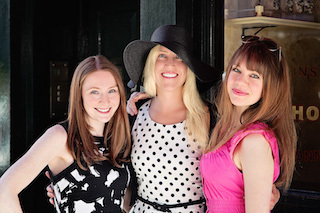 SM: What was your biggest failure and what did you learn from it?
CC: My biggest failure was closing my first company when we ran out of funds. It was heartbreaking because we had worked so hard on an idea that we loved.
In fact, we had spent an insane amount of time trying to write THE business of all business plans, create the perfect implementation plan, tweak the ultimate investor presentation, draft a marvelous NDA, pen a stellar partner contract, etc. We definitely could have used a little dose of lean start-up expertise. But, I learned not to fear failure. Failure doesn't kill you. It isn't fun but it doesn't mean "game over" for everything in your life. You can still pick yourself up and try again.
SM: What was your greatest success and what do you think made it possible?
CC: I'd say my greatest success was getting my message out to the masses in an environment in which it's hard to be seen or heard. I have to give thanks to an incredible group of online colleagues as they are an integral part of my success with Text Weapon. Over the past year, I've consistently had 75,000+ visitors per month (double around the holiday season).
I think that a few things made it possible: patience, hard work, and luck. I spent a lot of time learning about SEO. I try to make everything I write as optimized as possible. I also do a lot of guest blogging, and reaching out to others.
SM: What is the story behind Text Weapon?
CC: After my first wine venture failed to take off, I licked my wounds and went to work in the pharmaceutical industry in Switzerland--starting to build a comfortable and secure life.
Then, my world changed. Not even 3 months after my dad and I had biked around Switzerland and Tuscany, he was diagnosed with a terminal illness. Working part-time in the hospital room, I read books on entrepreneurship, communication, sales, networking, writing, SEO, social media and even accounting. It wasn't long after he passed away that my mom was diagnosed with stage 4 cancer. I quit my job and stayed glued to my mother's side until she passed away.
These experiences changed my life and led me to complete my EMBA in the classroom while studying body language, negotiation, how to build websites, and blogging in my free time. I had three potential projects in mind: a Parisian themed website, a website that would teach children about other cultures, or Text Weapon.
One day at an après-ski bar I met a very charming French guy who inspired one of the main characters in my book, The Knight of Seduction. Our super-charged love story was part of my inspiration to move forward with the Text Weapon project.
I had enjoyed incredible connections thanks to texting, yet when I looked around me, it seemed that so few people ever entered into this fun, flirty world of communication. Their texting seemed to end with "can you pick up some hotdog buns and milk on your way home?" You know what that will get you? Hotdog buns. Not even a gas station rose.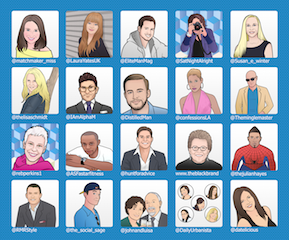 All the people that have offered their help, friendship and support to Claudia since starting Text Weapon
So, I decided to share everything I had learned with the world. I kept writing, and what was intended to be a 60-page eBook turned into a 400+ page texting bible that includes about 3,000 text messages.
SM: What are the biggest challenges someone starting a business faces today?
CC: I would say that the three biggest challenges facing up-and-coming entrepreneurs are information overload, maintaining a work/life balance, and being patient.
Information overload

: There is far too much advice geared toward entrepreneurs. I prefer to take advice from someone who has achieved the same kinds of results that they are trying to teach, or sell me.
Maintaining a work/life balance

: There is always something to do, and with all the push alerts on your phone, it can make you crazy. It's hard to discipline yourself and to learn when and how to effectively turn off the noise, but it is crucial to your ultimate success and quality of life.
Being patient

: Don't expect to be an overnight success.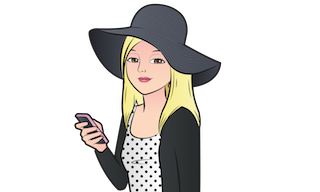 SM: What are six tips you would give to up-and-coming professionals in your industry?
CC: First, Start building your network online and offline ASAP. Don't wait to finish your product or even your website to start reaching out to people in your industry. Create a Twitter account, do some basic research to find the biggest influencers in your domain, and then start sharing their content.
2. Value is king. Everything you do should be based on building relationships and the best way to build them is to give people something valuable: review their books on Amazon, leave comments on their blogs, sign up for their newsletters and give them feedback, share their content on social media, introduce them to people and so on.
3. Become an expert: I had the opportunity to eat lunch with one of the top social media experts in the world this past fall. I asked her, "What's your secret to success?" She laughed, looked at me and said, "I'm really good at a few things. Everything else I'm horrible at. But I make enough money to pay someone else to do it."
4. Seek legal advice: Unless you are a lawyer, it's mission critical to have a good lawyer at your disposal who can help you draft standard contracts and take a peek at anything that could potentially affect your business (IP rights, etc.).
5. Be ready to hustle. Since starting Text Weapon and working towards its success, I have worked as a matchmaker and a creative content creator. I have created brochures, product videos, email sequences, PPC campaigns, logos, websites, Christmas cards, business presentations, and market research projects.
6. Don't be afraid to be unique. Text Weapon is one of the few sites in the dating/lifestyle industry that has ZERO photos. Everything on the site is a cartoon. While a lot of people thought it was suicide to create a relationship site using only cartoons, it has given the site a unique flair. It has also been a plus when reaching out to guest bloggers, as they all get their own cartoon; they are turned into superheroes, and they love it!
Calling all HuffPost superfans!
Sign up for membership to become a founding member and help shape HuffPost's next chapter