Purpose is a magical thing. Some people are born with it; others spend their entire lives searching for it, a few, like me, redefine it on our journey; but unfortunately many aren't given the choice or encouragement to pursue it.
Earlier in my life, I was convinced I had found my purpose because I kicked off my design career, studying and working on my first collection in Paris. By the time I launched my Melissa Curry brand, which garnered great success around the world, I thought I had it all figured out. However, life has its canny way of pressurising your assumed comfort to pull the diamonds out of you. My internal alteration commenced at the arrival of my son. His birth brought a lot of joy and fulfilment to my life, but his early onset illness also brought a lot of anxiety. Devoting the last 14 years my life to his health and well being left me personally and financially vulnerable.
During that time, I set the challenge to rediscover myself and re-define the messages behind my creativity. I found out very quickly that a lot of women around me were facing the same obstacle of self-doubt as I was on the search for their purpose. I knew then that true fulfilment for me was uplifting others along with myself. From that realisation came Be Your Own Success (BYOS); A collection of beautiful pieces of jewellery made to encourage women and girls around the world, women like me; Championing them on their journey towards achieving their various personal goals. Created as tangible reminders to be kind, generous and pass it forward. The gold bullion inspired the SUCCESS bar, which spearheads the collection. Representing the economic empowerment of all people.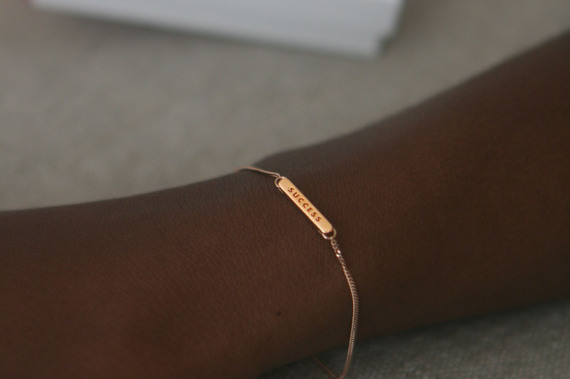 While promoting my brand, I attended several exhibits and events. At one of those in London, I was introduced to The Kisany Project. Founded in 2002 by Nicole Esselen, coordinator of the association "En Avant Les Enfants", who lived and worked with women across the East African region for 20 years. Its mission is to train women to use their talents for the creation and production of exclusive, luxury accessories made with Belgian Libeco linen following strong ethical principles. To date, over a hundred women have been trained to the highest quality embroidery standards. Kisany's products are in popular demand in Europe, due to the brilliance of these seamstresses and volunteers whose diligence has promoted the products into the global market.
The Kisany Project is very dear to my heart because it shares the same values as my brand. Uplifting, educating and providing work for women who have directly suffered from the woes of war and experienced several years of instability and pain. Giving them a lease of life and renewed audacity to dream. Their work with these women is nothing short of exemplary and exactly what my hopes are for how my brand encourages and supports people. We have collaborated with Kisany in the past for exclusive hand-woven gift packages for Virgin Atlantic, CRH Holdings and Facebook's Annual EMEA Female Entrepreneur Awards. This year, we step into new ground with our collaboration with them. We re-launched our Little Bar of Success on Virgin Atlantic, however, this time in full support of the Give Work campaign.
"... A woman's income is her passport to opportunity, security, options and freedom."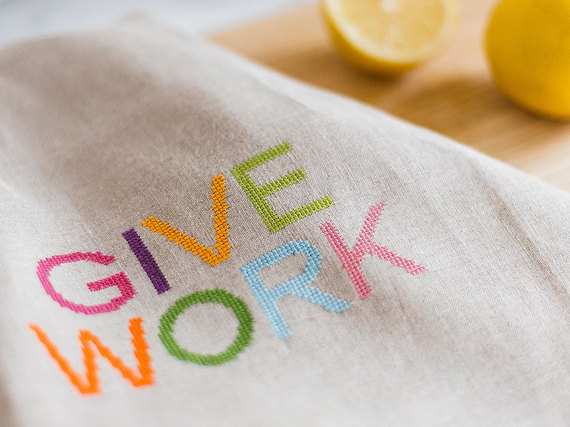 Kisany launched the Give Work campaign in collaboration with Sisley. We were invited by Nicole Esselen to participate in this campaign because of our successful relationship with the project. This time, we made the decision to be a part of it. As a brand, we believe it is our duty to be aware of people, what their struggles are, and how we can uplift them. Globally, women have been marginalised economically; especially in Africa as the larger amount of the impoverished are women. Education and standard of living are very bleak for most women in Africa; Women Thrive Worldwide reports that the less than 20% of African women have access to education and therefore exposing the vast majority to a life of abuse and violence.
We can promote change by working together to ensure that every woman around the world has a right to quality education, which will set her up for a more successful, less violent future. Providing work for these women would improve their livelihoods. According to PCI Global, women currently work two-thirds of the world's working hours, but earn only 10% of the world's income and own less than 1% of the world's property. These numbers are staggering, but it is widely believed that the key to overcoming this problem is to empower more women to work in exchange for fair pay. Because I truly believe that a woman's income is her passport to opportunity, security, options and freedom.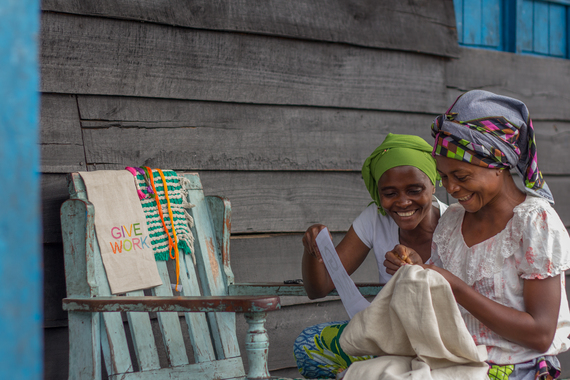 This is where GIVE WORK comes in. The main goal of the campaign is to provide work with adequate training for women across East Africa. To encourage them to express themselves and hone their skills and talents into creating beautiful handcrafted items. The Kisany women have expressed that work allows them to, "escape violence, feed and educate their families, buy their own homes and most importantly, take control of their lives". As a woman who has used her imagination and craftsmanship to build a life for herself, this campaign means so much to me. It is very important to me that I support women and all people who, like me, are finding their purpose, and using their talents to create better opportunities for their children and communities.

I am very proud to announce that as of the first of July, our shimmering rose gold Little Bars of Success are flying high aboard Virgin Atlantic; wrapped in exclusive pouches created by the Women of Kisany, each approximately taking a day to be sewn. So, whenever you're wearing your success bar, remember you're cheering and championing another with you. I invite you to join us in supporting this powerful campaign, and these brave women on their pursuit of purpose and happiness.
Look out for our exclusive Virgin Atlantic holiday season offer*
Calling all HuffPost superfans!
Sign up for membership to become a founding member and help shape HuffPost's next chapter