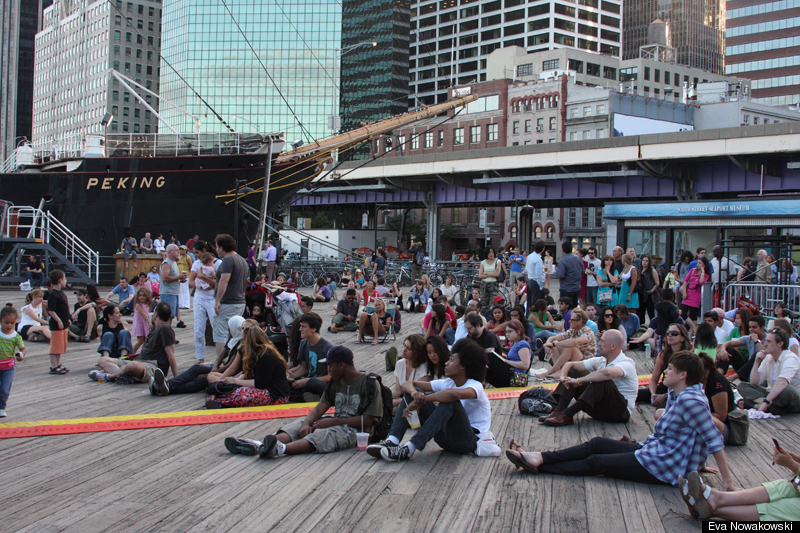 New York City's South Street Seaport's summer music series was almost waylaid by an arrest on Friday night. Initially the evening lineup was to include back-to-back bands hailing from Texas, Yellowfever and Woven Bones. However Yellowfever was forced to cancel their performance due to a misunderstanding at the Houston airport. Yellowfever's Jennifer Moore was apparently arrested after TSA officers discovered a chef's knife she had accidentally stored in her carry-on. Brooklyn based band Beach Fossils stepped up and filled in the gap.
Those of you really looking forward to Yellowfever's set will be relieved to hear they are scheduled to play Cake Shop on July 8th and Monster Island Basement in Brooklyn on the 9th.
Austinites Woven Bones played a brief but rockin' half hour set. With a penchant for garage rock, Woven Bones blends guitar noise with punk attitude and butt-shaking beats. Reminiscent of the Jesus Mary Chain, complete with a standing drummer and stares of disinterest, Andy Burr's seductive vocals were reminiscent of Iggy Pop and Lou Reed.

Next Brooklyn's own Beach Fossils hit the stage with their new wave inspired sound. Woven Bones showed their southern hospitality by lending the Beach Fossils a plethora of equipment for the show including the drum kit. Their new wave lo fi sound got everybody including myself dancing around Pier 17. Singer/guitarist Dustin Payseur was a delight to watch as he hopped around on stage to indie pop infused beats.
Although the opening of the Friday night Seaport shows started off with some confusion and last minute changes all in all it was a successful night. It brought together two bands of different genres that may have otherwise never crossed paths.

Related
Popular in the Community