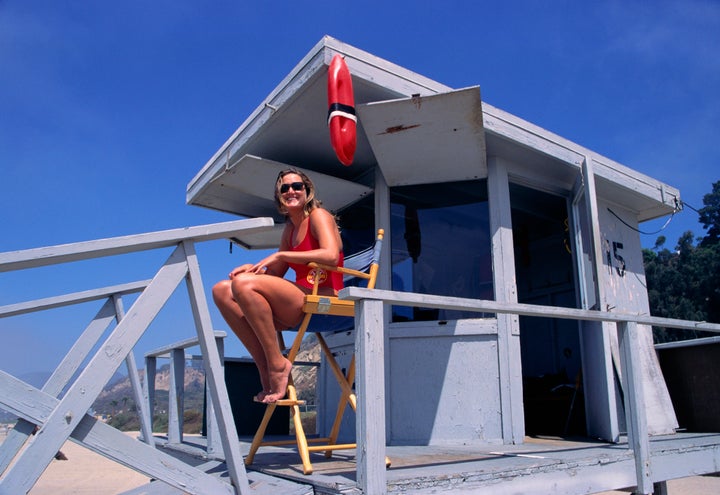 As the weather heats up from coast to coast, hitting the beach is top of mind for many people. You may be lucky enough to live near a lake, river or ocean — or perhaps you're headed out of town for a seaside vacation.
That's great, but there's a lot that can go wrong when you're swimming or playing in a natural body of water.
In fact, the Centers for Disease Control estimate that about 10 people per day, or 3,536 people per year, drown unintentionally in non-boating related incidents (and an additional 332 people die each year in boating accidents), so it's worth brushing up on your beach safety know-how before heading to the nearest shoreline.
Here's what a group of seasoned lifeguards wants every beachgoer to know about staying safe this summer.
1. Know your own abilities.
Whether you're a strong swimmer or a total novice, knowing your abilities and staying within your limits will go a long way to keeping you safe at the beach this summer.
Katherine Kazaba, a New York-based publicist who spent seven summers as a lifeguard in New Jersey, says she saw many Jersey shore visitors take unadvisable risks because they wanted to show off or had overestimated their swimming skills.
"Whether it's because they want to impress their friends and keep up, or they figure that summer 2017 is the ideal time to learn how to conquer the ocean, patrons who overestimate their talents and abilities are the ones who find themselves in trouble," Kazaba said. "Be honest with yourself — the ocean is a powerful force."
Eric Howell, an ocean lifeguard captain with the Los Angeles County Fire Department, added, "When we have really big surf [waves breaking near the shore], we have really strong rip currents. So you really have to be a strong swimmer and know what you're doing to go out in the ocean in conditions like that."
2. Know how deep the water is ― and identify drop-off points.
Bill Corbett Jr., now a Long Island-based publicist, worked two summers as a lifeguard at Lake Tiorati at Harriman State Park in New York's Hudson Valley. There was a roped-off area for swimmers at that lake, as is the case at many beaches, but the water could be very deep in certain areas, something many visitors failed to realize.
"Surprisingly, these small holes often were the cause of somebody, usually children, starting to drown," Corbett said. "[So] always know how deep the water is, and if you know you or your child can't swim, avoid this area."
3. Keep your eyes on your kiddos.
Every parent does their best at the beach, but many lifeguards we spoke to emphasized that constant parental supervision is key to keeping kids safe there.
The No. 1 reason for children's near-drownings at Lake Tiorati was a lack of adult supervision, Corbett said. Kazaba noted that in her lifeguarding days, it was tough to focus on individual children because she had between 100 and 300 lives in her hands.
4. Only do as much in the ocean as your physical fitness will allow.
Swimming or playing in the ocean requires a certain level of physical fitness, said Dr. Brad Parsons, chief of shoulder surgery at the Icahn School of Medicine at Mount Sinai and an ocean-certified lifeguard who worked at beaches up and down the East Coast for eight seasons.
He noted that, for example, someone with a shoulder or back injury, or another health problem like cardiovascular disease, may decide to go out for a swim, thinking it will be a gentle form of exercise.
But they could quickly find themselves out in deeper water or caught in a rip tide in which they're struggling to stay afloat. They're now in a difficult and stressful situation that they're not in physical shape to handle, and they'll need immediate lifeguard assistance, Parsons said.
5. Swim where lifeguards can see you.
Most ocean and lake beaches will have designated swimming areas monitored by lifeguards. Those areas are established for a reason — perhaps because that's where the water is calm and not too deep, or where there are no rip tides or undercurrents — but people often swim away from designated areas at the beach.
"People will go to a beach that has lifeguards and then decide to sit far down the beach ... because there aren't as many people, or it's less crowded," Parsons said. "And then they'll go in the water in front of where they're sitting, instead of where the lifeguards can see them."
Stick near the lifeguards; you want them to be close by if something goes wrong.
6. Talk to lifeguards about water conditions.
One thing Howell wishes he could tell every beachgoer before they leave the house is to check in with the lifeguard upon arriving at the beach to ask about current hazards and ocean conditions.
Parsons echoed that, saying, "Very quickly, with a large wave or a swell, they can go from standing ... to [getting caught up in] something like a rip tide that can literally sweep them off their feet and take them out past where they can stand."
Talking to the lifeguard can help you gauge how far out into the ocean you should go, and whether or not it's even safe to swim.
The bottom line? A little self-reflection on your personal fitness and abilities and a healthy respect for the water and your lifeguards will ensure everyone goes home from the beach happy — and in one piece.
Related