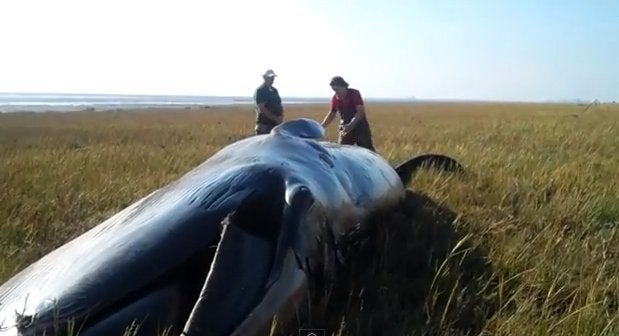 A dead whale found half a mile inland isn't part of the typical scenery you'd expect to find in the midst of England's picturesque countryside.
But that's just what mysteriously washed up 800 yards from shore on the banks of the Humber estuary at Skeffling, East Yorkshire last week, reports The Telegraph.
So how exactly did it get there?
Planet Under Attack put together a YouTube video of the incident, speculating, "This reminds me right off the bat of a cow abduction ... it certainly has all of the trademarks."
But, according to experts, there's no link to aliens. Nor did the whale fall out of the sky, as a headline reads from The Epoch Times. Instead, experts believe it was merely a whale in search of food, reports Yahoo News. Kirsten Smith, North Seas manager at Yorkshire Wildlife Trust, said, "With the high tide the whale probably got carried up on to the salt marsh, got pushed back further in shore and then got stuck when the tide went out."
With a high equinox tide carrying the 33-foot-long female Sei whale inland, it is thought she died from suffocation after turning over on its blowhole, experts said, according to the Daily Mail.
Rare sei whale species are normally found in deeper waters off the Atlantic Ocean, not shallow coastlines, notes the BBC.
Robin Fetch, from the Sea Watch Foundation, told the BBC: "It's not unusual to find whales here. We've always had whales following the herring down the coast, usually during late summer when they come to feed."
Watch the Yorkshire Trust's YouTube video with footage of the beached whale in the fields of Yorkshire:
Related
Popular in the Community