The smoky aroma of grilled meat in the air is crying for my attention. Too bad I have just finished several freshly made picarones: sweet potato batter swirled into a loop, fried in hot oil, and deftly removed with a long stick before being smothered in honey. In Lima, it only takes a couple of dollars to more than satisfy your snack attack.
Food may be part of Lima's appeal, but there's a lot more to it. If you're looking for a large city on the Pacific with thousands of years of history, a vibrant culture, active expat community, and food to die for, then Peru's capital is an outstanding choice. It also makes for a great urban hub, chock-full of all the amenities you'd expect of a capital city, from which to explore the rest of this wonderful country. The cherry on top? Lima is one of the Americas' most affordable capitals.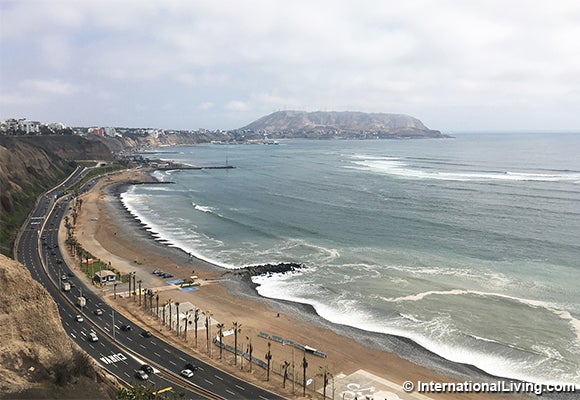 Including rent, a couple could live in the center of the city for $2,500 a month or less.
The business, culinary, and retail hub of the country, Lima (with a population approaching 10 million) sits at the halfway point along Peru's 2,000-mile coastline. It offers a great blend of city and coastal living. Accessible beaches can be found in the seaside districts of Miraflores, Barranco, and Chorrillos, while established resort towns like Punta Hermosa and Santa María del Mar lie just an hour to the south.
But there's more to do here than bury your toes in the sand. The city offers regular art exhibitions, dance festivals, music performances, and book readings. Combined with the numerous galleries, theaters, and museums in the city, these make it a paradise for the culture vulture.
Lima is made up of 30 districts, each with its own personality. One of the most affluent is Miraflores; this is where you'll find the bulk of the city's U.S. expats. If my wife Nancy and I decided to live in Lima, this is where we would settle. It's a thriving cultural center, with a profusion of theaters, cinemas, and art galleries.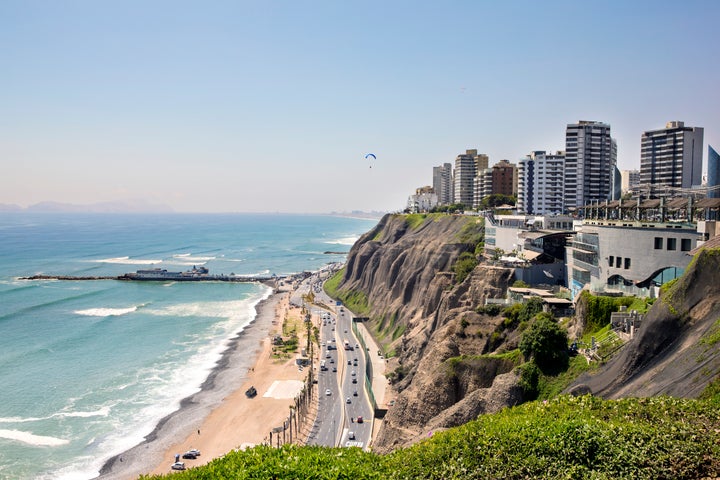 As you stroll along bustling Avenida José Larco, either by day or by night, it's easy to see the attraction of this seaside area. A large array of restaurants, bars, nightclubs, and department stores has helped make Miraflores one of Lima's most popular areas. Local street vendors peddle traditional sombreros, with a backdrop of modern retail shops selling the latest in computer accessories and high fashion. Calle de las Pizzas is a favorite among locals and foreigners alike for its many pubs and eateries.
You can find great dining here to suit any budget, including Central Restaurante, which continues to win accolades as one of the best in the world. But locals still love Peru's favorite barbecued street food, anticuchos. These tender, marinated beef hearts on a stick are sold everywhere in the country, and Lima is no exception. More often than not, three meaty chunks are accompanied by a little potato and a piece of choclo, Peru's delicious giant corn. All for a total of less than $2.
On our visits to the city, my wife Nancy and I always enjoy visiting the Larcomar Mall, and we never hesitate to stop at the Manolo Restaurant on Larco Avenue along the way. We pay about $5 for six large, fresh, crispy churros (fried dough sticks) served with a cupful of hot, creamy, chocolate dipping sauce. For another $15 you can add two huge sandwiches and coffees. Head to one of the small local restaurants and you can find two-course menús del día (daily specials), which include meat, vegetables, and a drink, for less than $5.
The Larcomar Mall offers high-end shopping, great dining, and a cinema with a sea view. Built into the side of towering cliffs where Miraflores meets the Pacific, this modern shopping center offers spectacular views of the coastline in either direction. It's a great spot from which to observe surfers riding the waves below and parasailers flying overhead on the powerful updrafts the cliffs provide.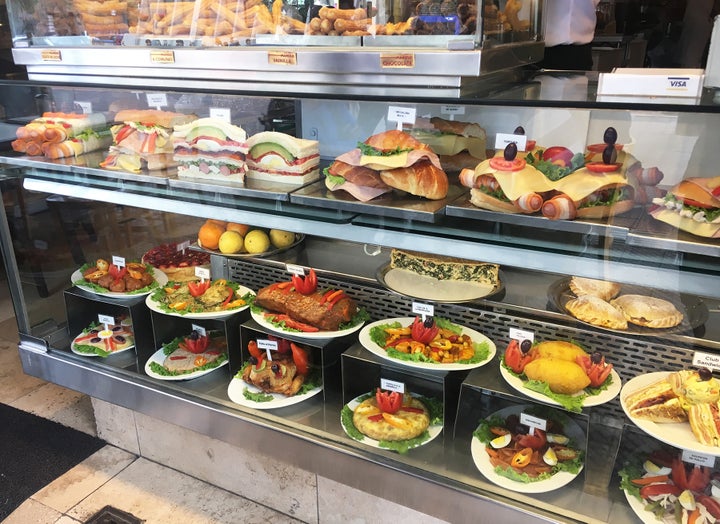 One large park leads into the next along the Miraflores waterfront, but the crowning glory is Love Park, located on the cliffs of Chorrillos overlooking the sea. The poet Antonio Cillóniz lamented that, "in the cities, they do not build monuments to lovers." But Miraflores is the exception; it opened Parque del Amor in 1993. The park is surrounded by walls of romantic quotes scripted in mosaic tiles. A statue of two lovers in a passionate embrace lies in its center.
Cat lovers love spacious Kennedy Park, which lies at the center of Miraflores. Surrounded by restaurants, retail shops, and art galleries, it's a go-to location for both tourists and locals. It's made famous by the hundreds of cats and kittens that call the park home. Here you can also find local art and handicrafts on display, along with regular performances in the small outdoor amphitheater.
History abounds here, too. Miraflores was not established until the 16th century, but the spectacular Huaca Pucllana, a great pre-Inca adobe-and-clay pyramid ruin, dates back to the fifth century. You can tour the huge seven-story structure and try to envision what this bustling area was like hundreds of years ago.
A couple can live in Miraflores for $2,500 a month. Although one-bedroom apartments can be found for $500 a month, you'll be looking at a minimum of $1,000 a month for a larger unit in this part of town. Basic utilities, including good internet, cost about $100 a month. Decent cell phone plans start at less than $25 a month. You'll spend less than $400 a month on groceries, especially if you shop at one of the local markets for fresh fruits and vegetables.
Ex-Californian Philana Rustin and her husband Enrique rent a three-bedroom, two-bathroom condo in nearby San Miguel for $400 a month, plus a $60 monthly condo fee. She figures their total monthly expenses are about $1,200.
Head a bit farther along the coastline and you arrive in Magdalena del Mar, another rapidly developing area of the city. Magdalena is a quick bus or taxi ride away from Miraflores, the airport, and the bustling city center. It has more of a quiet, neighborly feel than busy Miraflores; you won't find a lot of nightclubs, coffee shops, and sightseers. It's a residential area, where neighbors greet you on the street, where couples go out for evening strolls, and where kids play impromptu games in the streets.
Jo Self and her husband Carlos live in this part of the city. Originally from Kentucky, she has called Peru home for the last six years.
"I love living in Magdalena," she says. "Honestly, I can't imagine living anywhere else. I love how residential it is. I love that it is not overrun with a ton of expats…it is still very 'Lima.' And we have a great market and supermarket. It is growing."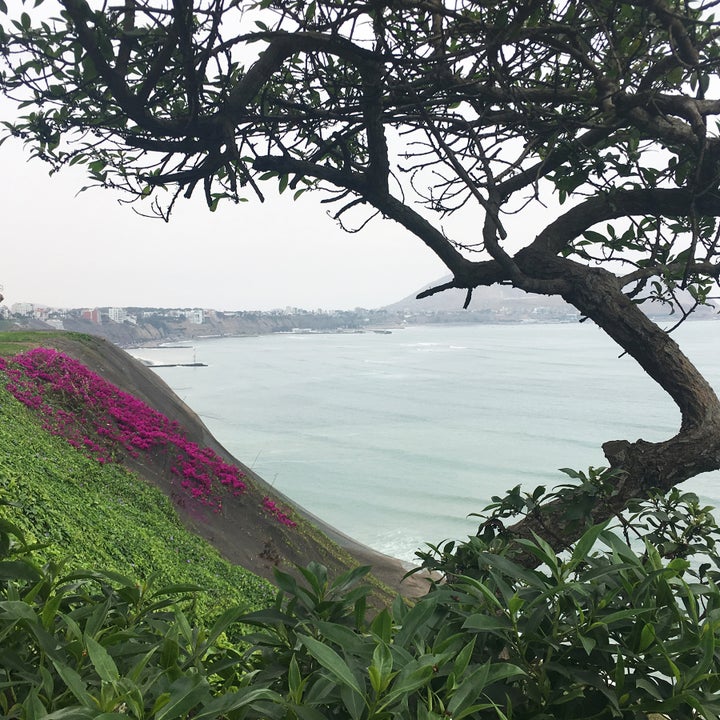 The bustling business district of San Isidro borders Magdalena. With its modern office blocks and dozens of bank headquarters, it is Peru's major financial quarter. Barranco is also nearby. Full of tradition and history, this colorful part of the city is known for its artists and writers. It's famous for having the most bohemian and relaxing nightlife in Lima. Beautiful houses, parks, and museums make it another popular expat district.
Jo says, "Because we border San Isidro, it [Magdalena] is becoming a new San Isidro. They are putting in more business offices, high-rises, and residences.
"It is still growing, yet is still compact…it's an easy drive into Barranco and Miraflores and is a very nice, centrally located district. I am right on the coast. I can go to Barranco and I can go to the beaches."
In Magdalena, a newer two-bedroom furnished apartment would be $1,000 to $1,200 a month. Smaller, older apartments rent for anywhere from $500 to $800 a month.
No matter where you choose to live in Lima, quality healthcare is available in the city's private clinics and hospitals, with well-qualified doctors and up-to-date technologies and treatments. All of Peru's four Joint Commission International-accredited institutions are found in the city, including the bilingually staffed Clínica Anglo Americana. Cost is much less than that in the U.S. Consultation fees are generally less than $20.
Related
Popular in the Community