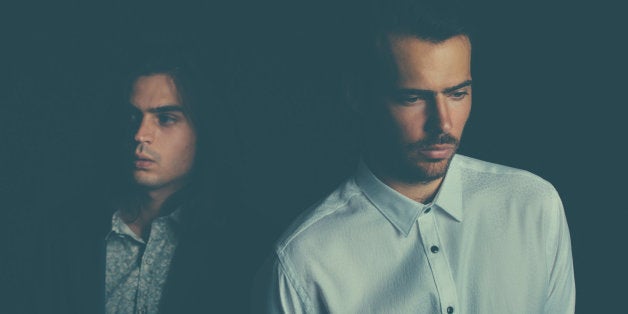 Brooklyn-based duo Beacon -- Thomas Mullarney III and Jacob Gossett -- are preparing to release their fourth studio product and third EP, "L1," next week, and The Huffington Post is pleased to premiere the exclusive stream of the record.
After several months of touring, Beacon decided to design their new EP with the live reinterpretation in mind, Gossett explained. Seeking out a more dance floor-friendly vibe, they started experimenting with new gear and considered expanding their live members -- contemplating a drummer first -- and reconstructed their sound from there. The result is a medley of minimal, hard-hitting beats and vaporous R&B that is as balancing as it is frantic.
The EP opens with some metallic clankering, gradually building up layer after layer of synth and skittering percussion until it swirls into a wall of noise at its end. The title track keeps things smooth with a more straightforward stream of shakes and snare snaps, while "Minor Structures" kicks things up a notch by offering the project's most quick-paced drumbeat. "Better Love" slows things down before heading into the final track, "Only Us," which carefully climaxes into the most uplifting moment on the EP.
Mullarney explained that he and Gossett felt a strong kinetic energy surrounding their new sonic space and how it helped lead to the thematic concept of "L1." "L1 is a point in space that is part of the Lagrange points, which are these different points of space around two gravitational bodies that transfix and pull anything that's caught in-between them in weird ways," he said. "These Lagrange points have a history in science-fiction and sort of run the gamut in philosophical and scientific meaning."
Mullarney continued: "Lyrically, I kind of always want this music to sit in a place where it can reveal its mysteries to people on their own terms. That's why something like L1 is this perfect sort of place. It's just enough where people can read into it and find their own meaning."
"L1" will be available on Dec. 2 via Ghostly Internationl, and you can pre-order the EP.

Before The Beat Drops is an artist introduction series dedicated to bringing you the rising acts before they make their break. Our unlimited access to music of all kinds is both amazing and overwhelming. Keeping your playlists fresh, we'll be doing the leg work to help you discover your next favorite artist.
REAL LIFE. REAL NEWS. REAL VOICES.
Help us tell more of the stories that matter from voices that too often remain unheard.
BEFORE YOU GO
PHOTO GALLERY
Artists To Know In 2014