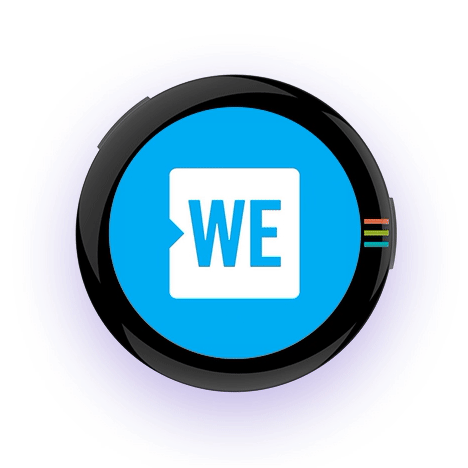 Most Millennials consider themselves social activists and want to make the world a better place, but our current culture of "clicktivism" leads to relatively little impact and blurs the line between boots-on-the-ground cause-based work and idle browsing. And, while the Internet and social media have catalyzed extraordinary movements like the Obama Campaign and electing LGBT candidates to office, meaningful person-to-person discourse is being replaced by blog posts and tweets, leading to more saying and less doing. How can we maximize the number of people doing and inspiring good offline, too? There's a new IoT platform for that.
BEAM Authentic (BEAM), a new self-expression and social impact platform, has created an interesting way to bridge the digital and physical worlds that, if widely adopted, has the potential to both measurably increase our passion for public issues and turn that passion into physical action. It's called a BEAM. A BEAM is a small, round, lightweight "social wearable" (think of a digital, dynamic, connected smart button) featuring an outward-facing display screen connected to a free app that dovetails on social media. It is the only wearable whose content (Beams) is entirely intended for others to see and interact with. What you're "BEAMING" is meant to be synonymous with what you care about most.
BEAM's founder and CEO, Andrew Zenoff, a social entrepreneur and innovator who invented the nursing pillow My Brest Friend, formed the company in 2015. I set out to build a platform that focused on stimulating real-world conversations around values, and aligning people around positive intentions and shared interests. My hope is to help the younger generations take a break from their faces in their screens and instead face each other. Technology was the obvious choice of currency for scaling this vision. BEAM bridges the online and offline worlds to give millennials and younger people a simple, fully integrated way to use their voices for positive change," said Zenoff.
Thousands of years of evolution have taught our brains to prioritize physical objects, while virtual experiences like apps and Websites have only been with us for a generation. Wearing a favorite team logo on a cap, placing a charity's motto on your wrist, expressing a meaningful belief on your bumper sticker or putting a politician's slogan on your pin tells people something about you in a concrete, declarative way. It carries more meaning and more consequence, leading to more impact and hopefully understanding. This is where BEAM aims to shine. When mass-produced, BEAM could turn train rides into forums, town halls into fundraising data banks, and board meetings into fundraisers.
James McQuivey, Principal Analyst at Cambridge-based Forrester Research, spoke to me about the implications of this technology. "The Internet became powerful because it was the first space where you could cheaply scale the delivery of messages to millions of people. The challenge, then, is how to marry that scalability with the power of the physical world. Wearables are a logical place to bring digital and physical together." He explained that as people extend their "likes" beyond social media to the kind of physical media that BEAM is creating, philanthropic and cause-based organizations want and need to take advantage of this because, "It makes the cause part of the wearer's identity, yet gives them freedom to dynamically update that identity as they wish. It's the best of both the digital and the physical worlds."
Once downloaded, the BEAM device in conjunction with the free mobile app serves as an all-in-one console complete with a newsfeed, profile editor, camera interface to create your own Beams, search engine, and slideshow creator. It instantly connects you to other BEAMers broadcasting their causes and values, and lets you BEAM your own content. You can tell when other people are also BEAMing on their device, make individual BEAMs or slideshows, share GIFs, or make donations through the app's fundraising platform connected to tens of thousands of charities via CrowdRise's API. Another interesting feature is the "BEAM Stream" which gives users the ability to stream other people's BEAMs on their own devices and achieve instantaneous cross-promotion with the tap of a finger.
As one of the first to use the platform prior to launch, I was immediately impressed. The device is high-quality and has slim, clean lines—similar to an Apple product. It comes with essential accessories, including two rubber protector cases, a mini-USB cable for charging, small tether for attaching your BEAM to bags or carrying cases, two sets of magnets, and a pin case for pinning on a jacket or backpack for better security. The package itself is an instruction manual and walks you through the many ways to wear a BEAM. Andrew and his team customized the BEAM for me to include messages and memes from my own social media pages: "Courage is the road to awe" from my Twitter account, and "LGBT" in bold rainbow letters recognizing my work in that space.
The BEAM platform has the benefit of technology and evolution on its side and, if it catches on, could integrate doing good and sharing beliefs on- and offline simultaneously into the fabric of daily life. BEAM flows all funds to causes, nonprofits and charities and donates three percent of proceeds from purchase of the device ($99) to organizations supporting human rights, the environment and education. In order to buy a BEAM you must take the BEAM "3-Stripe Pledge," which is a commitment to do your part to thwart racism, keep an open mind, and act with compassion and respect towards others.
"BEAMs are talking points, BEAMs are intersections that invite people to connect in the real world. More than ever we need conversation around values and challenges. We need to be willing to talk about and share our ideas. We need to hear other points of view and be willing to discuss them. My vision is that people will use BEAM for the greater good of our lives, our communities and the world as one global village," added Zenoff.
Support HuffPost
The Stakes Have Never Been Higher
Related
Popular in the Community