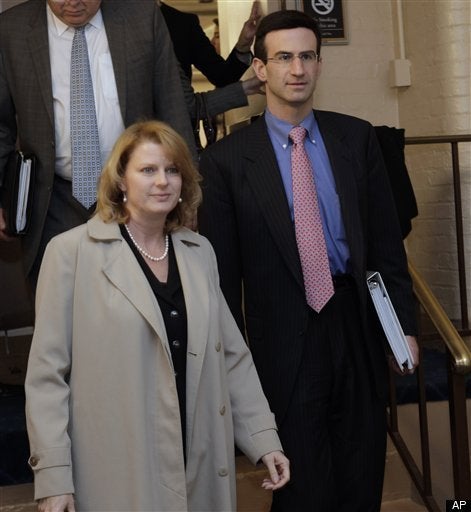 In a major defeat for Wall Street banks, Rep. Melissa Bean (D-Ill.) has decided to withdraw an amendment that divided Democrats as they seek to impose stricter regulations on the financial industry.
A keystone Democratic reform would create a federal Consumer Financial Protection Agency, but would allow states to pass more aggressive regulations. Wall Street banks have been fighting to include "federal preemption" in the legislation, meaning that state regulations could be no tougher than the federal guidelines. Consumer advocates said they'd rather have no bill than one with preemption because the banks could either capture the federal regulator or a new administration could strip its teeth out.
"That was the biggest dispute among the Democrats within the committee," Rep. Brad Miller (D-N.C.) told HuffPost. Miller is a champion of the CFPA within the House Financial Services Committee.
Heather Booth, director of the pro-financial-regulation coalition Americans for Financial Reform, told HuffPost that Bean's amendment was considered the biggest threat to the CFPA.
The Washington Post reported on Monday that Bean planned to introduce her amendment at the committee hearing Tuesday, then withdraw it and engage in a public back and forth with chairman Barney Frank (D-Mass.) about the need to work toward a compromise.
That scenario is in serious doubt, however, because Bean's family has been stricken with what is apparently swine flu and she may be too contagious to travel to Washington. A Frank spokeswoman referred HuffPost to Bean and a spokesman for Bean declined to comment, but the Chicago Sun Times reported Monday that she canceled an event due to her family's sickness.
"The congresswoman and director were scheduled to speak with students about how to stay healthy this flu season and prevent the spread of the new H1N1 and seasonal flu viruses," he spokesman Jonathan Lipman told the paper.
"Ironically, the congresswoman was forced to cancel the event after her daughter was diagnosed late Saturday night with Type A Influenza, which means she likely has H1N1, also known as swine flu. Her husband has been sick for several days with similar symptoms but has not yet been diagnosed."
Whether Bean makes the trip to Congress Tuesday, the issue has been put to rest for now. "Melissa was going to withdraw the amendment," said Miller. "She was not going to push for it in the committee and that would make it possible for us to get [the CFPA bill] out of the committee."
It's a stark turnaround for Wall Street. Earlier this summer, Frank postponed a vote on the bill until the fall because he lacked the votes for passage after strenuous bank lobbying. Democrats have sought to divide Wall Street banks from smaller, community banks, each of which has enormous clout with the member of Congress who represents them.
An amendment by Miller and a more bank-friendly Democrat, Dennis Moore of Kansas, exempted community banks from some of the CFPA requirement, which helped soften some of their opposition.
The preemption fight is not over, however. "I think that it will continue to be an issue. And it's not that some Republicans will support it. Every Republican would support it," said Miller.
If Bean or an ally introduced it as an amendment on the House floor, it would need about 40 votes from Democrats to pass. "I think enough members whose point of view is more sympathetic to the industry would understand what a problem [preemption] is that they would not support it. And they do understand that it's a deal-breaker for consumer advocates and for progressives on the committee and in Congress," said Miller.
Still, it's far too early to celebrate, Miller said. "If I held a mirror under the nose of that issue, I'd see some fog, because it's still got to go to the floor and then it goes to the Senate," he said. "And God only knows what happens in the Senate."
UPDATE: Bean spokesman Lipman says Bean's unlikely to make it to the hearing. "At this point, we do not believe Congresswoman Bean will be in Washington tomorrow," he said in an e-mail. "Congresswoman Bean and the New Dems have promoted strong regulatory reforms that institute tough new consumer and investor protection rules, credit card reforms, higher capital requirements, and executive pay reforms, all of which put mandates on financial institutions that they don't like. Bean and New Dems have been focused on increasing transparency, reducing systemic risk, and preserving the ability for end user businesses to hedge their risk."
Popular in the Community