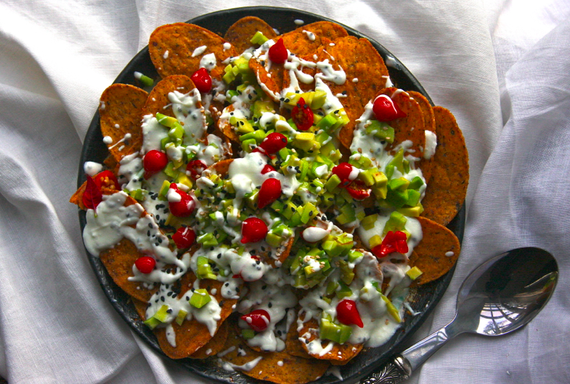 To cook up a large feast, variety is as important as presentation, and you also don't want to compromise on taste. It's all about maximum impact, minimum fuss, and a good measure of healthfulness. Here's a recipe from my new downloadable ebook '15 Recipes for Healthy Feasts'
This sharing plate is the perfect for feasts, so simple to make and full of crunch and texture and flavour. The bright red chilli pepper pearls are literally a burst of sweet and sour and spice all in one. I've been wondering what to make with them since my sister gave me a bottle of these little peppers, and finally found just the thing. They are the heart of this nachos plate, and together with the sizzling cumin yoghurt, bring the whole dish to life. It's incredibly easy to put together, but make sure you have enough packs of the chips or nachos and plenty of the toppings - it'll be eaten quicker than you'd imagine.
150g Tex Mex Burrito Bean Chips from Marks & Spencer, or any nachos
10-15 chilli pepper pearls (I used the Roquito brand)
½ avocado, chopped in small cubes
for the sizzling cumin yoghurt
2 teaspoons rapeseed or other oil
¼ teaspoon mustard seeds, optional
¼ teaspoon cumin seeds
3 tablespoons natural or Greek yoghurt
¼ teaspoon himalayan salt
for garnishing
mixed sesame seeds, or furikake mix
Start with the yoghurt: warm the oil on low heat in a very small pan for around 30 seconds before pouring in the mustard seeds and cumin seeds, wait for them to sizzle and pop and once the sizzling stops, take off the heat. Pour the oil into the bowl of yoghurt, add salt and mix together. Now arrange the nachos on your serving plate, layering them equally all around, place the chopped avocado pieces on top of the nachos, drizzle the cumin yoghurt, scatter the chilli pepper pearls and sprinkle sesame seeds. Voila!