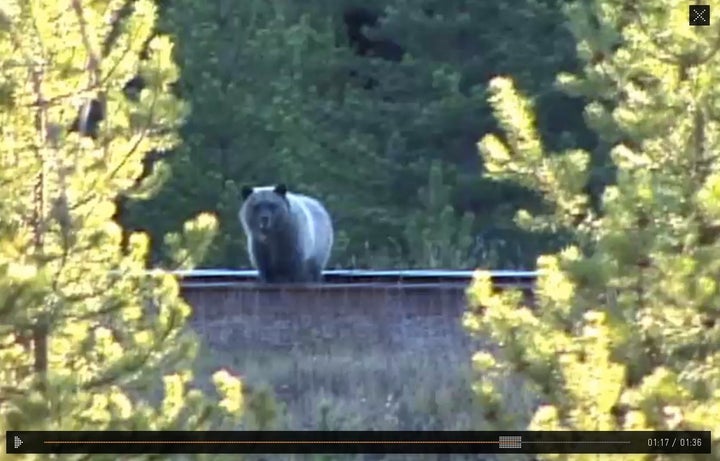 The trip to the "wild" holds a romanticized spot in the minds of families across the world, but just how wild are campsites and national parks with roads and railways traversing them?
A new interactive, web-based documentary is trying to challenge the notion of pristine valleys and mountains by putting the viewer in the shoes of an original resident of such a valley: a grizzly bear.
Bear 71 is a 20 minute Canadian interactive documentary currently making waves at the Sundance Film Festival in Utah's Park City. The project charts an uncomfortable course by coupling voice-over narration by a female voice meant to represent the bear with surveillance camera footage from many points throughout Banff National Park.
By following the bear from the moment it's snared, tranquilized and collared to the moment it meets its demise, the audience builds a nearly inevitable attachment with the bear as it describes motherhood, adapting to new situations ("There's nothing natural about a deer taking an overpass") and generally coming to terms with the fact that more and more humans are encroaching on what feels less and less like her home.
The documentary brings to light a number of problems with the current situation in Banff. Perhaps chief among them is that not only are humans infiltrating the park at an alarming rate, but that trains and trucks carrying grain throughout the park leak, drawing bears and other animals to the high speed, relatively high traffic roads and rails.
Bear 71 is created by Leanne Allison and Jeremy Mendes. The bear is "voiced" by Mia Kirshner and the script was written by JB Mackinnon.
The project is by the National Film Board of Canada's digital studio, NFB Interactive, a collective that's made previous waves in the space with Welcome to Pine Point and Soldier Brother. The interactivity of the project is certainly innovative, as it blends a linear story with a choose-your-own-gloomy-side-story user-friendliness, but the introduction of choice can dilute the impact of the main storyline, as the adventure-game aspect of the project doesn't necessarily enhance the viewer's sympathy with the animals.
We'd love to see a version of the short that is made up entirely of curated surveillance footage with consistent narration, but the version currently presented is definitely worth a look.
Editor's note: A previous version of this article identified Bear 71 as a "film," but NFB requested that the project be instead referred to as an "interactive documentary." Additionally, Leanne Allison and Jeremy Mendes were referred to as "directors," but their title is "co-creators." Finally, a previous version of this piece erroneously referred to Soldier Brother as Brother Soldier.
Watch a trailer for Bear 71 here:
Popular in the Community