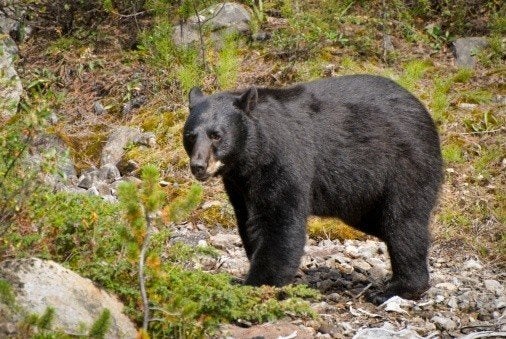 Remember that reported bear 'attack' that happened on Wednesday in a New Jersey state park that apparently injured two kids on a camping trip?
Well, turns out the bear didn't actually attack the kids. Instead, camp counselors made assumptions about the attack amidst the drama of the bear's visit.
As for those injuries, doctors examined the boys when admitted to hospital and discovered a blistered foot and an old scratch on the shoulder, both old wounds they got before the camping trip The Star Ledger.
"It appears that the injuries were not from the attack," said Larry Herrighty, assistant director of the state Department of Environmental Protection's Division of Fish and Wildlife.
"The scratches and the abrasions were not caused by a bear — they were not fresh wounds."
The bear did indeed visit the campsite where nine inner city boys and two adult camp counselors were sound asleep at 4:30am.
Officials said it pulled at a sleeping bag and knocked a tent down.
Counselors and the boys proceeded to take shelter and make noise by clapping and singing camp songs after they called for help.
The bear left, but then returned shortly after where it began rummaging through the campsite when a wildlife technician arrived and shot it in the neck.
Snares and traps were set in the area in an effort to halt the animal.
Sections of the Appalachian Trail and intersecting hiking trails running through Stokes State Forest were closed as authorities searched for the bear, which is reportedly still on the run.
Despite the news of the 'attack' on the kids never actually happening, wildlife officials said they are still looking for the bear and would still shoot it because it is agressive and qualifies as a "Category One Bear", reports The Examiner.
"The bear will be shot and killed when found because it's considered an aggressive animal toward humans," Larry Ragonese, a DEP spokesman.
Black bears have a reputation for being more curious than harmful and are easily scared by noise.
UPDATE: 11:48 am EDT
An earlier version of this post reported that two children were left injured from a bear attack in a New Jersey State Park.
The Star Ledger now reports after the children were admitted to hospital, doctors discovered their wounds were old and had not been sustained by a bear attack, said officials. The bear did not attack the children, but it did rummage through the campsite.
Popular in the Community