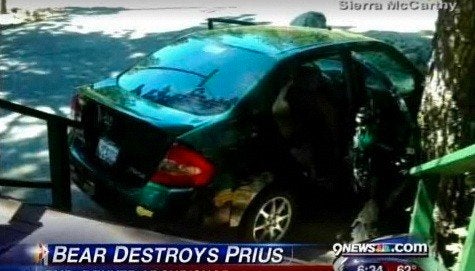 The bear, reportedly stuck inside the car, began thrashing in an attempt to free itself and moved the gear shift from park to neutral, the Contra Costa Times reports.
The family seemed to sympathize with the large animal, though.
The car rolled down the driveway and crashed into some boulders in a neighbor's lawn, causing some damage to the exterior.
But damage to the interior was far worse.
The bear had ripped out the back seats, clawed through the fabric and destroyed the paneling, NBC 9 reports.
The animal managed to free itself and ran away, but the police were surprised by the call.
The owners claim there was not any food in the vehicle.
Apparently bears have a knack for getting into Toyotas.
The car rolled downhill before hitting some trees, according to Denver's ABC 7 News. The car's owner said he thought the bear might have been attracted to a sandwich that was left in the car.
Related
Popular in the Community