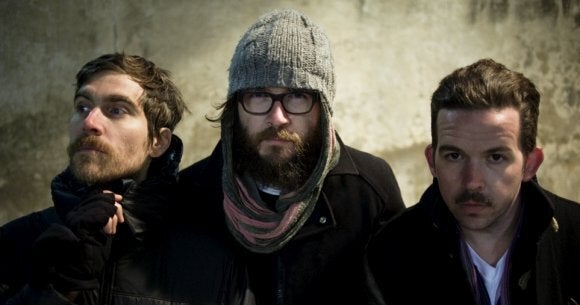 NPR has an interview up today about Brooklyn band Bear In Heaven's gimmicky but ingenious promotional concept for their April album I Love You, It's Cool. Most bands stream upcoming albums before release dates -- Bear In Heaven is streaming a single hearing of their album slowed down to last the four months between now and its release. The streaming album is 400,000 percent longer than the album itself, and at any given point, sounds like "a single, drawn-out note." In an earlier press release, the band called it a "comment on the current state of album promotion, hype cycles, countdowns and all the marketing ploys that we accept as a reality of existing within an internet age."
As NPR notes, it's also a handy promotional tool in itself, one the band assured them is "beautiful and terrifying":
The potential to lull you to sleep while feeding your nightmares is right there, streaming from your browser window. Drum rolls last for days, catchy bass lines are transformed into a low rumble, and vocals are washed away into shimmering overtones. We're surprised and elated with how it's turned out.
Popular in the Community