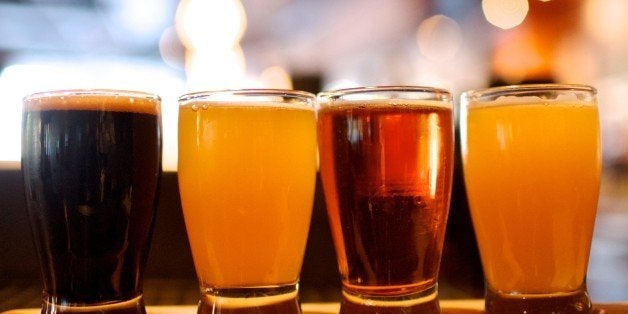 A small California town has found an unlikely champion during the massive California drought: its brewery.
Bear Republic Brewing Company recently installed a water-recycling, energy-generating system at its craft brewing facility in Cloverdale, Calif., a town on the Russian River that the Department of Public Health has named one of the communities most vulnerable to running out of water during the state's mega-drought.
The EcoVolt system, originally designed for the U.S. military, will supply more than 10 percent of the facility's water needs with recycled water and produce enough biogas to cut back 50 percent of the brewery's electricity use, significantly reducing both the company's carbon footprint and production costs.
"We were looking for ways to conserve water in the face of threatening drought and saw the EcoVolt system being installed in a nearby winery," Bear Republic owner and CEO Richard Norgrove Sr. said.
The brewery business is a big water-sucker; typically, production uses ten times the amount of water than beer produced. Bear Republic reports keeping their ratio at less than half that in producing their 72,000 barrels a year, and that was before installing the EcoVolt.
"We've worked hard to reduce our water use to a 3.5 to 1 ratio," Norgrove told the North Bay Business Journal. "With EcoVolt we expect to do even better. The city of Cloverdale red-lined us at 8 million gallons of water a year, but we use less than that."
In Cloverdale, where the state's record drought has diminished the Russian River to a mere trickle, corporate commitment to water sustainability is of high importance. The Department of Public Health named Cloverdale one of 17 communities in danger of running out water within as few as 60 days. The town has implemented mandatory water conservation and banned certain uses, though city officials have announced they think the DPH's inclusion of Cloverdale on the list was an exaggeration.
Bear Republic's efforts to confront the water shortage aren't new. In November of last year, the brewery struck a deal with the city and paid nearly half a million dollars for the construction of two wells Cloverdale couldn't have otherwise afforded. They're set to open in July, and city officials say that day can't come soon enough.
"The whole water situation doesn't look good at all, no matter how you look at it anyway," Cloverdale Vice Mayor Robert Cox told the San Francisco Chronicle this week. "The Russian River is where we get our water, and it's just about dry. There's no rain. About the only good news on the horizon is those new wells."