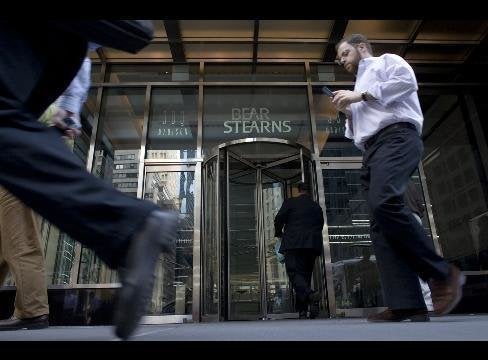 A new lawsuit alleges fresh evidence of corruption at collapsed banking giant Bear Stearns.
The lawsuit -- filed in 2008 by mortgage insurer Ambac Assurance Corp against Bear Stearns and JP Morgan -- was unsealed last week, the Atlantic reports. The suit alleges that Bear Stearns took extreme measures to defraud investors -- and that JP Morgan has been hiding the evidence since it was first filed in 2008.
The Atlantic neatly captures the nature of the game: "the lawsuit's supporting e-mails, going back as far as 2005, highlight Bear traders telling their superiors they were selling investors like Ambac a 'sack of shit.'"
According to the Atlantic, after selling the toxic mortgage securities, Bear Stearns traders would "then sell back the bad loans with early payment defaults to the banks that originated them at a discount. The traders would pocket the refund, and would not pass it on to the mortgage trust, which was where it should have gone to be distributed to the investors who owned the bonds." Thus, allowing the traders to get paid twice on the deal.
Then, in 2008, when Bear Stearns collapsed and JPMorgan bought the remains, the bank covered up the fraud, allowing executives to reap "tens of millions of dollars in compensation" from the deal, the suit alleges.
In a separate lawusit insurance giants like TIAA-CREF and other investors are suing Bank of America's Countrywide division for "massive fraud" regarding its holding of mortgage-backed securities (MBS). Here's Bloomberg on the lawsuit:
"Countrywide was an enterprise driven by only one purpose -- to originate and securitize as many mortgage loans as possible into MBS to generate profits for the Countrywide defendants without regard to the investors that relied on the critical, false information provided to them with respect to the related certificates," according to the complaint.
Read the full piece at the Atlantic here.
Popular in the Community