Exclusive Premiere of Bear's Den Live at Amsterdam's Melkweg
"Above The Clouds of Pompeii" is a beautiful song from the popular alternative folk band, Bear's Den. The single is from their current album, Islands. The video (above) was filmed at a show at Melkweg in Amsterdam earlier this year -- tickets for the show sold out so quickly that the venue was upgraded to double the capacity. However, the band still performed for a packed crowd, as tickets sold out the second time around as well. This live video is a particularly moving performance of the song, clearly demonstrating Bear's Den's raw talent (and serving as a good explanation for the band's huge following of loyal fans).
I must be a masochist, because I often listen to/watch "Above The Clouds of Pompeii" and "Elysium" on repeat. Bear's Den has the rare ability to pack a million emotions into one single lyrical phrase. That special quality, combined with their emotionally-charged, delicate, folksy songs have made them a standout among their peers and a favorite among fans.
Bear's Den consists of Andrew Davie (guitar, vocals), Joey Haynes (guitar), and Kev Jones (drums, bass). Since forming in 2012, the London-based trio has built a fervent fanbase through their live shows and a dedicated DIY aesthetic that has included self-funded tours and selling hand-printed CDs direct to fans at gigs.
I had the opportunity to ask Andrew a few questions -- read on as we chat about the band's sold out show in Amsterdam, their documentary involving a cross-country road trip in Volkswagen Campervans, and the amazing opportunity to have Ben Lovett of Mumford & Sons as their own personal mentor.
At a show in Amsterdam earlier this year, tickets sold out so quickly that the venue was upgraded to double the capacity, yet Bear's Den still played to a sold out crowd. In fact, this beautiful live performance was filmed and will be making its debut with this interview (see above). What was that show like for you? Were you overwhelmed? Excited? Terrified? All of the above?
All of the above! The Melkweg is a bit of an institution in Amsterdam and many of our favourite bands have played shows there. It's right in the heart of Amsterdam, and to play to so many people was incredible and terrifying in equal measure. On top of that, it's such an incredible city and country and we love playing shows in the Netherlands.
The name of your band is inspired by Where the Wild Things Are. You've said, "Where The Wild Things Are appeals to us because it offers a dual perspective of seeing the world through both a kid's and an adult's eyes. A lot of our songs address the world in the same way. Bear's Den is our name for the island the kid escapes to."
The video for "Above the Clouds of Pompeii" illustrates the theme of a dual perspective very well. How did you come up with the idea for the video?
Well, to be honest, we didn't really. I think that particular song was so close to all of us that trying to nail a video concept was really difficult. Luckily Nick Goulden and Simon Oxley from Greatcoat Films came along and had this beautiful idea. When a song is telling a story quite explicitly it's pretty difficult to nail a video. You either massively dilute the story of the song by imposing a different story on it or you try and create a different world where the lyrics of the song are given a new context, and hopefully one which adds weight to the original story. I think those lads nailed it. I remember getting goosebumps when I saw the final edit.
One of your first tours -- in which you travelled across the U.S. in Volkswagen Campervans with Ben Howard, Nathaniel Rateliff, and The Staves -- was the subject of a 2014 documentary Austin to Boston by James Marcus Hane. What was this experience like for you? How was the documentary received at the London Film Festival?
The experience was unbelievable. It was our first tour as a band and hands down the best tour we've ever been on. We made a lot of lifelong friends on that tour and it was a complete blast, from start to finish.
The film was received really well. We all went and watched and it was pretty surreal seeing our faces "on the big screen," but we were just all so proud of the people who made it and worked so hard on it. Marcus Haney, Ty Johnson and Ben Lovett along with so many others all worked so hard and made something so brilliant and unique. It was an honour to be on the road with everyone involved.
Earlier this year you were nominated for the prestigious Ivor Novello Award for your single "Above The Clouds of Pompeii," along with top artists Ben Howard and Hozier. You must have been thrilled -- how did you celebrate that moment of recognition?
I was in India at the time and the lads were back at home I believe...so I think i tried to find some beer and struggled -- I think the lads probably tried to find beer and succeeded! Nightmare situation! It was such a massive honour to be nominated for an award with those legends. We hung out with Ben Howard after the awards and we were all just like, "Can't really complain. 'Take Me to Church' That is a massive tune." I think we were all just pretty humbled to even be there.
Ben Lovett of Mumford and Sons seems to have taken the band under his wing. You've also toured with them, in addition to Daughter. (Huge fans of both!) What's it's been like touring among such talent? Is there any advice they've given that you've taken to heart?
Its been really awesome and we feel very lucky to have supported both those bands. They're both hugely inspiring and talented and both do things really differently. The passion and intensity at a Mumford show is off the chain and the atmosphere in the audience that those lads create when they're on stage is unbelievable.
Daughter's set is so beautifully sculpted and that mixture of intrigue and intensity in how Remi, Igor, and Elena interact is completely spell-binding. It's fair to say we've learnt so many different things from both bands, it would be hard to name one specific piece of advice. I think just watching their shows every night is incredibly educational for us as a band.
You've stated, "I've always been interested in the way Raymond Carver and Ernest Hemingway leave room for interpretation. It allows the listener to have their own individual relationship with the songs." As a fan of both (and their respective writing styles), I liked that you've related it to your own songwriting. What is your process in achieving this effect? Do you write freestyle and make major edits, or does the ambiguity in your writing come naturally?
I think we strive to achieve that effect. I'm not sure if we succeed. Writing and songwriting are incredibly different worlds, but I really believe in the things you don't say. Editing for us is figuring out the least we can say whilst staying true to the story, but also realising those really important, but, to some extent, irrelevant things.
For example the song "Famous Blue Raincoat" by Leonard Cohen. A big part of the genius of that song is that this item of clothing that is so unique to his story brings the listener in so beautifully. Knowing when to be totally honest and when to leave gaps is essentially the gift. Needless to say, it takes me forever to write lyrics but I dream of writing songs that have that effect.
Out of all the lyrics to your songs, what do you consider to be the most powerful? How about lyrics that you feel sum up the general ideology of your band?
That's really tricky. I think on a personal level, the breakdown in "Above The Clouds Of Pompeii." "I was too young to understand / the flowers sleeping in her hands." Those lyrics are pretty powerful. That still gives me goosebumps on stage and really takes me somewhere else when we perform it live.
In terms of the general ideology of the band, I don't know if we really have one, but I guess the lyrics to Bad Blood, in essence, try to convey what a lot of our other songs are about. To pick out a single lyric is hard, but the journey of that song, I think, is essentially what we're all about.
The video for "Elysium" is extremely powerful and poignant. Until reading a recent article on NPR, I didn't realize the video featured the actual students and friends of the victims in the school shooting. In the article, James Marcus Haney explains the tragic event so beautifully. After hearing his words, I'm interested in the thoughts and emotions that all of of experienced during this time.
We were in the studio recording Islands at the time and it was definitely an emotional journey for all of us. When Marcus told us what had happened, he said that he had to stop filming. We completely understood and none of us expected the music video to be completed. We just hoped that everyone involved was ok.
Then, after a few days, out of the blue he sent us the video and we all individually took breaks from the studio to watch it. All of us were moved to tears by it. The story behind it is so tragic, yet the way that the kids in the video wanted to continue and make it a memorial to their friend Paul Lee was so powerful. And the way Marcus handled such a tragic event and managed to make something so beautiful and moving out of it is incredible.
You've stated that the lyrics for "Above the Clouds of Pompeii" were inspired by a conversation you had with a guy at a bar, saying, "The guy said that you should build your home on the slopes of Vesuvius and live your life just as any day that a volcano could just erupt and flow." As soon as he said that, it led to the lyrics, "We built our home out on the slopes / Pompeii beneath, she lay above." I love that story. Has anything similar happened to you since then, in terms of a "lyrical lightbulb" going off?
Actually, I was with my sister recently and I told her I was working on our next album but didn't have much time to write lyrics. She just said, "Would it help if I wrote a line to get you started?" And she wrote this line down and folded the paper over and gave it to me -- I went home and read it and a couple of days later, wrote a song with that quote as the first line. I think it could well be on our next album, but I don't wanna tell you what it is yet.
When discussing your time at music college, you've said, "I only lasted a term. I was the only person in the class who was writing songs. I've always liked Bob Dylan's quote in Scorsese's No Direction Home where he says: 'People used to be judged on whether they had anything to say rather than what they sounded like.' That's what interests me." Can you elaborate on your quote, both based on the experience you were going through at the time and how it applies to you now?
My music college was fantastic but just not right for me. I have no real aspirations to know all the scales and fully understand music on that level. Songwriting is my life and I truly believe that my favourite songwriters are the ones who develop their own style. A style that isn't defined by anything other than their own sensibilities and influences. I'm not sure if it's Dylan who says that line or someone else in the film, but I agree with it as a principle in regards to what we do.
Is there anything else you'd like to add? Exciting news/strange mishaps?
This is the closest I've come to a conversation in a while. I've been in the studio writing some stuff, so thanks for talking to me! We're doing a tour in October across the UK and Europe and we're about to play at Reading and Leeds next week, as well as a cheeky trip to Zurich to play at Openair Festival. Then we're probably gonna start thinking a lot more about our next album and what kind of beast that's gonna be, which we're all really excited about.
I look forward to hearing it -- thank you, Andrew! Thanks for the great answers, and best of luck to you on your tour and future album!
Bear's Den will be hitting the road around Europe this October playing a bundle of headline shows. The tour will take the band to Edinburgh, Manchester, Bristol, Portsmouth as well as shows across France, Belgium, Germany, and Denmark before finishing up with a previously announced show at London's Roundhouse on October 27th. View tour dates here or see below.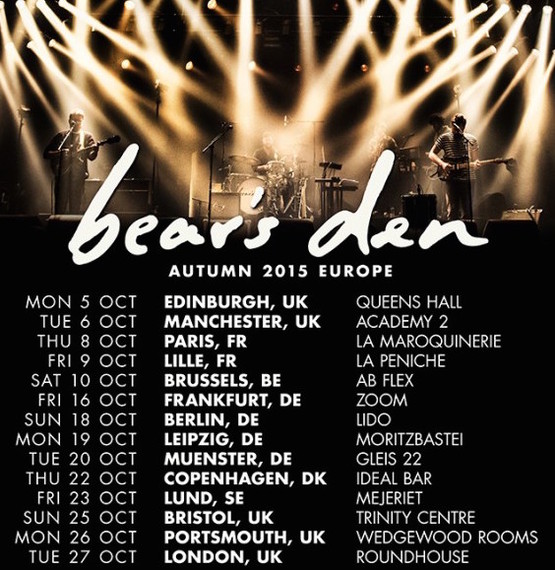 Special thanks to Bear's Den, Stay Loose Digital Group, Communion Records and Caroline Records for this wonderful opportunity! To learn more about the author, visit laurenkruczyk.com.
Calling all HuffPost superfans!
Sign up for membership to become a founding member and help shape HuffPost's next chapter