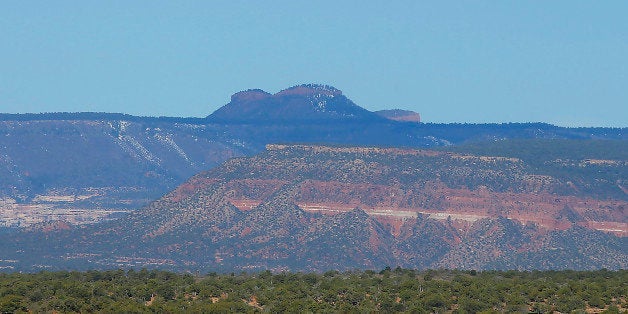 Thanks to President Obama, the new national monuments at Bears Ears and Gold Butte will provide areas for future generations to enjoy exploring nature and learning about the history of indigenous cultures.

Protected open spaces are also important to veterans reintegrating to civilian life. Nevada based, Marine Corps veteran Ray Curry said in a Las Vegas Sun article, "The healing nature that our public lands offer for veterans cannot be understated. Without the ability to use our national parks, forests and conservation lands, the transition back to civilian life for many veterans after coming home from Afghanistan or Iraq would have been much more difficult. Whether it's reconnecting with family and friends or hunting, fishing, hiking and exploring back roads, or finding peace and solitude, our public lands provide opportunities for it all."

Gold Butte - Nevada's piece of the Grand Canyon - is beloved by Nevadans and visitors from throughout the country and across the world who come to hike, camp, hunt, ride ATVs on designated routes, climb, explore cultural and historical sites, and otherwise enjoy the great outdoors. I am grateful that these incredible experiences will forever be available to me and to future generations of Americans.

The Gold Butte National Monument will preserve a region that is rich in cultural, natural and historical resources, including ancient petroglyphs, caves, agave roasting pits and camp sites dating back at least 3,000 years, as well as artifacts from Spanish exploration in the 1700s, and pioneer mining camps from the 1800s.

The monument will conserve habitat for numerous wildlife species, including desert tortoise, desert bighorn sheep, the banded Gila monster, great horned owls and a great variety of reptiles, birds and mammals.

Nevada is home to a proud military tradition that includes Nellis and Creech Air Force bases, the Hawthorne Army Depot, and Fallon Naval Air Station, as well as being the home to one of the largest veteran populations in the country per capita. Nevada contains some of the most breathtaking wilderness in the country and, for many, the defense of the nation and the defense of its public lands go hand in hand. Indeed, protection and conservation of lands for public use and enjoyment is a proud military tradition going back for generations.

Bears Ears - Americans most significant cultural landscape - lies in Southern Utah, north of the Navajo Nation and the San Juan River, east of the Colorado River, and west of the Ute Mountain Ute Reservation. It earns its name for the twin buttes in the heart of a landscape that rise high above the piñon-juniper forests, deep canyons, inspiring arches, and arresting red rock formations that adorn the renowned and majestic Cedar Mesa.

The inter-tribal led coalition has been attempting to safeguard the more than 100,000 Native American cultural sites in this landscape for over 80 years. Many tribes throughout the southwest have ancestral connections to these lands, which is why all the Tribal governments in the region, local grassroots Navajo and Ute people and the vast majority of the citizens of Utah support the monument designation.

Protection of Bears Ears will help end the rampant and ongoing grave robbing, looting and destruction of scared sites. These acts literally rob Native American people of spiritual connections, as well as a sense of place and history. The national monument honors our Native American's deep connection with these lands, while ensuring continued access for current traditional uses.
Native Americans are a foundation of the U.S. Military and serve more than any other American demographic. Code Talkers were vital to success in World War II , and over 42,000 tribal members served in Vietnam. It is a salute to these brave men and women to finally protect their ancestral lands.
Utah Air Force Veteran Barry Bonifas said, "I first discovered the Bears Ears area shortly after I left the USAF. I've been returning to it, when I feel the need for restoration, for almost half a century. It is such a special and unique place. I can't remember anyone who hasn't been astounded by the beautiful mesas and canyons filled with ruins and art."

Military veterans proved their support for President Obama designating Bears Ears as a National Monument in a Vet Voice Foundation (VVF) letter signed by 247 veterans from the Four Corners states (UT, CO, NM, and AZ), including 35 Utah veterans. The monument protects over 1 million acres of public lands, preserves more than 100,000 Native American cultural sites, and also protects incredible recreation opportunities for visitors and important habitat for iconic American wildlife.

Thank you, President Obama, for listening to local Nevada and Utah residents, veterans, Tribes, business owners, community and tourism leaders, as well as citizens throughout the country who understood the urgent need to protect these magnificent places. We applaud your action and will work with advocates around the region and the country to protect and preserve the legacy you and so many presidents before you established through your Antiquities Act designations.
REAL LIFE. REAL NEWS. REAL VOICES.
Help us tell more of the stories that matter from voices that too often remain unheard.