BEARS EARS NATIONAL MONUMENT, Utah — Shanna Diederichs crouches in a shallow, circular depression in the floor of a Puebloan ruin, a clear and all-too-familiar sign that looters were here, scouring for pottery and other valuable Native American artifacts.
On the cliffside above her, stunning pictographs dating back to the 1200s — colorful stick figures and a silhouetted handprint that the Anasazi created by blowing paint over the backs of their hands — pop in the morning sun.
Diederichs, an archeologist with Cortez, Colorado-based Woods Canyon Archaeological Consultants, leans forward to take a close look at a large hole in the wall of this historic kiva, a room used by Pueblo peoples for religious ceremonies. With her hand, she takes a crude measurement of the damage, then sits back. A dejected look washes over her face.
"What a disaster," she whispers, making a note on her clipboard.
The pit, which Diederichs expects was dug by looters in the 1980s, destabilized the foundation, causing the wall to crack and crumble. Without careful repair, this structure could soon be lost.
The ruins here at Butler Wash, an archaeologically rich area roughly 20 miles southwest of Blanding, Utah, fall just inside the newly redrawn boundary of Bears Ears National Monument. But there are thousands of similar sites, including a slew on the Cedar Mesa plateau, one of the densest archaeological areas in the country, that recently lost the protections that a national monument designation affords.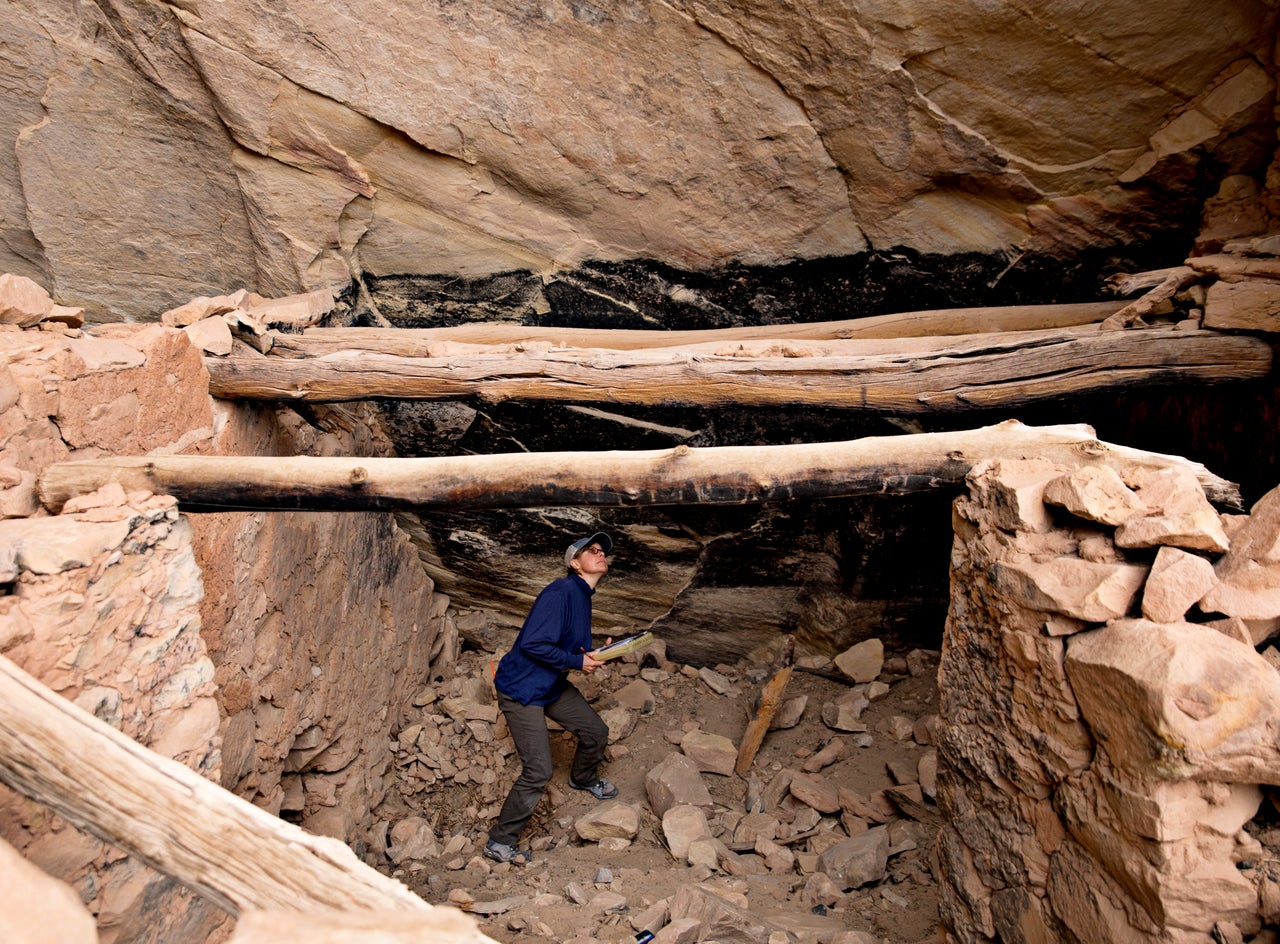 Experts estimate that there are more than 100,000 cultural and archaeological sites within the original monument boundary, including ancient rock art panels, granaries, burials and well-preserved cliff dwellings. The vast majority have yet to be studied and cataloged. Friends of Cedar Mesa, a small conservation nonprofit that is involved in a suit to stop the monument rollback, estimates that the boundary change cuts out 74 percent of the known archeological sites.
Critics say the rollback puts these treasures at greater risk.
"I feel like this is a worst-case scenario," Diederichs said. "You've taken an area with very fragile resources, turned it into a political lightning rod and then removed any support or protection for it."
These historic resources are still subject to federal protections and oversight. But archaeologists had hoped for the additional preservation that comes with being included in a national monument, Diederichs later added.
Among the many locations cut from Bears Ears is Sand Island, a campsite along the San Juan river where cliff walls are covered in petroglyphs dating back 300 to 3,000 years.
Also falling outside the new boundary are Grand Gulch, a backcountry canyon with hundreds of Puebloan ruins, and Valley of the Gods, an area rich in fossils and renowned for towering buttes and pinnacles that the Navajo believe to be warriors frozen in time.
For decades, Native American sites across southeastern Utah and the greater Four Corners region have been targets for treasure hunters. Looting and vandalism persist, with the local Bureau of Land Management field office investigating 25 incidents between October 2011 and April 2016, according to the Cortez Journal. It's among the reasons former President Barack Obama established Bears Ears National Monument in December 2016, after a coalition of five tribes that consider the area sacred petitioned for protections. In his declaration, Obama wrote that this remote landscape, named after a pair of buttes, is "one of the densest and most significant cultural landscapes in the United States."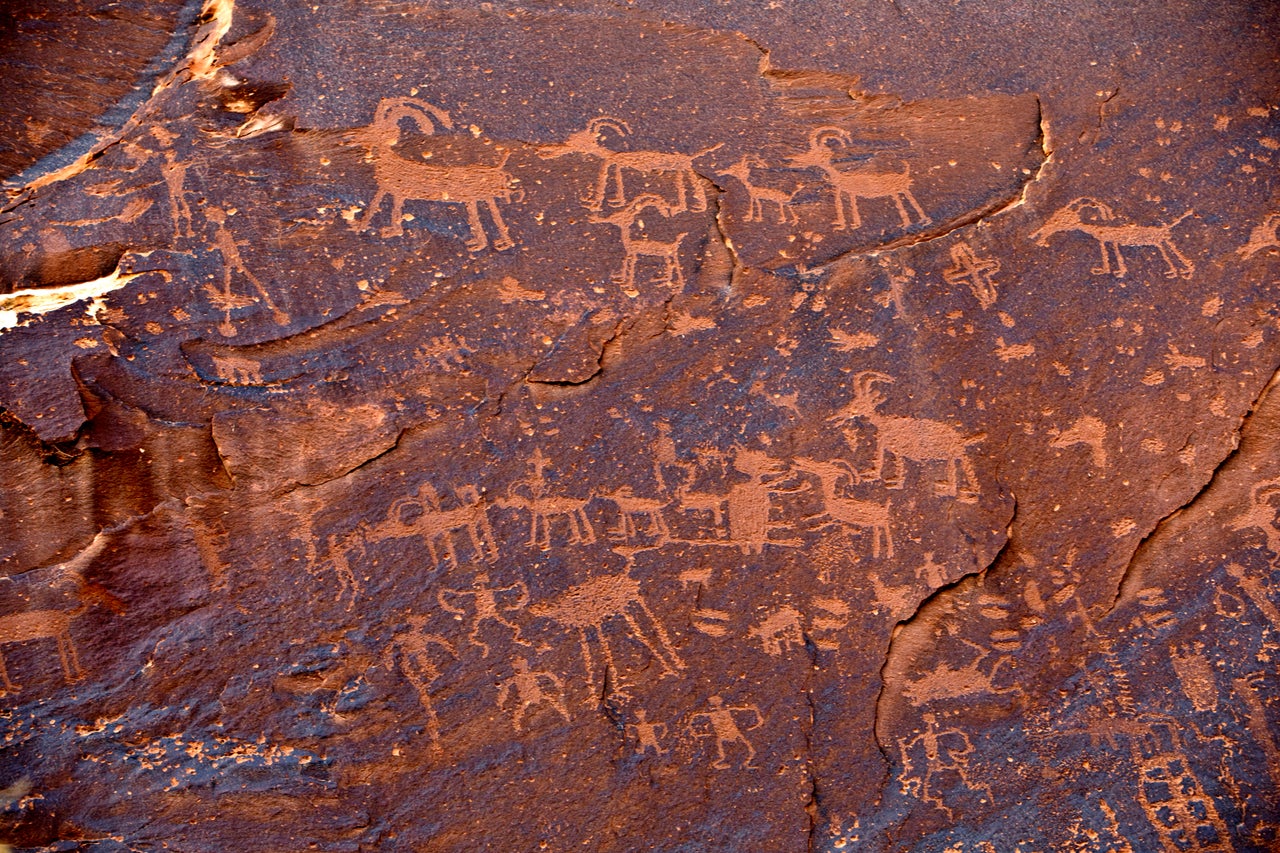 The growing threat to this landscape, however, is the ballooning number of visitors. According to Friends of Cedar Mesa, visitation at least doubled between 2005 and 2015, and the area saw more tourists in 2016 than in the two years prior combined. It's a surge that the group credits in part to "the controversy generated by Utah politicians." Many visitors are unaware of how fragile the cliff dwellings are, of the spiritual connections tribes have to the area or that federal law prohibits removing even the smallest artifact from public or tribal land.
Along with more stringent protections, most notably prohibitions on new mining claims, oil and gas leases and other types of development, supporters expected the Obama-era designation would bring additional — and some say, long overdue — resources to educate and manage the growing number of tourists. William Doelle, president of preservation nonprofit Archeology Southwest, acknowledged that Bears Ears may not have guaranteed additional funding, but said it presented an opportunity for the federal government to identify priority areas and implement new safeguards. His organization is also a plaintiff in a lawsuit challenging the administration's decision to shrink the monument.
Monument opponents argue the designation would have had the opposite of its intended effect. In a December op-ed, Utah Gov. Gary Herbert wrote that it would only drive visitation and "spread BLM resources even thinner and likely aggravate problems with looting and vandalism."
The Bureau of Land Management, which manages most of the land in the Bears Ears region, has four law enforcement rangers overseeing its Canyon Country District, which includes more than 3.5 million acres in San Juan and Grand counties. The bureau and the U.S. Forest Service are moving forward with developing a new management plan for the smaller monument amid numerous legal challenges.
Asked if BLM is now prioritizing work only at sites within the new boundary, Lisa Bryant, a spokeswoman for bureau's Canyon Country District, directed HuffPost to a handout detailing cultural resource projects it is working on both within the new monument and beyond it, namely in Cedar Mesa. "BLM is always evaluating development and its potential impacts," she said via email, and is "dedicated to minimizing impacts to fossils and cultural resources on public lands."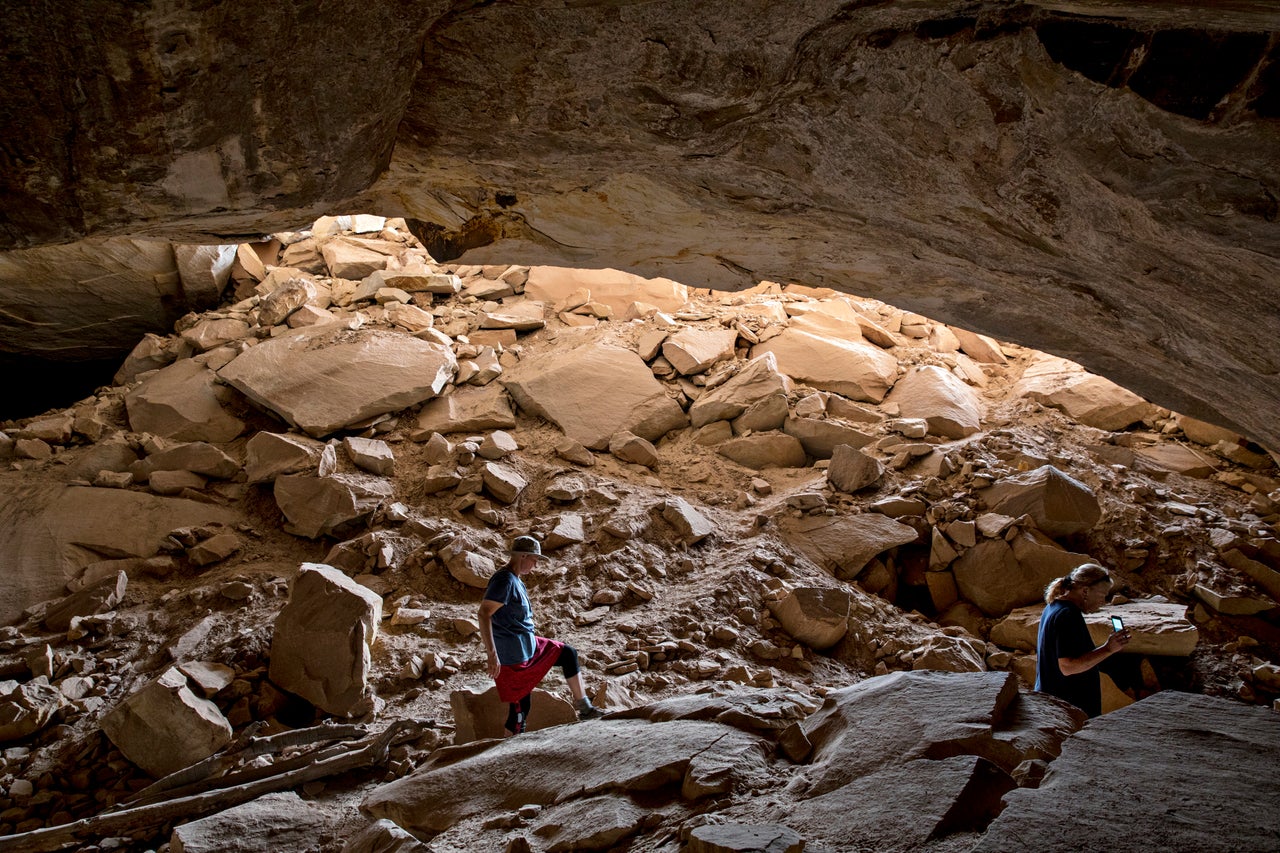 One thing the opposing sides seem to agree on is that the word is out about Bears Ears.
Vaughn Hadenfeldt, president of Friends of Cedar Mesa, has been guiding people in southeastern Utah for more than 30 years. Places that until recently were largely unknown are becoming popular attractions, as hikers post pictures and detailed locations online, he said. Fresh footprints can be found at even the most remote ruins.
"It's a fallacy to think we have time to save secret places," he said. "There really aren't any more secrets. But we do have time to manage them properly and to protect them as much as possible."
The Trump administration, Hadenfeldt added, has proven it has no understanding of the cultural landscape, and its decision to divvy the monument up into disconnected units and exclude places like Cedar Mesa flies in the face of the purpose of the Antiquities Act. He shares Diederichs' concerns about what the rollback will mean for already vulnerable sites: "We've come to my worst fear."
Through a partnership between BLM and Friends of Cedar Mesa, Diedrichs' firm, Woods Canyon Archaeological Consultants, has been contracted to analyze certain sites in Bears Ears and identify ways to limit the negative impacts from visitors.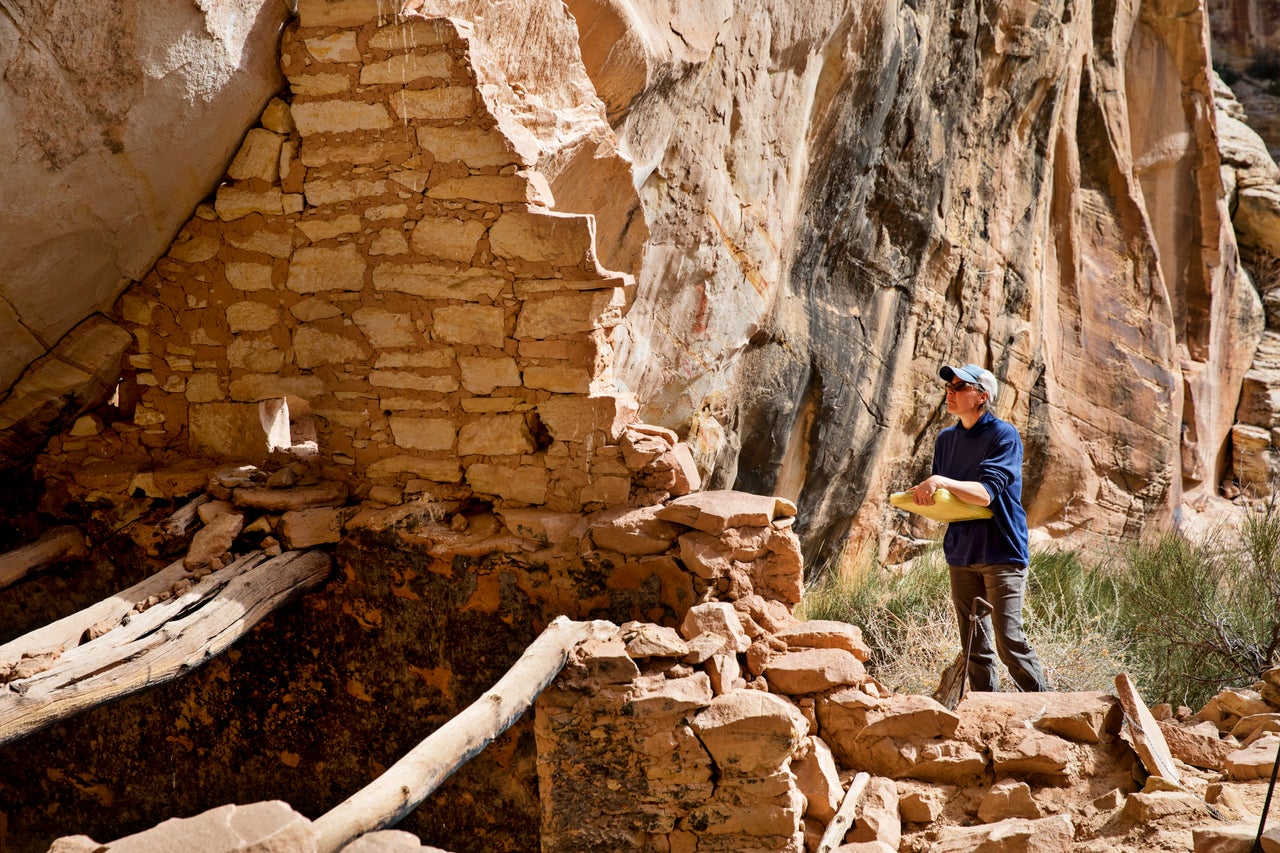 The ruin where Diederichs was working during HuffPost's visit is easily accessible via a short hike and among the hardest hit of the 40 or so she's assessed in the area. It's a difficult setting to work in, she said.
Much of the architecture, which Diederichs said spans from approximately A.D 200 to A.D. 1200, has been damaged. Names and other graffiti have been carved onto mud-plastered walls. Looting holes pockmark the ground, including in the deepest corners of the caves. Many surface artifacts, including broken pieces of pottery, have disappeared. And heavy foot traffic has torn up the middens, trash pits where cliff dwellers would discard broken tools, clothing, food waste and even bodies.
While this site stands out, Diederichs estimates that 10 percent of the cultural sites in the greater Bears Ears region are already seeing increased visitation and the pressures that come with it.
"A lot of these places have been just ... " she paused to find words.
Erica Tucker, education manager at Friends of Cedar Mesa, finished her thought: "Loved to death."
Clarification: This story has been updated to include additional information from Diederichs. Language about the impact of visitation on Bears Ears has also been amended.