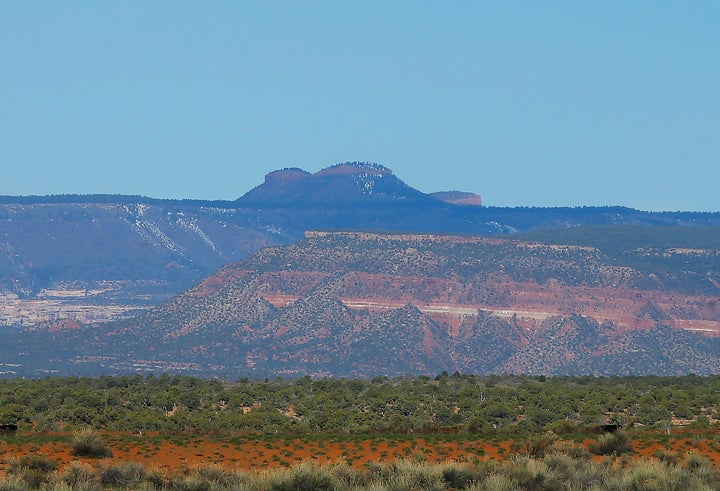 Advocates of a contentious national monument designation for Utah's Bears Ears area are concerned that local residents will be misled about the designation dispute after forged federal documents and deceptive flyers addressing it were distributed in public spaces nearby.
Cynthia Wilson, community outreach coordinator for Native American pro-monument group Utah Diné Bikéyah, found the misleading documents at a U.S. post office in Bluff and multiple gas stations in San Juan County in the past week. They include a falsified letter purporting to be from Secretary of Interior Sally Jewell that claims President Barack Obama is preparing to reduce the Navajo Nation by 4.15 million acres. The letter claims the Navajo no longer need their land in Arizona, New Mexico and Utah, and thus it will be opened up for grazing and commercial purposes.
"This was not sent out from the Office of the Assistant Secretary for Indian Affairs or from the U.S. Department of Interior," a Department of Interior spokesperson said in a statement to The Huffington Post. "President Obama has no intentions of reducing the size of the Navajo Reservation."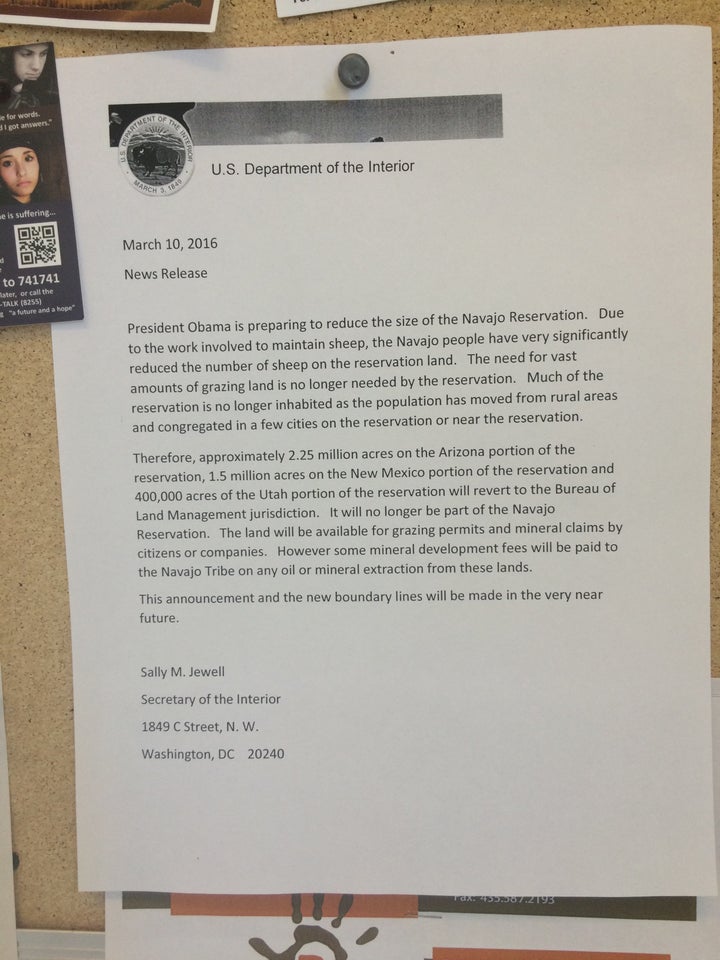 A coalition of five Native American tribes supported by two dozen others is behind the Bears Ears proposal, pushing for a 1.9-million-acre swath of land in southeast Utah to be designated a national monument under the 1906 Antiquities Act. The group says the area should be preserved because of its wealth of archaeological sites, as well as its cultural, spiritual and medicinal significance to many Native tribes.
The proposal has drawn fierce opposition from the state's Republican-dominated legislature, Gov. Gary Herbert (R), local lawmakers and some Native Americans who believe they will lose access to the land for cultural and spiritual purposes. Last week, the governor signed a resolution from the legislature formally opposing the designation.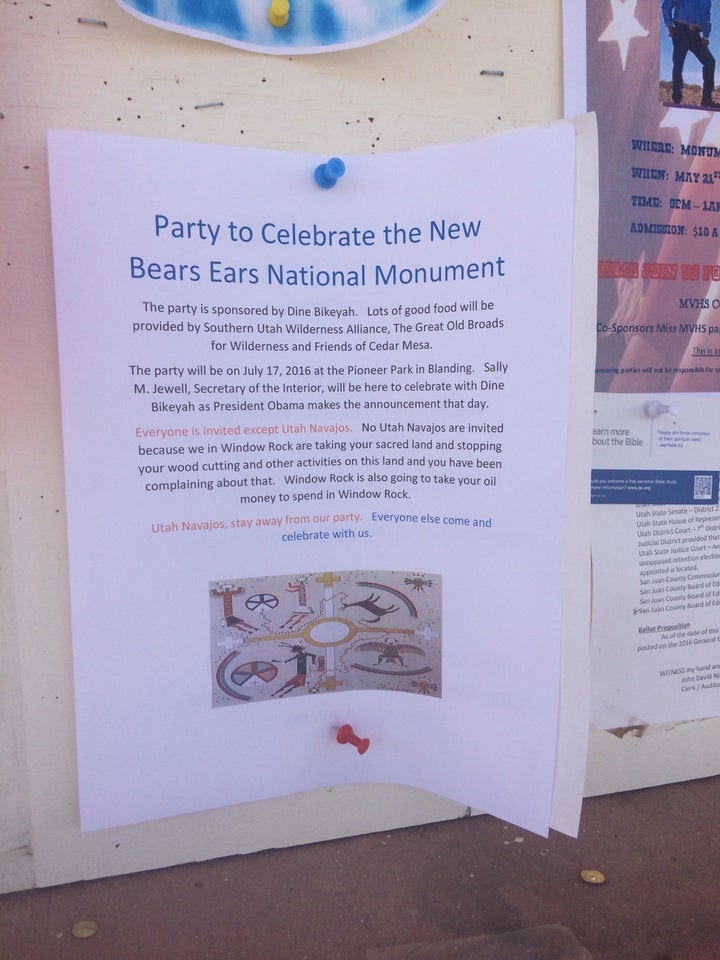 Wilson also found a flyer purporting to be from Utah Diné Bikéyah and announcing a party to celebrate the creation of the Bears Ears monument. But the flyer warned some Native Americans to stay away: "Everyone is invited except Utah Navajos," it read.
In an email to HuffPost, Utah Diné Bikéyah characterized the document as racist, and executive director Gavin Noyes said he didn't know why it was written.
"Our opponents have been spreading the lie that 'Tribes are puppets' of outside interest groups (which of course they are not) and are being paid to take these positions (also false)," Noyes said. But since most Utah Navajos support the monument, he said, he suspected it was intended to make them feel like Utah Diné Bikéyah had used them to create a national monument.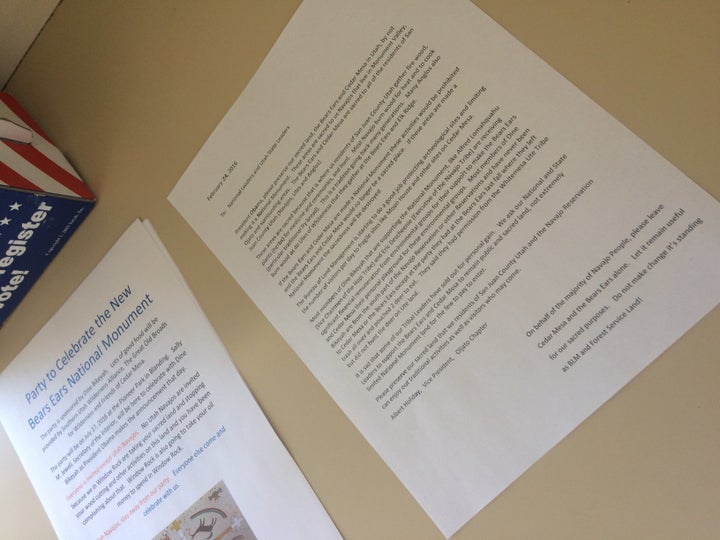 A forged letter that purported to be from Albert Holiday, vice president of the Navajo Nation's Oljato Chapter and a supporter of a monument, claimed that the Bears Ears proposal would bar Native Americans from using the land for cultural and sacred activities. In fact, the plan would actually allow for such uses.
"I couldn't believe it," Holiday told HuffPost. "My people are all for the monument."
The letter was deeply upsetting for Holiday. "I couldn't eat, I couldn't sleep," he said.
"This is a clear attempt to turn people against a Bears Ears National Monument by spreading lies, inciting racism, and impersonating federal officials," Wilson said in a statement. "These tactics are despicable and likely criminal."
An employee at the gas station where Wilson found some of the documents told HuffPost she had seen them there as well. A Bluff post office representative said he was unable to comment about the documents.
The dispute over Bears Ears has grown increasingly charged as summer nears. State lawmakers are uneasy over what they see as federal overreach similar to Bill Clinton's use of the Antiquities Act in 1996 to create Grand Staircase-Escalante National Monument. Utah State Rep. Mike Noel (R) and other lawmakers called on the state's attorney general to "ferret out" environmental groups he believes have funded and co-opted the tribal coalition so the land can be designated without the say of state local leaders.
Related
Before You Go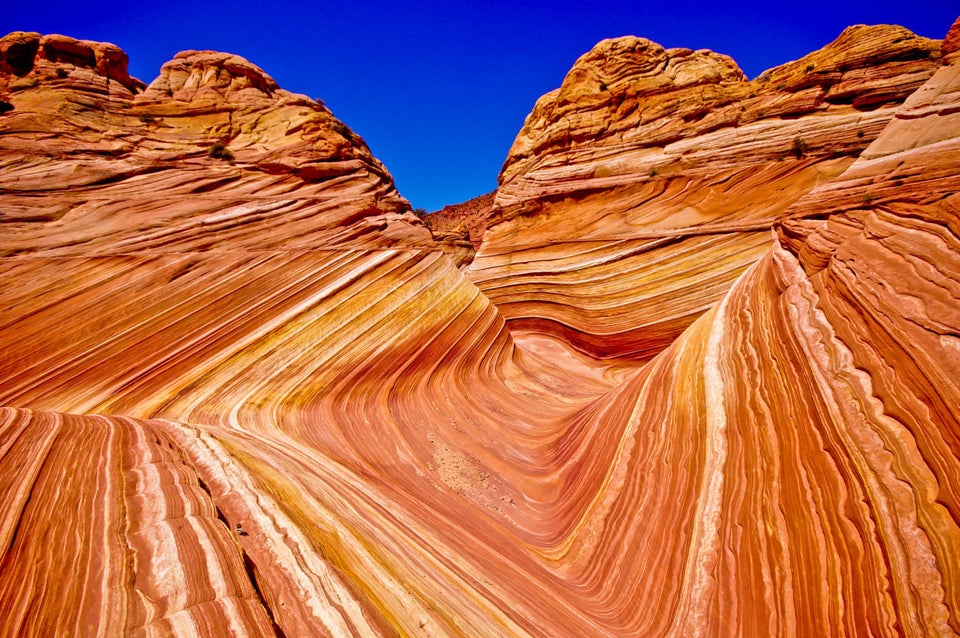 Stunning U.S. National Monuments
Popular in the Community