From Obama to Occupy, a majority of the historic moments of our time have been made iconic through the eyes of street artist Shepard Fairey. Thus it comes as no big surprise that when seminal hip-hop artist Adam Yauch passed away, he would be remembered in Fairey's signature style. The surprise, however, is the unlikely story behind the billboards that have appeared in two Los Angeles locations.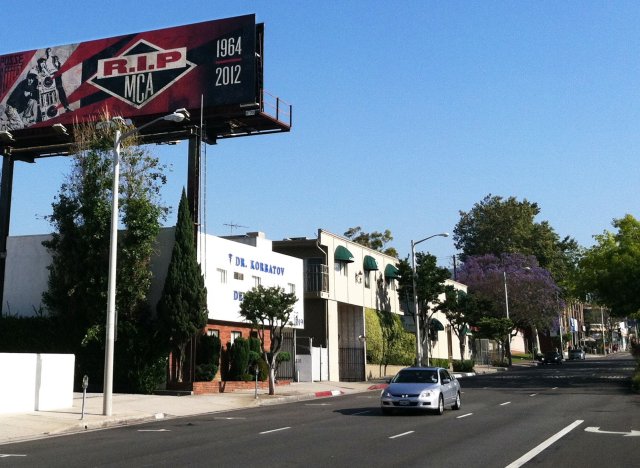 Yauch, known as MCA of the Beastie Boys, passed away on May 4 at 47 years old after a long battle with cancer. His street art tribute began with Los Angeles Beastie Boys fan Jason May, who rented out three Los Angeles billboards to pay homage to Yauch's legendary musical impact. He first enlisted Brooklyn artist Kaves to design a billboard, and Fairey was next. Fairey had been a longtime fan of the Beastie Boys' innovative punk-rock, hip-hop fusion, and remembered the band's impact on him in New York Magazine: "Hip-hop was the new punk rock, and I wouldn't have embraced that if not for the Beastie Boys. They opened the doors for a lot of people to be more courageous about blending genres." Both Fairey and Yauch are known for attracting youth culture to social causes through their optimistic works.

The works contain a photo of the Boys by Glen E. Friedman taken at a California photo shoot in 1985. The picture is transposed into Fairey's signature style; mixing anarchic propaganda and stencil-esque minimalism he creates simple images that allow the power of the messages to shine through. May payed for the endeavor himself, entirely out of respect for the late artist. "Adam Yauch was someone who deserves a public memorial, so now he has it -- at least in L.A.," he told L.A. Weekly. "I'm proud that I was able to do something in the name of great art and great music."
Check out the websites and help remember a unique, generous and of course riotous artist. One of the billboards is located on Sunset at Las Palmas and the other on Fairfax, south of Santa Monica Boulevard.
Calling all HuffPost superfans!
Sign up for membership to become a founding member and help shape HuffPost's next chapter
BEFORE YOU GO