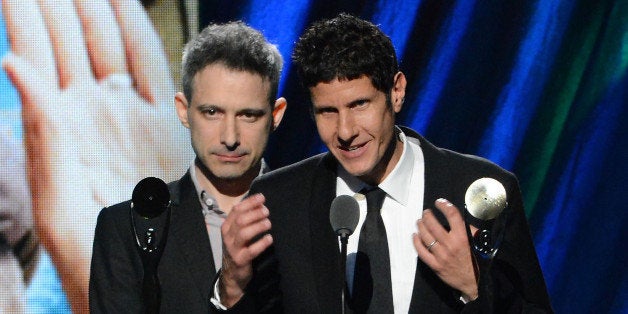 Beastie Boys' fight for their right to not let Monster Beverage Corp use the hip-hop group's music without their permission resulted in a verdict of $1.7 million on Thursday.
A federal jury in Manhattan issued the verdict on the eighth day of trial in a copyright dispute between members of the Brooklyn-born band and the energy drink maker over songs the band says Monster used without a license in a 2012 promotional video.
The Beastie Boys had sought up to $2.5 million for copyright infringement and false endorsement.
Monster countered that it owed no more than $125,000, calling the case "illogical" and saying an employee had mistakenly believed the company had permission to use the music.
Beastie Boys members Adam Horovitz, or "Ad-Rock," and Michael Diamond, or "Mike D," attended much of the trial and both testified. After the verdict was read, Horovitz hugged his wife, musician Kathleen Hanna.
"We're happy," Horovitz said after the hearing. "We just want to thank the jury."
Reid Kahn, a lawyer for Monster, said the company would appeal.
Filed in August 2012, the lawsuit centered on an online video promoting an annual snowboarding competition the company organizes and sponsors in Canada called "Ruckus in the Rockies."
The video, which Monster uploaded to YouTube, featured the competition and an after-party attended by DJs, including Z-Trip. It included a remix by Z-Trip of Beastie Boys songs, including "Sabotage," "So Watcha Want" and "Make Some Noise."
The four-minute video concluded with a sentence saying "RIP MCA." Adam Yauch, a Beastie Boys member who went by "MCA," died a day before the snowboarding event, after a battle with cancer.
The Beastie Boys complained to Monster in June 2012 and subsequently sued, saying the Corona, California-based company did not have permission to use its music.
"It stole the Beastie Boys' right to say no," Paul Garrity, a lawyer for the band, told jurors at the start of the trial.
Monster acknowledged it had infringed the Beastie Boys' copyrights, but contended it was not done willfully.
"The plaintiffs try to take the undisputed evidence and spin some tale of an insidious corporate conspiracy," Kahn, Monster's lawyer, told jurors Wednesday during closing arguments. (Reporting by Nate Raymond and Bernard Vaughan in New York; editing by Gunna Dickson)
Related
Popular in the Community