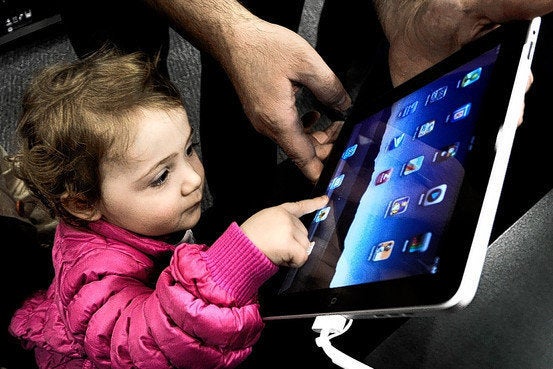 Ansel & Clair's Adventure app features animations, quests, puzzles and games in scenic African locations.
School or no school, there's a world of learning opportunities for kids. When they're not exploring outdoors, keep kids engaged in learning throughout the summer months with these enjoyable and educational apps and websites. For kids, playing these games is a cool pastime; for parents, it's another way to get kids to exercise their learning muscles.
VIRTUAL WORLDS
MINECRAFT. This online game lets you build entire worlds out of blocks. Minecraft's visual simplicity belies what is a completely open-ended and therefore terrifically complex world. And the best of that world: it's up to the player to design. Minecraft is what's known as a "sandbox" game, giving players almost complete freedom to build within it.
CAESAR III. In this simulation, you begin as a lowly citizen trying to eke out an existence in a virgin landscape. The student begins by learning about the basic needs for survival and graduates to increasingly demanding scenarios. By the end, students will have gained a very sophisticated understanding of the influence played by the environment on the development of a civilization.
ANSEL & CLAIR'S ADVENTURES IN AFRICA. Ansel and Clair are aliens who must recover their lost spaceship parts, and as they travel the continent (the Serengheti, the Nile River Valley, and the Sahara Desert) they not only work on that mission but learn about the geography and history of the area as well. The app takes full advantage of iPad technology -- audio, video, the touchscreen, "tilt the iPad" games, and so on.
THINKING WORLDS. Kids enter a virtual world that resides on their personal computer. Their avatar can be somewhat modified, and engage in a wide variety of explorations. In the unit dealing with volcanoes and earthquakes, they not only learn about the details, they visit places such as Herculaneum, subterraneous faults, and the ruins of Kobe in Japan.
QUEST ATLANTIS. Kids are engaged in a narrative as compelling as The Chronicles of Narnia, except not as passive spectators, but as active participants in the story. Their age and school appropriate avatars are able to explore and learn in an environment that is secure, monitored, and dynamically expansive. You can live with the First Nations people of Mesa Verde, negotiate plans to save the Black Rhino with various stakeholders in Tanzania, take rockets to space stations to learn about the technology they will need to deploy and use in order to deflect Near Earth Objects.
WOLFQUEST. With this online game, you become a solitary wolf, struggling to find your place in the wilds of Yellowstone National Park. You learn about the challenges of life in the wild, and the need for "others." In time, you can mate, and form a pack of your own.
CYBERNETWORLDS. In this family-run virtual universe called Viamus, kids can build and create any type of environment, like ancient civilizations that ring the Mediterranean.

STORIES AND WORD GAMES

MINDSNACKS. The idea with MindSnacks is to offer a mobile gaming and learning experience to help brush up on your vocabulary. The app offers 50 levels of language content, each level featuring 25 words and phrases. The language-learning startup released an Italian language version, available for free for iPhone and iPad.

PBS KIDS VIDEO

. The app gives access to more than 1,000 streaming videos from various PBS Kids' series, including The Cat in the Hat Knows A Lot About That, Dinosaur Train, and Sesame Street. The app also includes information about local PBS stations' TV schedules and the ability to mark series as "favorites."

TRIPLINGO

. For learning the most relevant foreign-language idioms and phrases, in each of these languages: Mexican Spanish, French, German, Italian, Brazilian Portugese, and Pirate (arr, yes, Pirate).
TOONTASTIC. Kids can create digital stories with a variety of different characters, settings, musical backgrounds, and their own recorded voice-overs. Its most recently released version features three new space-based settings (and more space-related characters), new drawing tools, faster uploads to ToonTube, and the ability to save your custom-drawn characters and backgrounds so you can use them in any scene or cartoon.
PAT THE BUNNY

. The perennial favorite children's book is also an iPhone and iPad app. The book is well-known for its sensory experiences, and those have been updated and transformed to work with a touchscreen device (and if you have a front-facing camera, the "mirror" page uses the camera instead). The app can be set to read aloud, with words highlighted as the text is read. Or adults can record their own voices to accompany the book.
GOODIEWORDS. Geared toward toddlers who are in their "What is it?" stage, this app explains words that parents might otherwise find difficult to define, like fingerprint, shadow, time, and dream. The app is colorful and engaging, with games and storybook narration.
SCRABBLE. If you've got a Facebook account, you can sign up for the Scrabble app and play with friends through Facebook, either on your browser or on your Facebook mobile phone app. Each time someone takes a turn, the other is notified.
LEXULOUS. plays very much like Scrabble, but with a bigger board. You can play the game on Facebook, but its own site also hosts games, and it's got an iPhone app.
WORDS WITH FRIENDS. Like Scrabble, Word With Friends works on an iTunes app, but you don't need to be in the same wifi network to play with your friends.
CIVIL WAR TODAY. Created by History and A&E, the iPad app offers daily updates, chronicling the events that occurred 150 years ago. The app includes newspaper headlines as well as personal letters and diaries. There are videos and maps (including period maps) and a daily count of casualities on both the North and the South.
UNWANTED GUEST. Many of the new and innovative examples of children's e-books aren't sold as books per se. They're available as websites, such as Inanimate Alice, or they're sold as apps, such as Moving Tales' most recent e-book Unwanted Guest, available for the iPhone and iPad. Unwanted Guest takes a traditional folktale and updates it with charming 3D animations that accompany each page of the story. You can have the app auto-turn the pages, or flip yourself, or use the iPad's accelerometer to animate the text. The app offers narration, but you also have the option to turn off the text and/or to add your own voice-over.
SCHOOL 26. This is the female-run video game studio Silicon Sisters' first game is aimed at girls. The game is set in school and the goal is to make as many social connections as possible, navigating the sticky, awkward and sometimes awful moral dilemmas of school. These challenges range from struggles to peer pressure, romance, betrayal, alienation, acceptance -- all real and relevant situations that girls face every day. The gameplay involves the player selecting the appropriate emotional responses to certain scenarios and answering quizzes that provide insights into players' personalities. The emphasis here is on empathy and networking.
BOOKS SHOULD BE FREE. Download free audiobooks and choose from your own childhood favorites like Anne of Green Gables, Pollyanna, Grimm's Fairy Tales, or Gulliver's Travels.
STORYNORY. In this storytelling podcast, the lead storyteller is Natasha, who herself sounds like a fairytale princess with her lilting British accent. She narrates stories like "The Old Man and the Figs" and "Katie's Black Friday."
ALICE IN WONDERLAND. Bringing the story to life, this app lets you tilt your iPad to make Alice grow or shrink, throw darts at the Queen of Hearts and help the caterpillar smoke his hookah pipe.
TOY STORY. The movies are great, but the app is arguably more interesting. Using the same story line, there are games, movie clips, coloring pages, and sing-along songs. Kids can hear the story read aloud, or they can record their own narration, and explore at their own pace.
MIAMIOPIA. Kids can customize the look of their own alien avatar (it has a striking resemblance to the Na'Vi tribe in the movie Avatar), then choose any type of game they want to play -- as easy as counting apples that fall from the tree to finishing a musical scale using the keyboard.
SMITHSONIAN. A treasure trove of games and information presented in an engaging medium. Kids can explore the solar system by creating their own universe, become acquainted with the 142 million objects the organization has collected over the years, and take trivia quizzes, among many other fun games.
For more summer boredom-buster ideas, go to MindShift.