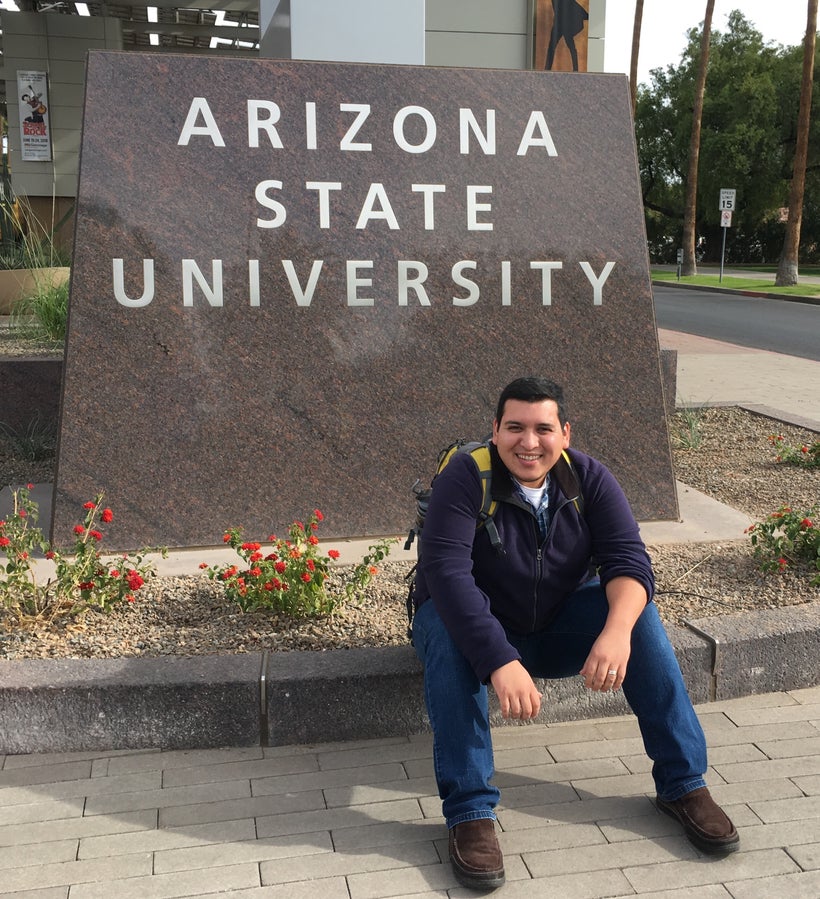 Seemingly, there is nothing especially extraordinary about Abel Perez's recent college graduation. Never mind that, as a person of Hispanic descent, he is part of only 15% of Hispanics who actually earn 4-year college degrees. Statistically, he never should have gotten this far.
Abel was born in the early '80s to Mexican immigrant parents. They entered the country after suffering unspeakable abuse at the hands of their own families. His parents had no more than 5th and 11th grade educations. Manual labor was their lot in life, and this, too, was Abel's assumed trajectory.
By the time Abel turned three, his family was homeless. They lived off the kindness of strangers, and couches of families and friends. It was on one of those couches where Abel suffered repeated sexual abuse. When couches weren't available, this family of five slept in an old van, and parked wherever they could find a place to sleep at night without being bothered by the police. "Curl up tight," Abel remembers his mother telling him in broken English as he crawled down to the floorboard on the passenger's side. "We need to make room for everyone."
As soon as a homeless shelter for families became available, his parents moved in. Abel remembers finally having other children to play with, a regular bed to sleep in, and regular meals. His dad volunteered at the shelter to pay back his debt, and was soon hired there for his strong work ethic. This allowed the family to earn enough money to move into their own, section 8 apartment.
Drug deals and hustling were common practices at the East L.A. apartments where Abel's family lived. He was only five years old when he watched a man get shot and bleed to death in the alley below his window from a drug deal gone wrong. The stress of it all began to wear on his father, who melted into an abusive alcoholic over time. If he wasn't working, Abel recalled, he was drinking.
He was a kid with as much natural curiosity as anger and rebellion. When the family moved to a small farm, he explored the surrounding hillside with abandon. He would disappear for hours giving his mom a much needed break. It was in those same fields he learned to hunt wild quail to help feed his family. His sister remembers Abel's incessant questions to which there seemed to be no answers.
By age seven, it became apparent that something more was wrong. Most kids in Abel's situation would struggle with school, but he was failing most of the basic functions of reading, writing and math. With testing, the school discovered Abel suffered from a neurological disorder hindering him from processing sounds to spell phonetically or write coherent words on a page. The special education classes he attended made him a target for bullies while doing little to improve his skills. Nevertheless, his teachers continued to promote him through the system. Called upon to read the textbook in his 7th grade English class, he struggled through the paragraph only to hear the teacher ask, "Are you too stupid to read?"
Abel did finally drop out of high school, but not because of his academic struggles. His parents moved away from the family to find work across the country. They left their now five children to fend for themselves. Abel took on three jobs to pay the bills, make sure his siblings were fed, and that they all attended school. "I knew our circumstances weren't going to get better without an education," he said, "and I wanted to make sure my brother and sisters had one."
Once his family was taken care of, Abel went back to night school while continuing to work full-time and finished high school. "I didn't want a GED," he said, "I wanted my high school diploma." He spent the next few years putting himself through therapy, and focusing his attention on the needs of others at his church where he found community. He reconciled with his father, and discovered a profound sense of compassion for his parents.
Abel began attending junior college at the age of 23, fighting and stumbling through a system not well-versed in learning disabilities. On more than one occasion professors admonished him to drop classes they felt were too hard for him. Instead, Abel focused harder. He stayed up all night to finish assignments others might be able to do in an hour. He learned to use his strengths, such as the uncanny ability to recall fine details from lectures he heard, or visually memorizing vocabulary words and definitions. He asked for help when he needed it. He fought, unwaveringly, for ten long years.
Abel's bachelor of science degree is in sociology. He admittedly loves people. He values relationships. But he's voraciously passionate about education. He believes it is the answer to solving poverty and leveling the playing field for those left behind in a political minefield of greed and inequality. He understands what it is like for others who struggle with disabilities, and he's doing something about it.
After years of working in human services for adults with disabilities, Abel works as a para-educator for the visually impaired at his local school district. In addition to his acquired skills as a Spanish and English speaker, he is also fluent in sign language and is currently learning braille. In January, he starts his master's program in special education at San Francisco State University. Abel beat the odds. Now he's determined to help others do the same.
Calling all HuffPost superfans!
Sign up for membership to become a founding member and help shape HuffPost's next chapter
This post was published on the now-closed HuffPost Contributor platform. Contributors control their own work and posted freely to our site. If you need to flag this entry as abusive,
send us an email
.