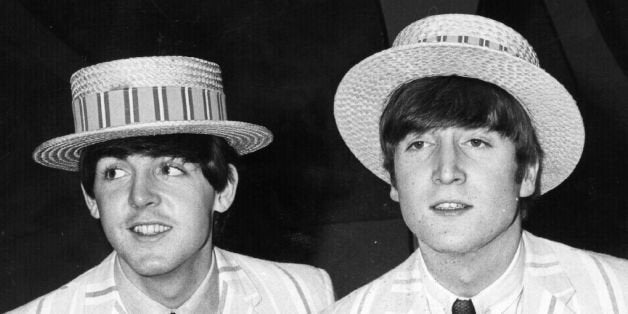 The Beatles may now be thought of as squeaky clean, wholesome rockers that are a safe bet to play for all ages and sensibilities, but a closer look into their lyrics and legacy will probably make you think twice about that perception. Somehow "Why Don't We Do It in the Road?" wasn't actually their most explicit moment ...
The Huffington Post has done quite a few dives into The Beatles over the last year and here are a few of the more scandalous details that somehow still aren't common knowledge.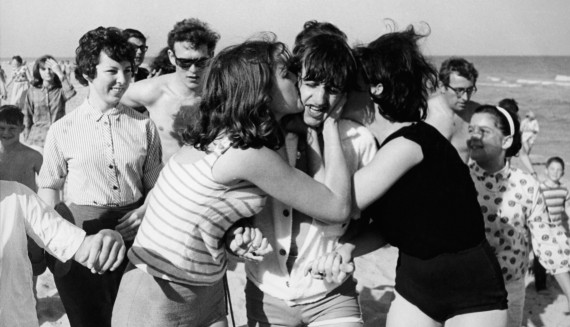 The Beatles recorded German versions of both "She Loves You" and "I Want To Hold Your Hand" in 1964. For "Sie Liebt Dich" the band completely mispronounced "dich" as "dick," a mistake that seems suspicious since The Beatles spent years in Hamburg.
HuffPost spoke with super fan Mike Brown, who has maintained arguably the most in-depth list of Beatles anomalies -- What Goes On -- since the '90s. "Is that an intentional little joke? I think they probably knew, and just tried to slide it past the establishment," he said. "They spent long enough in Germany to have picked up the correct pronunciation."
On Mike Brown's "She Love You" entry, he explained, "I'm sure Paul and John knew that "dich" is not pronounced as "dick" but the boys are clearly singing 'Sie Leibt Dick. Ja! Ja! Ja!'"
The American version might have a dirty element to it as well. Brown writes that The Beatles actually might be singing something other than the official lyrics. "Sounds like 'She loves you, She'd love to, She loves you,' as opposed to the official lyrics! If these are the lyrics being sung, it's just their naughty little joke. 'She'd love to, and you know that can't be bad, wink, wink ...'"
"Tune In," Mark Lewisohn's 3,000-page behemoth of a research anthology on The Beatles highlights the following quote from George Harrison:
My first shag was in Hamburg, with Paul and John and Pete Best all watching. We were in bunkbeds. They couldn't really see anything because I was under the covers but after I'd finished they all applauded and cheered. At least they kept quiet whilst I was doing it.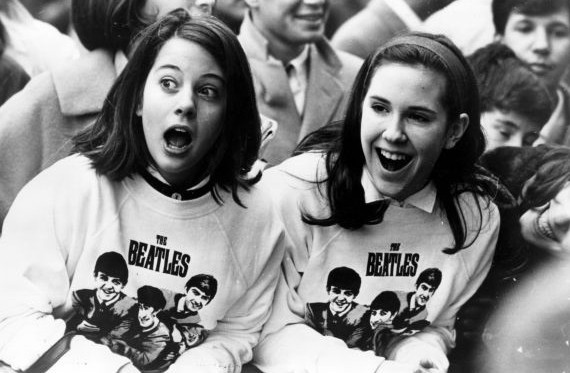 Multiple people have claimed Beatles shows were known for their urine. Notably, John B. Lynn, son of the owner of a venue The Beatles played, told The Washington Post that the concert hall smelled like the pee of over-excited girls after the show. Bob Geldof told Q Magazine in 2010:
The Beatles was a case of watching females in excelsis. It's the old cliché, but you couldn't hear them for all the screaming. I remember looking down at the cinema floor and seeing these rivulets of piss in the aisles. The girls were literally pissing themselves with excitement. So what I associate most with The Beatles is the smell of girls' urine.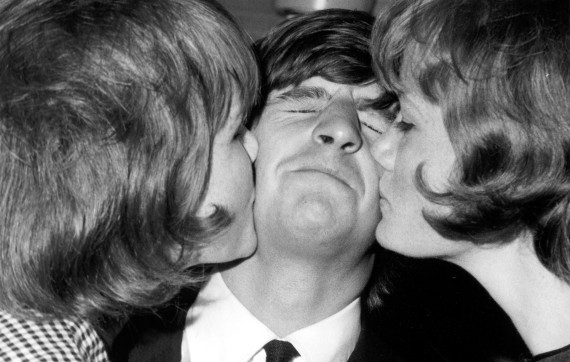 You'd think it'd be obvious that a "tit tit tit tit" harmonizing on a song called "Girl" was a dirty joke, but this usually goes unnoticed. The Beatles Bible points out that Paul McCartney is quoted in the book, Paul McCartney: Many Years From Now, talking about the origin of the joke:
It was always amusing to see if we could get a naughty word on the record: 'fish and finger pie', 'prick teaser', 'tit tit tit tit.' The Beach Boys had a song out where they'd done 'la la la la' and we loved the innocence of that and wanted to copy it, but not use the same phrase. So we were looking around for another phrase, so it was 'dit dit dit dit,' which we decided to change in our waggishness to 'tit tit tit tit,' which is virtually indistinguishable from 'dit dit dit dit.' And it gave us a laugh.

It was to get some light relief in the middle of this real big career that we were forging. If we could put in something that was a little bit subversive then we would. George Martin might say, 'Was that "dit dit" or "tit tit" you were singing?' 'Oh, "dit dit," George, but it does sound a bit like that, doesn't it?' Then we'd get in the car and break down laughing.
That "fish and finger pie," McCartney mentions is from "Penny Lane." Brown, who runs What Goes On, talked to HuffPost about the "four of fish and finger pie" line and explained McCartney has been pretty open about the dirtiness of that line saying, "Paul acknowledged [the line] as 'a bit of smut, for the lads' if I recall correctly!"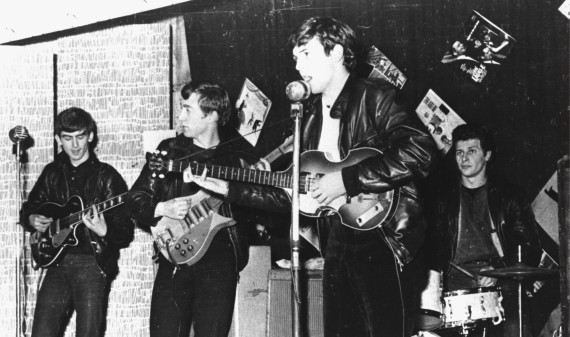 In Hamburg, Germany, the band spent most of 1960 living behind the screen of a cinema called Bambi Kino. Paul McCartney described the situation: "We lived backstage in the Bambi Kino, next to the toilets, and you could always smell them." Apparently the band was forced to use the urinals for bathing and shaving water. Eventually, George Harrison got kicked out of the country for being underage.
The Beatles then made plans to leave the Bambi Kino, but before McCartney and then-drummer Pete Best left, they lit a condom on fire in the room which angered the owner and got them arrested. McCartney and Best were deported.
Later, The Beatles returned to Hamburg and on December 25, 1962, the band ate a horse for Christmas dinner.
Here's something from the opposite spectrum ... This announcement came in a 2010 article, despite the Vatican famously condemning The Beatles for being satanic after John Lennon said the band was "more popular than Jesus."
Before You Go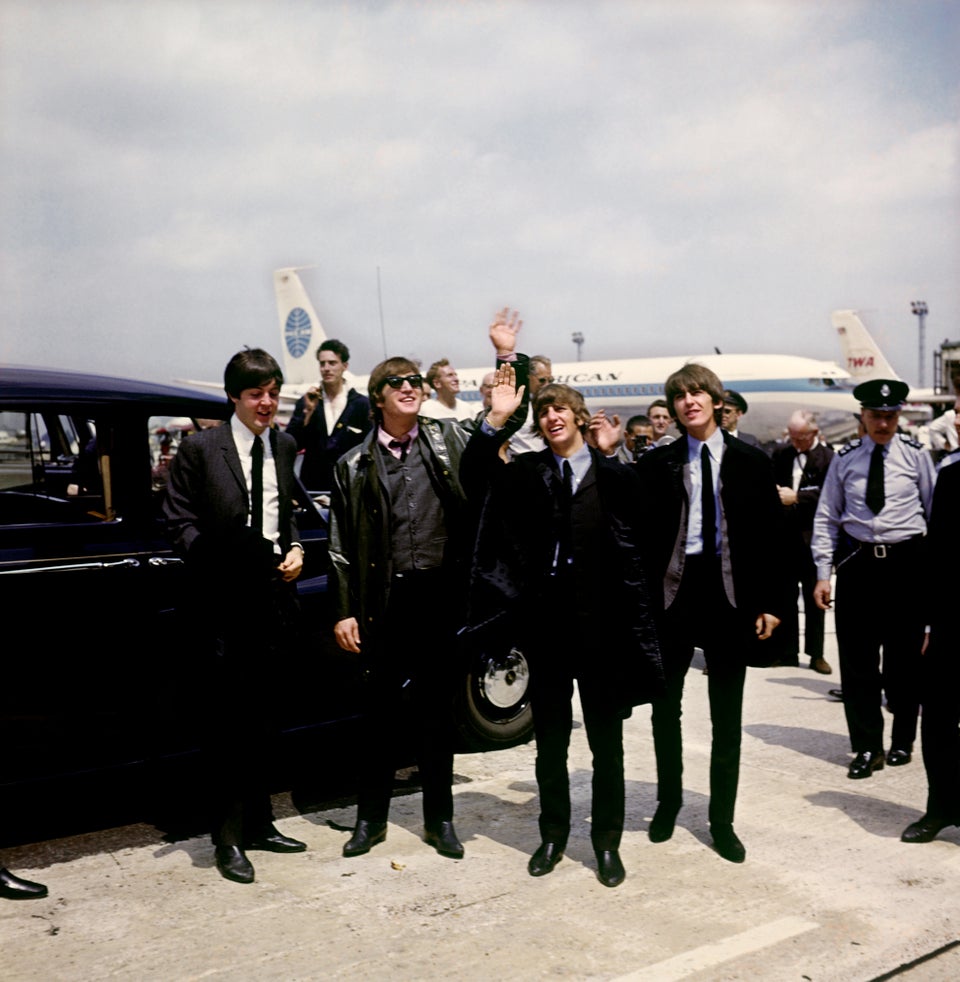 The Beatles
Popular in the Community