 How does one credibly portray the greatest rock 'n' roll band of all time without benefit of their recorded music? In 1994, British director Iain Softley released Backbeat, with Ian Hart as John Lennon, Stephen Dorff as Stuart Sutcliffe (Lennon's best friend and a fleeting band member), and Sheryl Lee (Twin Peaks) as Astrid Kerchheer -- a Hamburg photographer who famously shot the Beatles and for whom Sutcliffe left the band.
Set in the band's earliest days, when they were spending more time in Hamburg than in Liverpool, the tale also lent itself to an intimate but boisterously rockin' stage production, which Softley and co-writer Stephen Jeffreys created at the legendary Glasgow Citizens Theatre in 2010. Eventually, producer Karl Sydow (Max von Sydow's cousin) brought it to London's West End and hired David Leveaux to direct it. Actors were found who could not only reasonably embody the Beatles but perform as a tight rock cover band. The result not only proves that a nimble show can indeed transport an audience into the private lives of those five auspicious lads (and one German geliebte), but explode with the rowdy energy of a Reeperbahn cabaret.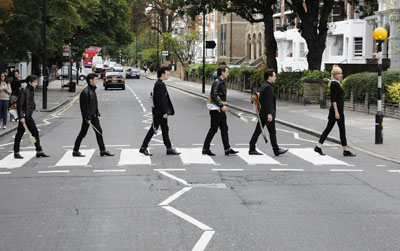 The cast of Backbeat
Rather than rehashing the Beatle bible A to Z, Backbeat zeroes in on a moment that is vague to most fans -- when John and Paul were first learning their chops playing tunes by Chuck Berry, Little Richard, Elvis Presley and other seminal rockers. While shaping their style and maturing from boys to men, they did long stretches in Hamburg clubs where they were exposed to a Weimar-flavored demimonde that gave them a particular edge and wit in their later inventions. "Iain felt there was a story there that had been lost with all of the glamour and bright lights that surround what we think of as the story of the Fab Four," says Leveaux. The play succeeds in suspending the audience in the precariousness of that moment, by exploiting its inherent pathos -- will they overcome their intra-band conflicts and beat the odds or won't they? It's to the credit of the writing, acting, directing and design of this production that we eventually forget that we know the answer.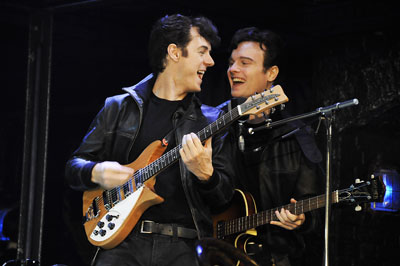 Andrew Knott as John Lennon, Daniel Healy as Paul McCartney
Leveaux may have been born to direct this play. As a young man he himself fell in love with a comely Hamburg photographer, while working there with the Berliner Ensemble and encountering a similar scene. He doesn't balk at emphasizing the sexuality of that era -- from Stu and John being fellated in tandem by German tarts to George losing his virginity under a Union Jack -- to underscore the carnal electrical current that runs through rock history. And he stages the story beautifully using the band truck (rolling stage) as a cinematic zoom device, weaving overlapping scenes vertically with a lofty gangway, and deftly sustaining the illusion of subterranean club milieux. He's also assembled a fine cast, several from the Glasgow production, who have captured the snarky camaraderie of John and his mates. But mostly Backbeat is a romance versus a bromance, a triangle that puts John (played by Andrew Knott) at odds with Astrid (Ruta Gedmintas) over Stuart (Nick Blood), in ways that suggest musicians create as much ebb-and-flow intimacy among themselves as they do with their audiences.
In fact, the best parts of Backbeat have as much to do with the emotional riptide that is imagined between these iconic figures as it does with the pleasures of immortal songs handily covered. Here's hoping it makes it over to America even more quickly than the Beatles did.
In the video below, David Leveaux talks about the early saga of the Fab Four, the challenge of rendering a band of mythic stature, and what it took to find his Backbeat.
Michael Kurcfeld is a documentary producer and journalist based in Los Angeles and Paris (www.stonehengemedia.com).
Related
Popular in the Community