Helps With Audio Accessories and Streaming Music
Rumors arose last week of Apple spending $3.2 billion to acquire high-end headphone maker Beats. Beats also has a nascent audio streaming business, similar to Apple's iTunes Radio and also Pandora and Spotify. Based on our understanding of Apple customer behavior, how do we make sense out of this possible deal?
Consumer Intelligence Research Partners (CIRP) reviewed two aspects of Apple consumer behavior: iPhone buyer accessory purchases, and of iPhone apps, including streaming music apps. In both instances, Apple is far from the leader in the category.
In our regular operating system and phone research, CIRP surveys 500 US customers who purchased a new mobile phone on a US carrier network in the 90 days preceding the survey. This Investor Commentary includes results from our survey in April 2014, covering 500 phone activations from January-March 2014.
Apple Can Improve In Accessories
Overall, accessory attachment rates are high for iPhone owners, exceeding those of Android smartphone owners in every category. Protection accessories (cases and screen protectors) lead the way. Power accessories (wall and car chargers and external batteries) are next, and audio accessories (headphones, ear buds and external speakers) sell the least.
CIRP data indicates that over 80% of iPhone buyers own a case for their iPhone, and 50-60% also have a car charger, screen protector, or both (Chart 1). However, many fewer have audio accessories, with under 20% owning a Bluetooth headset, and 1% a Bluetooth speaker or headphones. Beats, with a dominant position in the headphone marketplace, could improve Apple's presence in the audio segment.
 
Chart 1: Accessory Purchase (percent of iPhone buyers also buying accessory)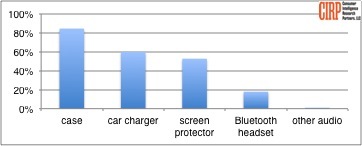 There is room for Apple to improve its share of accessory sales. For example, Apple's own branded cases sell relatively poorly. An additional, Apple or non-Apple brand could grow Apple's share of this and other accessory markets.
Over one-quarter of case buyers do not know the brand of their case (Chart 2). Among the leading brands, Otterbox has a far larger share than others, at 32%. In contrast, Apple's own branded cases have only a 3% share of the market.
With the exception of replacement and upgraded ear buds, Apple does not participate in the audio accessory market beyond reselling other brands' products, including Beats. In contrast, Samsung recently announced the launch of an entirely new line of branded audio accessories, named Level. The addition of Beats - either linked to or independent of the Apple brand - would make Apple an instant leader in the market. And while the Beats brand is strongest in traditional headphones, it has a growing position in ear buds and Bluetooth speakers, and could easily enter the Bluetooth headset market.
Streaming Music
Beats also has a streaming music service. While small, it starts with a strong brand and AT&T as its launch partner, just like iPhone. Apple's streaming music service, iTunes Radio has not made a significant impact on the market, and downloaded music sales at the iTunes store have flattened.
CIRP asks iPhone buyers about the three most-used apps on their phone. Facebook dominates, with over half of all buyers listing it as one of the three (Chart 3).
Among music apps, Pandora is one of the three most-used for 7% of iPhone buyers. In contrast, iTunes is one of the three most-used apps for only 2% of iPhone buyers. Spotify is one of the three most-used for only 1% of iPhone buyers, with other apps, such as Rdio and IHeartRadio at under 1%.
REAL LIFE. REAL NEWS. REAL VOICES.
Help us tell more of the stories that matter from voices that too often remain unheard.