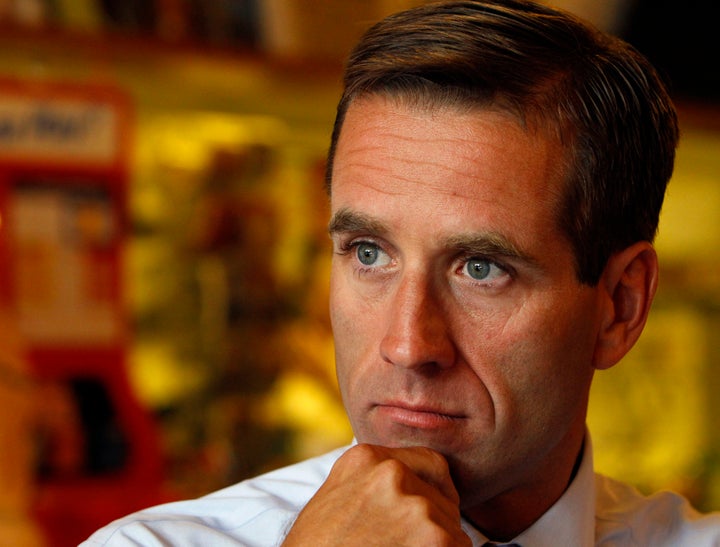 WASHINGTON -- Delaware Attorney General Beau Biden signaled his intent Friday to intervene in a proposed $8.5 billion settlement over troubled mortgage securities between Bank of America and a group of investors, uniting with his New York counterpart Eric Schneiderman, who argued a day earlier that the deal is unfair and its participants committed fraud.
Ian McConnell, director of Biden's consumer protection unit, told a New York state judge that the state of Delaware intends to file paperwork early next week asking to become a full party in the suit. If granted, that status would allow the state to comment on and question virtually every move "from start to finish" as Bank of America and the investors attempt to end their multi-billion dollar spat.
It would also give Delaware the right to investigate the claims the deal strives to settle, like whether the lender and the other bank involved in the case, Bank of New York Mellon, followed state law when creating these mortgage securities, and when they moved to foreclose on homeowners who defaulted on their obligations.
The two attorneys general represent states whose laws govern nearly all mortgage securitization trusts, vehicles that bundle home loans and issue notes to investors. Both offices have teamed up to investigate allegations that Wall Street firms failed to properly assemble loan documents in accordance with their states' laws when creating mortgage securities.
Schneiderman, New York's attorney general, argued in court papers Thursday that the bank overseeing the trusts, Bank of New York Mellon, "knowingly, repeatedly, and consistently" misled investors into thinking that the mortgage bonds were created properly. The bank also put its own interests before those of the investors it was supposed to be representing, he said.
BNY Mellon, one of the largest U.S. banks by assets, engaged in "repeated fraud and illegality," Schneiderman charged, which occurred "literally hundreds of times."
Schneiderman linked the paperwork failures to the foreclosure crisis, arguing that the alleged shortcomings in gathering and processing documents effectively had led to "foreclosure fraud," like in cases that involved so-called "robo-signing."
A BNY Mellon spokesman called Schneiderman's charges "baseless." McConnell declined to comment on Schneiderman's allegations.
The action by Schneiderman and Biden threaten the proposed accord between BofA and 22 of the world's most prominent investors. The investors had demanded Bank of America repurchase home loans packaged into 530 mortgage trusts with a original loan balance of $424 billion. The proposed $8.5 billion payout represents less than 4 cents on the dollar of the current unpaid balance, or about $220 billion, according to Bank of America's most recently quarterly filing with the Securities and Exchange Commission.
McConnell said in a phone interview that 527 of the trusts were created per New York law. The remaining three are governed by Delaware law, he said.
"We have enough information to think we have reasons to be concerned," McConnell said. "There may be serious issues regarding conflicts and concerns over the general value proposition of the deal for Delaware investors."
Bank of America is effectively indemnifying BNY Mellon for costs and liabilities arising from its duties as trustee. Some investors not party to the current deal have charged that BNY Mellon has a conflict of interest. New York's top law enforcement officer agrees.
"There's a paucity of information," McConnell said of the settlement deal and of how the final dollar figures were derived. "We'd be in a position to gather more information" when Delaware joins the suit, he added.
Countrywide Financial, the nation's largest mortgage lender when purchased by BofA in 2008, failed to properly pool loan documents needed for the creation of mortgage securities, and BNY Mellon effectively looked the other way in its role as overseer of these instruments, Schneiderman said in court documents. This "apparently triggered widespread fraud," he said.
BNY Mellon should have known the mortgage securities were improperly created because the evidence was "abundant," Schneiderman said, citing the bank's own documents, news coverage of the issue and foreclosure actions brought on BNY Mellon's behalf.
In addition, Schneiderman accused Bank of America of fabricating the missing documents when it came to foreclosing on homeowners who defaulted on their loans.
If the settlement is not finalized, Bank of America's future mortgage-related losses could be "substantially different" than what the lender has set aside and already braced investors for, the bank said in its filing.
Shares of Bank of America, the largest U.S. bank by assets, touched $8.03 in New York trading on Friday, a 52-week low. They're down 26 percent over the past month.
The cost to protect Bank of America's bonds against default have surged more than 17 percent since last Friday, according to Markit.
It now costs $207,000 to protect $10 million of BofA's debt, as of Friday's close. Last week, it cost just $176,000. The price of credit protection generally increases as investor confidence deteriorates.
Shahien Nasiripour is a senior business reporter for The Huffington Post. Send him an email at shahien [at] huffingtonpost [dot] com or call him at 1-917-267-2335.

Popular in the Community