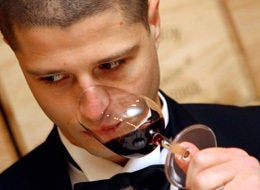 Nouveau is what most people think of when they think of Beaujolais, and it's entirely due to the big splash the wine makes every third week of November. Most wines arrive in stores with little fanfare, but when Georges Duboeuf roars into town with a posse of bikers on Harleys, as he did this year, people take notice.
The annual launch of Beaujolais Nouveau is one of several vin de premeur launches in France, or the bottling and quaffing of this year's grapes in the form of a wine that has barely had time to ferment. This practice used to be a peasant harvest celebration, but now it's a worldwide commercial event, thanks to Duboeuf the Beaujolais king and his eponymous wines.
The fly in the goblet is that the wine isn't as good as the spectacle, as no doubt many people have found now that they're working through the case that seemed like such a good deal in November. It's not the Beaujolais grape, gamay, that makes it bad wine; it's all that rushing around the wine does before it gets to you. A long, slow fermentation improves a wine, as does time to settle before it's bottled. As Beaujolais Nouveau has barely a month off the vine before it's ready to drink, there's no time for it to develop. The inky, bubble-gummy wine that results is festive, what with its multicolored label and association with the harvest, but it's too bad that many people associate all of Beaujolais with it.
About half of the Beaujolais made each year is Nouveau, and the rest of it is appellation contrôlée (AC) Beaujolais or Beaujolais Villages, or comes from one of the 10 crus in the region. The gamay grape fled to Beaujolais in the 12th century after the Philip the Bold, Duke of Burgundy, banished it from his lands to the north by a decree calling the grape bad for human beings. He was only seeking to protect the quality of Burgundy wines by commanding that pinot noir be the only red grape grown there, but the insult stuck. Beaujolais was a backwater in wine and most other respects until after World War Two, when Georges Duboeuf had his stroke of marketing genius and made the annual vin de premeur festival a worldwide event.
So if you move beyond Nouveau, what's left? Bright, quaffable wines, with charming fruit, good humor and a sense of fun, some elegant examples of which are made by Duboeuf. Beaujolais is not generally all that deep, and that's just fine. And since the 2008 Nouveau is going for about $14 right now, you're better off spending an equivalent amount for a 2007 cru or AC wine that's suitable to have on hand for daily drinking yet has a hint of soul.
In November I picked up Domaine Vissoux 2007 Pierre Chermette, a wine with delicate, delectable red fruit with a nice chalky core. There are plenty of Beaujolais winemakers with integrity, like Vissoux; in this case the domaine makes its wines as naturally as possible by using indigenous yeasts, old oak fermentation vats and reaping low yields from the vines. I brought this home for Thanksgiving, and while it would be great with turkey, we ended up drinking it alongside scoops of pâté. The wine is flexible enough to be nice with both.
Côte de Brouilly is a cru known for some of the more robust wines of Beaujolais. By "robust" I mean zippy Smart car rather than Ford F-150. There's no such thing as a heavy, brawny Brouilly. Jean-Paul Brum makes Côte de Brouilly wines at his Terres Dorées domaine. The wine I tried, a 2007, has an earthy nose with a hint of concord-like sweet grape, with piney earth and tart cherry fruit on the palate. Labels generally aren't good indicators of what the juice might be like, but the somber black label on the Brun seems designed to draw a sharp contrast with Nouveau in its multicolored wrapping.
The Brum had more earthiness than a Fleurie I picked up, a 2007 from Domaine des Grandes Fers. Fleurie is a cru known for its sweet fruit, and the Grandes Fers delivered with gentle red fruit and a flavor reminiscent of pink SweeTarts -- which sounds ridiculous, yet is quite in keeping with the spirit of Beaujolais. A sense of lightness and fun is a hallmark of Beaujolais from the Nouveau on up, which is what keeps this region a café favorite in France. Wine drinking should be so light-hearted here in the United States.