BEAUMONT ― Residents of this city in eastern Texas are desperate for clean water after the main municipal water pumps failed due to flooding.
Beaumont, which has a population of over 100,000 people, lost both its main and secondary water supplies on Wednesday. The storm caused the Neches River to overflow, which damaged the city's water pumps, according to city officials. The city's secondary water source, which is located at the Loeb wells in Hardin County, is also offline.
City officials said the outage is indefinite, pending inspection of the damaged pumps, which they are unable to do until the water recedes.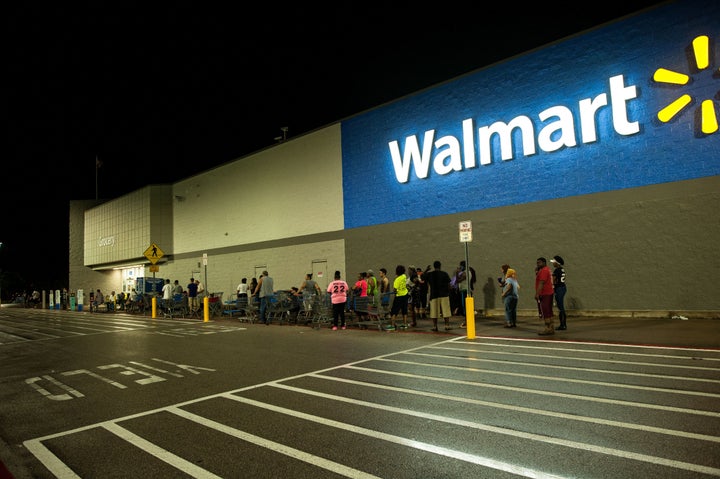 Beaumont received 26 inches of rain on Tuesday, which is a city record for the most rainfall in a single day, according to the National Weather Service.
Residents were urged to fill up their bathtubs with water, as the city water system was expected to lose pressure early Thursday. But some residents still ran out of water and many lined up outside local stores overnight hoping to buy bottles of water.
Around 2:30 a.m., a crowd of people outside the Speedy Stop convenience store attempted to pick up some of the water bottle cases left outside the closed shop. A policeman intervened, telling HuffPost, "I'm not going to let people just take water. I know we're in a scary situation, but I had to tell them to stop."
"Several cars pulled off with water and that's fine, but we can't just let everyone load up what they want," said Joe Malbrough, police chief of the Beaumont Independent School District. "We're not going to arrest anyone as we're in a dire situation, but at the end of the day we have to have order and we can't let them take the water."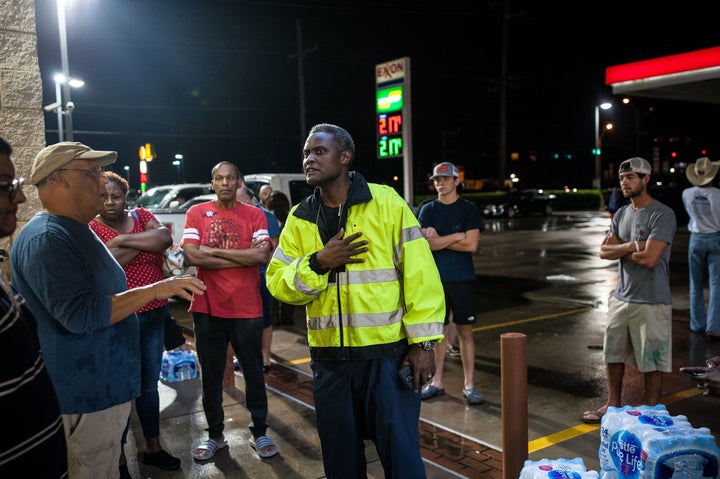 Norris, 67, who didn't want to give his last name, argued that he wasn't trying to steal the water.
"We're not trying to take advantage, but when the news tells you to get out of the city because they don't know when the water will be fixed, what are people to do? I plan to pay the store for the water. I wasn't just going to take it," he said. "We're isolated here. We may not be able to get water anytime soon, so that's the situation here."
Jennifer England, a young mother, said the lack of water was putting her child at risk.
"I stopped to get water because I have a baby who is sick and I need to flush his tube," she said. "I just needed to get some water and leave, because we are in a hurry. We want to get out before the water rises again. The police officer came here and stopped everyone. I desperately need water for my baby, but they would not give me any."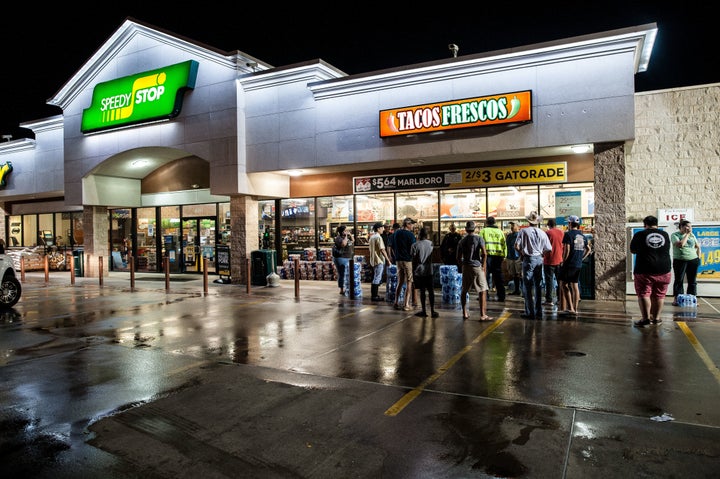 The store's manager, Ronnie Miller, told HuffPost that he hasn't been able to open the shop because there's no running water in the bathroom, a health code requirement. He also said, "We don't really have much water to give."
Almost 200 people lined up outside the Walmart Supercenter in Beaumont before the store opened at 7 a.m. local time to buy water and supplies.
Heidi, a store associate who declined to give her full name, told HuffPost some people had been waiting in line for hours and she believed Walmart staff would let a limited number of people in at a time to avoid a rush.
"It's stressful," she said. "I'm just looking forward to the doors opening and helping people with their needs."
Heidi said many people have been calling the store and asking her to set aside water for them, including one elderly woman.
"She just sounded so old and frail," Heidi said. "I told her I would put two or three bottles aside."
Federal Emergency Management Agency Administrator Brock Long said federal officials are aware of the "dire situation" and are working with state and local authorities to find a solution.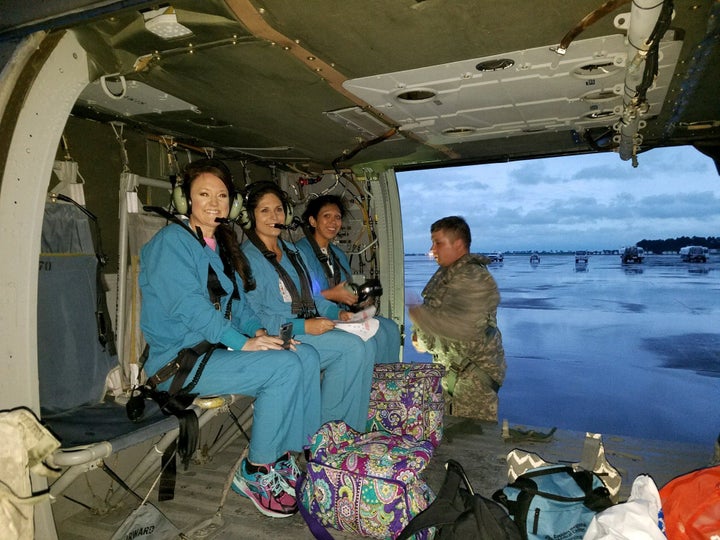 Beaumont's St. Elizabeth Hospital flew additional nurses in on a Black Hawk helicopter Wednesday night as part of its emergency staffing plan.
Though the hospital is operating under "extreme emergency conditions," administrators there say they have sufficient water reserves to keep operating.
A spokeswoman told HuffPost in an email that the hospital has budgeted 1 gallon of potable water per person, per day at the hospital, and it can replenish its supply if needed. The facility also has two wells that can supply water for nonpotable purposes.
Community members are being urged to visit the hospital only if they have a critical, life-threatening medical need.
While St. Elizabeth has no plans to evacuate at this time, some of the most critical patients in its neonatal intensive care unit are expected to be relocated to the Shreveport-Bossier Health System in Louisiana.
Hayley Miller and Ryan Grenoble contributed reporting. This article has been updated with details about the situation at St. Elizabeth Hospital and more information about the police officer.
Popular in the Community