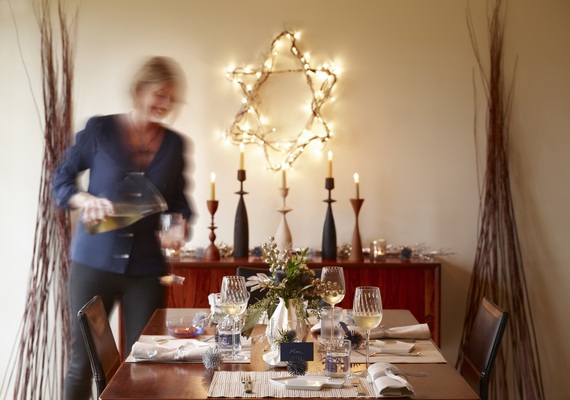 Google "Hanukkah Decorations" and you'll come up with only a slightly less lame selection of foil Stars of David and plastic dreidels than you'll find stashed sadly in the back corner of your local pharmacy.
I don't say this resentfully. Jews tend to be ambivalent about their trumped up competitor to Christmas. We don't traditionally decorate for it. And while Jewish parents don't like their children to feel excluded from the holiday season, they don't know how to make them feel included without compromising their Jewish identity either.
I've long shed my inhibitions about decorating, however. My (modern) Orthodox rabbi signed off on the decision years ago. No less an authority than the Talmud urges Jews to publicly celebrate the holiday. So why sit in the dark while the goys have all the fun? It's a festival of light ... so let's light(en) up!
Decorating for the season doesn't mean having to ape Christmas. In fact as a Jew you are liberated from doing so. There are so many creative ways to light up your home for Hanukkah without defaulting to a "Hanukkah Bush." This year, I chose a theme based on the Seven Species -- the major food groups that Jews consumed in Biblical times which are now infused with special holiness and meaning: "A land of wheat, and barley, and vines, and fig trees, and pomegranates; a land of olive oil and honey." (Deut. 8:8). My color scheme would of course be blue and silver, which is to Hanukkah as red and green is to Christmas. And all of this would have to suit a mid-century-style dining room.
Thus I set forth to hunt and gather. My local plant stores are right now festooned with Christmas lights and tchotchkes, mixed up with leftover Thanksgiving decorations, which is perfect. You'd be surprised how many Christian ornaments can easily be converted to Jewish purposes. On the Thanksgiving side of the stores I found tall decorative bundles of cedar branches. Cedar is a tree, like pine, that we tend to associate with Christmas. It's important to remember that there's nothing intrinsically Christian about greenery -- the custom of decorating with evergreen boughs is originally Druidic. Cedar and pine are also native species to Israel. On the Christmas side of the store, I found glittering bunches of silver grapes, sparkly vines, and ornaments in the shapes of dill pickles, wine bottles, and even bagels. These would be fun to tie on to napkins or nestle in centerpieces. Bountiful bouquets of blue hydrangeas caught my eye, so I scooped up a few of those, along with some packages of small silver balls. Artificial birch branches and a string of lights resembling twigs could be used for something, I reckoned.
From there I headed to Crate & Barrel -- one of the few large retailing chains that has stepped up its Hanukkah game. The main website features its own Hanukkah drop down menu (rather than lumping it in with "Holiday" aka "Mostly-Christmas-with-a-few-Jewish-things-thrown-in"). A buyer at C&B has clearly gone the distance to curate a beautiful line of products, including china, linens, decorations and even gift wrap and cards. I loved the minimalist white dreidel-shaped plates, antiqued silver Star of David candle holders, and the glittery starburst balls in blue and silver.
By this time my car was overflowing with sparkly goods, like a Barbie vehicle. Still, I didn't feel I had enough greenery so I returned to the plant store and bought sprigs of myrtle, eucalyptus and sumac (myrtle is a protected species in Israel; the other two are common there. Sumac, of course, gets ground into spice.)
But now, what to do with all of this? I poured myself a glass of wine and began to brainstorm.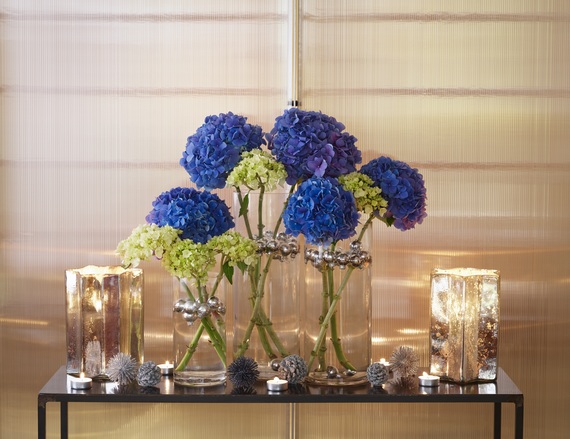 Blue and white hydrangeas get glammed up with silver ball ornaments in different height glass vases. The side table is sprinkled with the blue and silver starburst ornaments, silver pinecones, and antiqued silver Star of David candleholders, all from Crate & Barrel. Photo by Renee Comet for Fig Tree and Vine.
Now to the table floral decorations: I adore the small "dreidel" vases and geometric vase from Tel-Aviv-based Studio Armadillo. The latter vase is just the right size and height to use for a center piece -- you won't be stuck trying to peer through a jungle of foliage at the guest across from you. The dreidel vases can be scattered around the table garnished with delicate sprigs, flowers, and tinsel.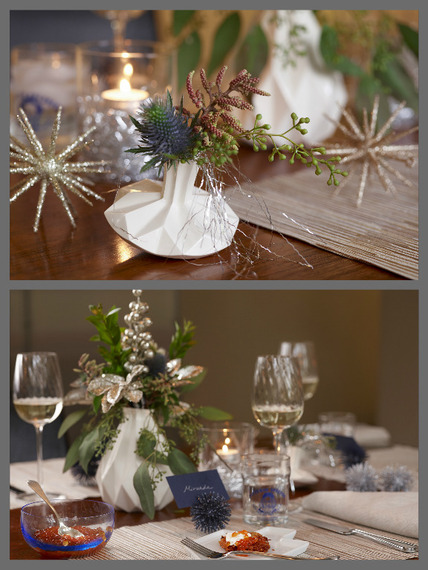 (Top) Dreidel vase with eucalyptus, sumac, tinsel and a blue thistle that echoes the surrounding starburst decorations; (Bottom) Geometric vase with sprigs of myrtle, sumac, eucalyptus, thistle and silvered bunches of grapes. French crystal champagne glasses by St. Louis, blue crystal bowl by Moser -- both products can be ordered and shipped through Consider It Done. Photos by Renee Comet for Fig Tree and Vine.
If all the materials you've collected are consistent in style and color, it's hard to go wrong with decorating as much of your house as you care to. Line the mantels with silver vines and candles; add green boughs tied with blue and silver ribbons.
For the time being I confined myself to the dining room. I poured another glass of wine and started to eyeball the teak sideboard. More candles obviously. Lights have to be everywhere. In this Mid-Century Modern setting, I thought a grouping of shapely Modern Rustic candle holders should take center stage. What is lovely about these candleholders -- designed by artisan John Ward of Treeware -- is that they come in different heights and stained woods, so you can pick really any combination of shapes and colors and they will unfailingly work well together. They are also beautifully complemented by these warm yellow Manuka beeswax Shabbat and Holiday candles by Orb (dripless too!).
Around all this I placed silver branches, low candles, and more blue and silver starburst balls. The bundles of cedar branches became tall architectural columns on either side of the sideboard, while still keeping with the naturalistic "Seven Species" theme. But the wall above the sideboard looked bare -- and by now it was getting dark...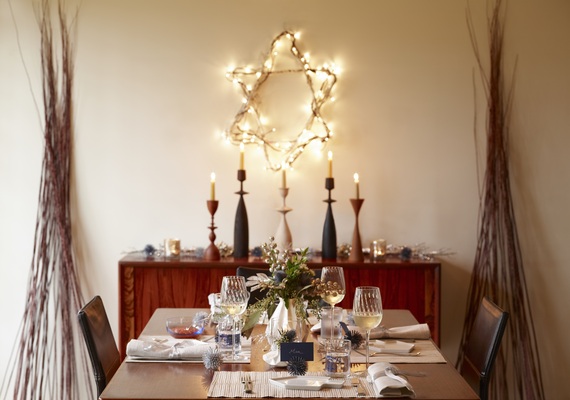 My finished Hanukkah sideboard. The Star of David "wreath" was an on-the-spot DIY project.
Photo by Renee Comet for Fig Tree and Vine.
Every year I like to make a Hanukkah-themed "wreath" to hang on our front door -- which at minimum makes the neighbors do a double take. I still had the artificial birch branches and string of lights. The branches were bendable so would do the job nicely. I set to work fashioning them into two triangles to form the star, then lashed them together with silver florist wire. The cedar lights were then wrapped around and through the branches (you can get short sets of lights that are battery operated, and therefore do not need to be plugged in nor leave a long dangling cord). So instead of hanging on the door this year, my wreath would glow above the sideboard.
Last: Placing the menorah(s)
Some families light just one menorah over the holiday. I find it fun to collect all kinds of menorahs and place them around the house. For the dining room I had two, one for each window facing the dining table. The first was this Modernist Ceramic menorah by Studio Armadillo, in the same style as the dreidel and geometric vases; the second was a last-minute inspiration from some fresh pomegranates I'd picked up.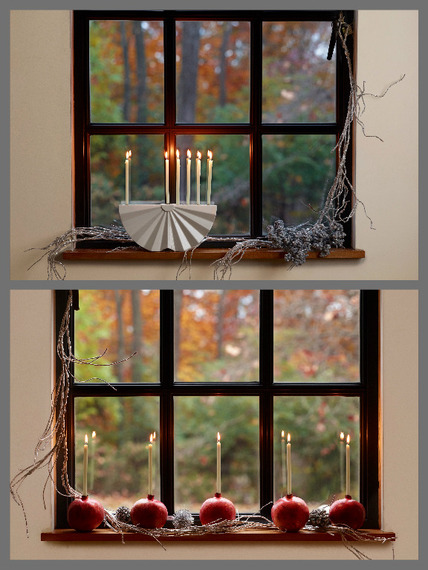 (Top) Modernist Ceramic menorah by Studio Armadillo; (Bottom) My "Pomegranate" menorah made by inserting candles into fresh pomegranates. Trails of silver vines, grapes, pinecones and other decorations bring seasonal sparkle. Photos by Renee Comet for Fig Tree and Vine.
Now the room was finished. All that needed to be done was to get started on making the latkes, which I'd do to perhaps with a sip more wine while listening to that greatest Hanukkah carol of them all, Handel's "Judas Maccabaeus."
Who says Jews can't adapt the customs of their surrounding communities without surrendering their Jewish identities? We've been doing it for thousands of years, after all.
For more content like this, and beautiful artisanal products, please visit Fig Tree & Vine, a new and stylish destination for contemporary Jewish living. Follow us on Instagram @figtreevine and Facebook, or subscribe to our newsletter.